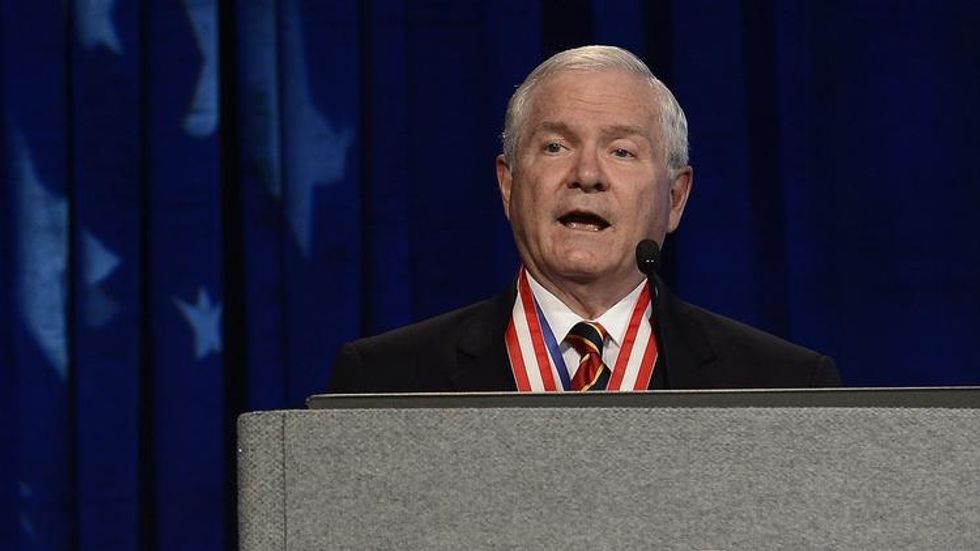 BSA President Robert Gates called for an end Mark Zaleski / Associated Press
[DIGEST, May 21, 2015, NYT, USA Today]  As reported in The New York Times, the long standing ban on gay adult leaders in the Boy Scouts of America (BSA) may come to an end, according to the president of the organization, Robert Gates.
"I must speak as plainly and bluntly to you as I spoke to presidents when I was director of the CIA and secretary of defense... We must deal with the world as it is, not as we might wish it to be. The status quo in our movement's membership standards cannot be sustained," Gates said.
Gates hedged this warning by stating that certain religious organizations that sponsor local Boy Scout troops, including the Mormons and Roman Catholics, would remain free to set their own policies for leaders. Echoing some of the tensions surrounding questions of "religious freedom" versus public accommodations for LGBT, Gates noted, "We must, at all costs, preserve the religious freedom of our church partners to do this." Gates added, "Such an approach would allow all churches, which sponsor some 70 percent of our Scout units, to establish leadership standards consistent with their faith."
The move was announced at the Boy Scouts' annual national meeting in Atlanta Thursday morning. As USA Today reported, however, Gates made clear that he was not yet proposing that the national board formally drop the ban. While Gates cautioned that this was not a formal proposal, the leadership is expected to take up the issue, and to some observers it seemed unlikely Gates would have made such an announcement without the backing of the majority of the BSA leadership.
To read more, continue to the next page. 
Zach Wahls, the executive director of Scouts for Equality, praised Mr. Gates for the move. "Dr. Gates has built his reputation on straight talk and tough decisions, and I'm glad he's fully endorsing a re-evaluation of the Boy Scouts' ban on gay adults," said Wahls. "It seems like the Boy Scouts will continue an internal dialogue about the subject and that a change within the next year or two is imminent."
The debate over the presence of gay men and boys within the Boy Scouts has raged for many years. Religious organizations closely tied to BSA have led the opposition to openly gay men and boys participating while more liberal local leaders called for an end to the ban.
The first major step occurred in 2013, when BSA leaders nationwide voted, by a majority over 60 percent, to amend the rules so that no youth could be denied membership "on the basis of sexual orientation or preference alone." But that resolution did not change the policy with respect to openly gay adults, leading to the anomalous situation where a Boy Scout could perform commendably as an openly gay member, but would be kicked out once he applied to be an adult scout leader.
Many local organizations defied the national policy, including, a Boy Scout group in New York that employed an openly gay scout leader.  Gates made clear in his prepared remarks that the national organization would not take action against any such local councils. Said Gates, "We can expect more councils to openly challenge the current policy," but while the national board has the power to revoke those charters, he said such a decision "would deny the lifelong benefits of scouting to hundreds of thousands of boys."
For more stories like this, read From Heartbreak to History: How One Gay Spouse's Dying Wish Might Change the Law for All Time.
Keep reading...Show less