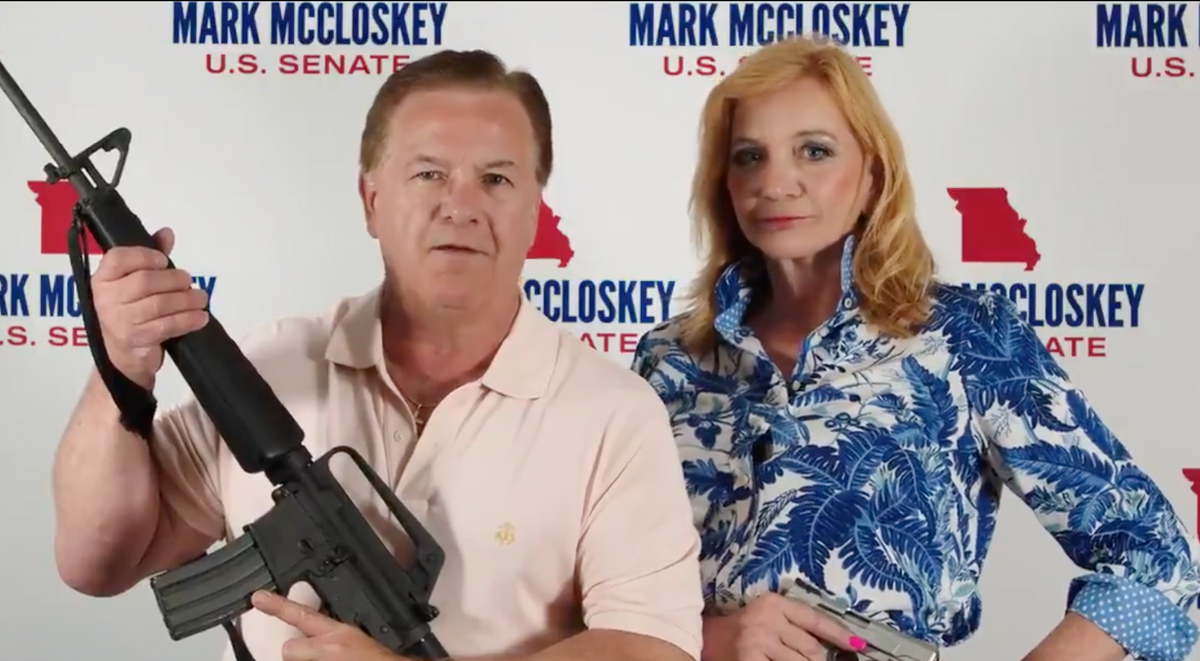 @mccloskeyusa/Twitter
Amid the historic uprisings against racist police brutality last summer, Mark and Patricia McCloskey went viral for brandishing guns at peaceful protesters marching past their mansion.
Though they pled guilty to misdemeanors, the couple has since used the incident to boost their standing in conservative circles, echoing former President Donald Trump's rhetoric that Black Lives Matter protesters are a violent threat.
Their willingness to shoot protesters was met with the embrace of the Republican party. The couple spoke at the 2020 Republican National Convention and Mark McCloskey has launched a campaign to represent Missouri in the United States Senate.
Such was the case in a bizarre new ad for Mark McCloskey's campaign, the couple replicates their stances with firearms. McCloskey claims in the video that he backed down the mob. In reality, they were already marching past the home to protest outside the nearby residence of an official.
Watch the awkward campaign ad below.
McCloskey says in the video:
"Any time they come to threaten me, I'll do the same thing again and again and again to protect myself, my home, my family, and our rights as human beings. A vote for McCloskey is a vote for standing your ground. Vote for me and we'll never back down."
The video was widely mocked.
People reminded the couple of the epic fail from last year.
In addition to being fined for their misdemeanors, the couple also agreed to forfeit their guns.