Fox News
During unrest in response to the shooting of Jacob Blake by police last year, then-17 year old Kyle Rittenhouse rode from Illinois to Wisconsin, where he guarded property with an AR-15 before leaving the property and shooting three people, killing two of them.
Earlier this month, Rittenhouse was found not guilty on all counts. Right-wing media personalities and politicians celebrated the acquittal of the teenager they've lionized for shooting civilians, likening him to Captain America, offering him jobs in Congress, and encouraging their followers to use AR-15s like he did.
Days after the verdict, Rittenhouse appeared in an interview with far-right Fox News host Tucker Carlson, in which Rittenhouse insisted the case wasn't about race and claimed to support the Black Lives Matter (BLM) movement.
Watch below.
Rittenhouse said:
"This case has nothing to do with race. It never had anything to do with race. It had to do with a right to self-defense. I'm not a racist person. I support the BLM movement. I support peacefully demonstrating. I believe there needs to be change. I believe there's a lot of prosecutorial misconduct, not just in my case but in other cases. It's just amazing to see how much a prosecutor could take advantage of somebody."
Throughout the trial, Black Americans across the country noted differences in the handling of Rittenhouse's case compared to how the justice system treats Black people and other communities of color. These claims are backed up by raw numbers, as Black Americans, on average, receive harsher sentences than white offenders of the same crime.
Rittenhouse's assertion that he "supports the BLM movement" seems at odds with photos taken of Rittenhouse at a bar posing for pictures with fans and flashing the white power symbol.
What's more, the person with whom Rittenhouse agreed to sit down for an interview—Tucker Carlson—is one of the most famous racists in the United States, frequently pushing white supremacist conspiracy theories, calling Iraqis "semiliterate, primitive monkeys," and claiming immigrants make the United States "dirtier."
That's likely why BLM's verified Twitter account dismissed Rittenhouse's claim of support in a single blunt tweet.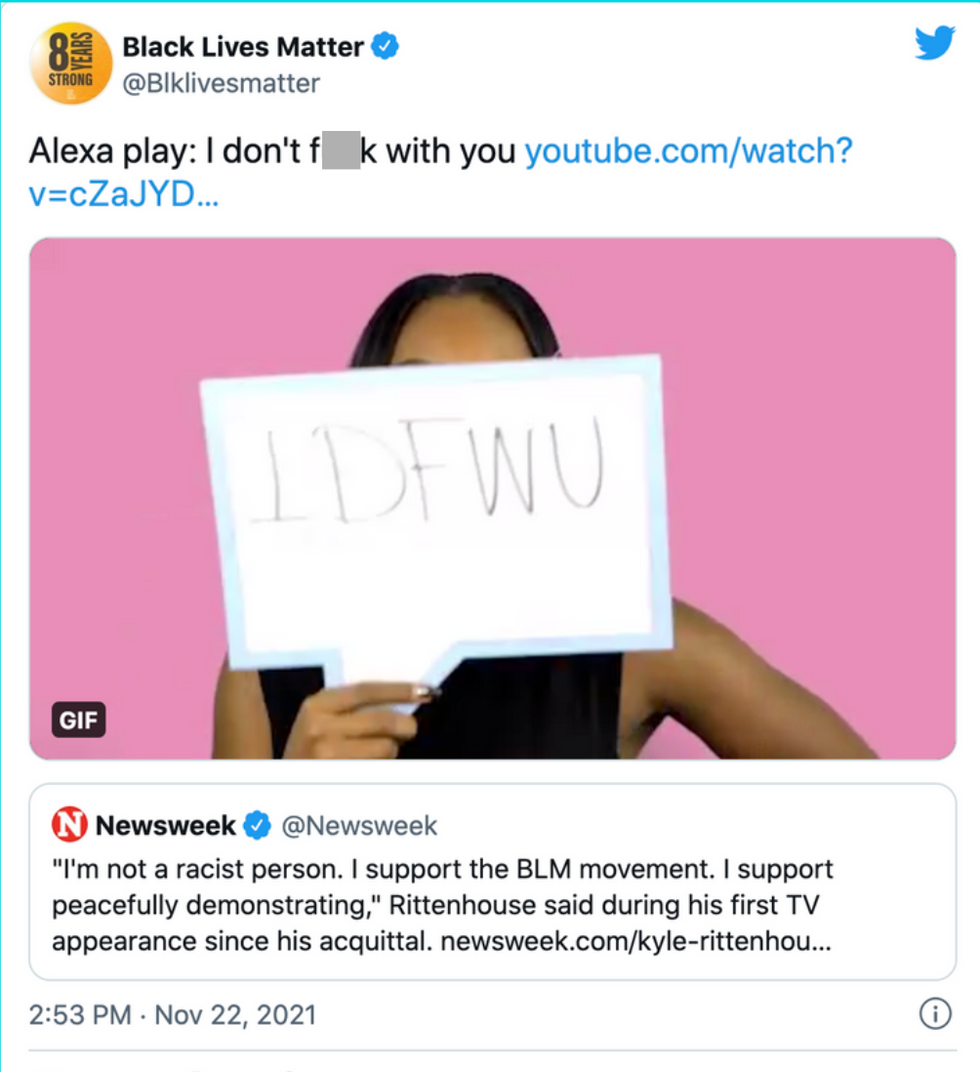 The organization was far from the only disapproving reaction.
People also came in with some crucial reminders.
The vast majority of BLM protests during the historic uprising against racist police brutality were peaceful, with no destruction, no deaths, and no arrests.