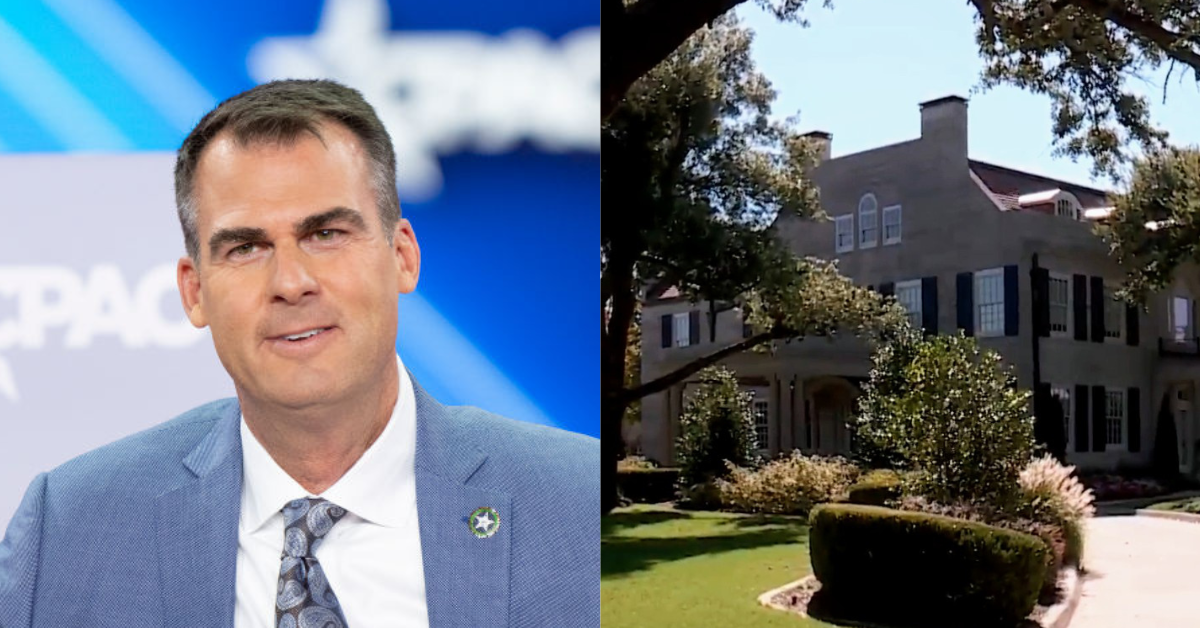 Lev Radin/Pacific Press/LightRocket via Getty Images; KFOR
Like the White House in Washington D.C. for the President, most states provide an official home for their governor.
There are 45 governors' mansions with some states actually requiring the governor to live in the official home while in office. Arizona, Idaho, Massachusetts, Rhode Island and Vermont do not provide their governors with an official home while Alabama maintains three governor's abodes and Michigan, New Jersey, and North Carolina each have two.
Oklahoma's governor's mansion is a three story Dutch colonial design completed in 1928—21 years after Oklahoma became a state in 1907—with an extensive renovation completed in 1995. The home includes five bedrooms on the private second floor—tours of the first floor are open to the public on Wednesday afternoons except during the summer.
The first families of Oklahoma have all resided there since construction was completed—until now.
And if Republican Governor Kevin Stitt and his wife Sarah have their way, no future governor will either. Instead Oklahoma's governor will be getting a new mansion on the grounds of the historic home.
Oklahoma station KFOR journalist Ali Meyer uncovered secret plans by the first couple of Oklahoma to replace the nearly 100-year-old governor's mansion.
You can see their report here:
Despite spending over $2 million from the Oklahoma coffers for a controversial renovation completed in 2021, the current first family of Oklahoma doesn't live in the governor's mansion and never really have.

GOP Governor Stitt, wife Sarah and their children instead live in a modern mansion in Edmond, Oklahoma. The Stitt's have six children, but their eldest children no longer live with their parents full-time.
Stitt was elected in 2018 and moved from Tulsa to the state capital of Oklahoma City in 2019 but only lived in the official residence briefly before buying a $2.7 million dollar home 20 miles from the capital.
In 2021 Sarah Stitt oversaw the $2 million taxpayer funded renovation to address maintenence concerns for the then 93-year-old mansion. An estimate in 2015 put needed repairs and upgrades on the mansion at $4.2 million.
But critics said the funds provided by the state were misspent by the Stitt's.
According to the website corruptkevin.com:
"The state legislature appropriated $2 million to renovate the governor's mansion to address major renovations, including a new roof, windows, some appliances, and furnishings. While paying for basic repairs is reasonable, how the money has actually been spent by the Stitt family has raised some serious questions."
Reports confirm a new roof, windows, geothermal heating system, kitchen and repairs for electrical, plumbing and structural issues were completed during the project.
But instead of addressing any other necessities, corruptkevin.com reported:
"A high-end range cost taxpayers $8,544. A food warmer cost $6,578. A wine refrigerator cost $2,236."
"An area rug for the family room cost $8,888. An antique lamp cost $800."
Per KFOR's Meyer:
"According to the Office of Management Enterprise Services, the state poured $2,090,580 in taxpayer money into a home where our governor does not live."
Now it appears the Stitt's knew they didn't want to live in the existing mansion since 2019.
Nine months after taking office, the first couple called a meeting with former first families to present a multi-million dollar new governor's mansion proposal complete with concept drawings, architectural sketches, a well-known fundraiser and an architectural firm already on board.
The second mansion would be constructed on the south side of the current mansion grounds.
But instead of the enthusiastic approval the Stitt's wanted for their plan, they received no support for their proposition. The existing mansion would be turned into a fully accessible showpiece with tours available all year for the entire house while future first families would live in a private, $6 million+, state-of-the-art, luxury home.

Meaning the state would now be required to maintain two mansions instead of one.
Despite the lack of support and outright opposition from former first families, the Stitt's went into fundraising and luxury mansion planning high gear.
As of this writing, over $6 million has already been raised from unidentified sources for the project despite not being approved by Oklahoma's legislature or taxpayers.
The public facing "Friends of the Mansion" website—an organization chaired by Sarah Stii that solicits private donations—includes a message from the Oklahoma First Lady extolling the virtues of the historic home and her commitment to preserving anx maintaining the home her husband called "uninhabitable" despite 18 prior families living there until 2018.
No mention is made of the Stitt's actual plans to replace the residence.
Friends of the Mansion accepted donations of up to $250,000 from foundations; up to $150,000 from individuals. Contributions are un-trackable, private money solicited from wealthy individuals confidentially and Friends of the Mansion is not legally required to release the list of donors.
Republican State Representative Logan Phillips cried foul.
"Who's donating? What are they getting kickbacks on? I guarantee they are."
"We have no bid contracts here, and the Governor is using this as a way to garner funds for himself or garner funds for his bank system. This is self-enrichment and self-dealing at its very core."
Logan added:
"This is brand new information. At no point [has the legislature] been told anything about building a new mansion."
The governor's Director of Communications Carly Atchison denied the plans were a secret.
But KFOR reported the Executive Director of the Friends of the Mansion had board members sign non-disclosure agreements in February of 2020, to ensure the new private governor's mansion stayed a secret.
The governor's Communications Director—who along with the First Lady's Chief of Staff claimed ignorance of any plan to build a new mansion as recently as October 4, 2022—now says construction on the new private residence will begin next year.
They now say they planned a formal, public rollout of the campaign after the election.
A week after being contacted by Meyer of KFOR, the Executive Director of Friends of the Mansion finally confirmed the plan in a statement:
"Governor Stitt and First Lady Sarah Stitt have chosen to raise private funds for a new, family friendly residence that better accommodates families with young children, and those in need of ADA compliant facilities, and will allow the historic mansion to be more publicly accessible to the people of Oklahoma."
"No taxpayer funds are used for legacy gifts, as this is all run through Friends of the Mansion."
Many in and out of government called bullsh*t on the governor's excuse of ADA compliance as the reason behind the secret plans.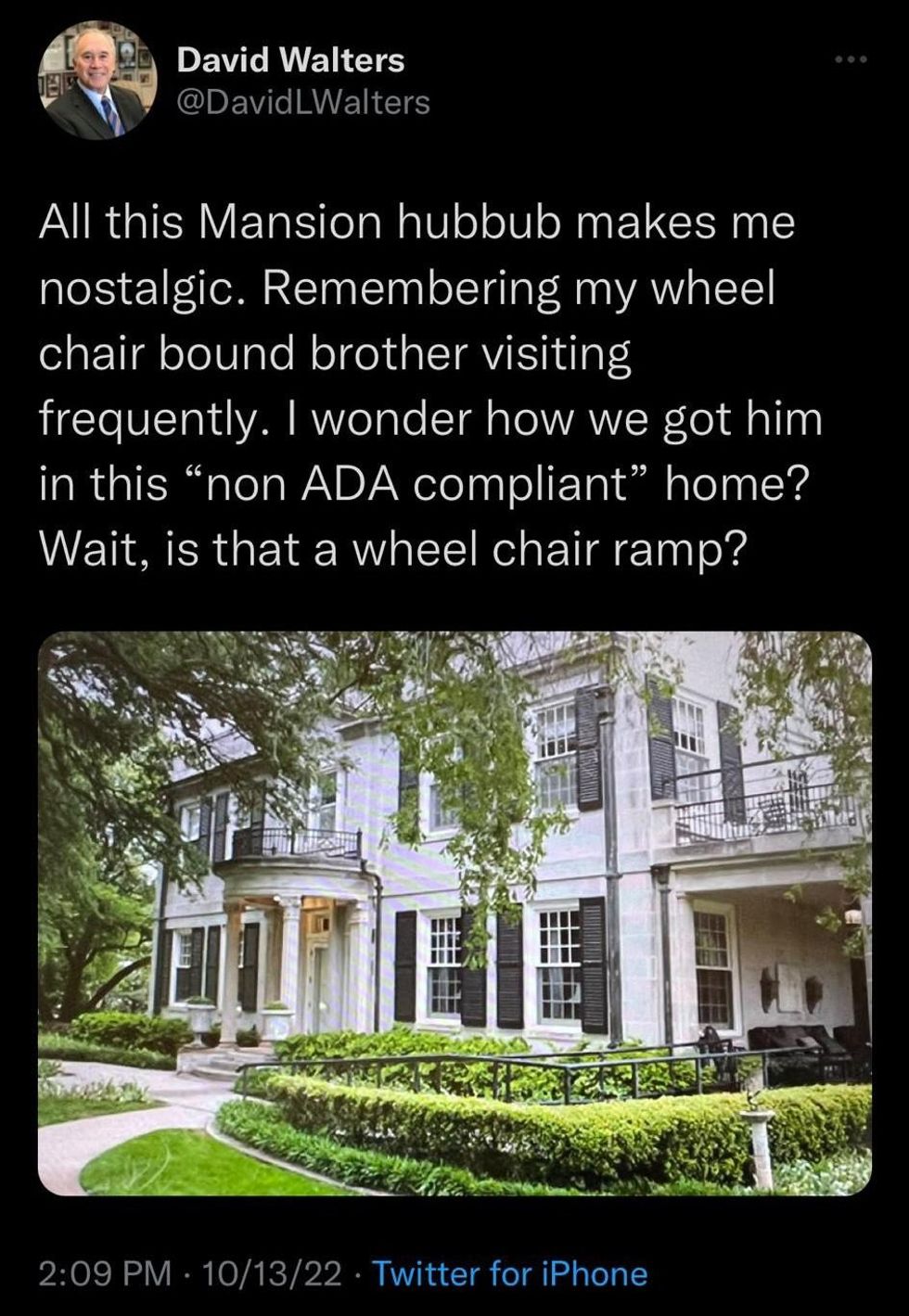 @DavidLWalters/Twitter
Neither the governor's spokesperson nor Friends of the Mansion addressed the cost to taxpayers for heating, cooling and other utilities and maintaining two governor's mansions.

On Wednesday, Governor Stitt parroted the ADA compliance claim and denied any secrecy or that NDAs were mandated.
KFOR countered they have a copy of the NDA Friends of the Mansion made people involved in the new mansion project sign.