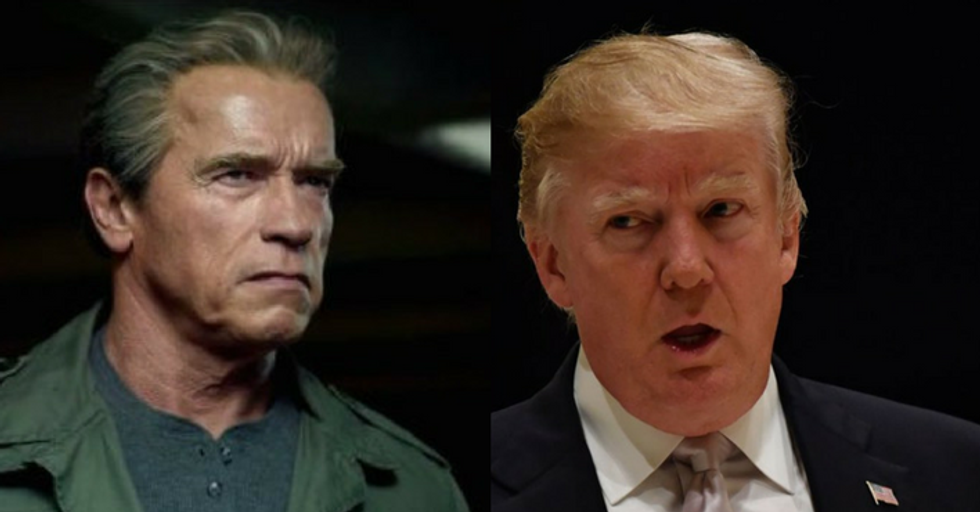 (Photos by @Schwarzenegger/Twitter and Nicholas Kamm/AFP/Getty Images)
Former California Gov. Arnold Schwarzenegger criticized President Trump's move to increase offshore oil drilling and proposed Trump drill in the waters off Mar-a-Lago, his Palm Beach resort, instead of California.
Our fishing, tourism, and recreation industries employ hundreds of thousands of great people. Our coasts are an eco… https://t.co/0jLJ0qFSSh

— Arnold (@Arnold) 1516664632.0
Schwarzenegger never mentions Trump by name, but everyone knows his intended target. This marks another in a long line of criticism leveled by the Republican former governor against the president.
Both men, considered celebrities-turned-politicians, repeatedly clash.
In April, Schwarzenegger criticized Trump's proposed cuts to children's services, specifically after school programs. The former governor accused the president of balancing the budget on the backs children.
"Kids are the most vulnerable citizens. Kids are our future," he said at the time.
In August, Arnold took Donald to task in a video criticizing Trump's response to the violence in Charlottesville, Virginia, and his lack of condemnation of "Neo-Nazis, the White Nationalists and the neo-Confederates".
Schwarzenegger also blasted Trump's leadership skills, his proposal to cut funding for  Meals on Wheels and his low approval ratings, among other things.
Trump, displeased by Schwarzenegger's vote for Ohio Governor John Kasich in the primaries even after Kasich dropped out, criticizes Schwarzenegger mainly for his low ratings on "Celebrity Apprentice."
Yes, Arnold Schwarzenegger did a really bad job as Governor of California and even worse on the Apprentice...but at least he tried hard!

— Donald J. Trump (@Donald J. Trump) 1486121091.0
Schwarzenegger replaced Trump as the show host after NBC fired Trump for racist remarks.
Keep reading... Show less