Sounds about right.
09 September 2019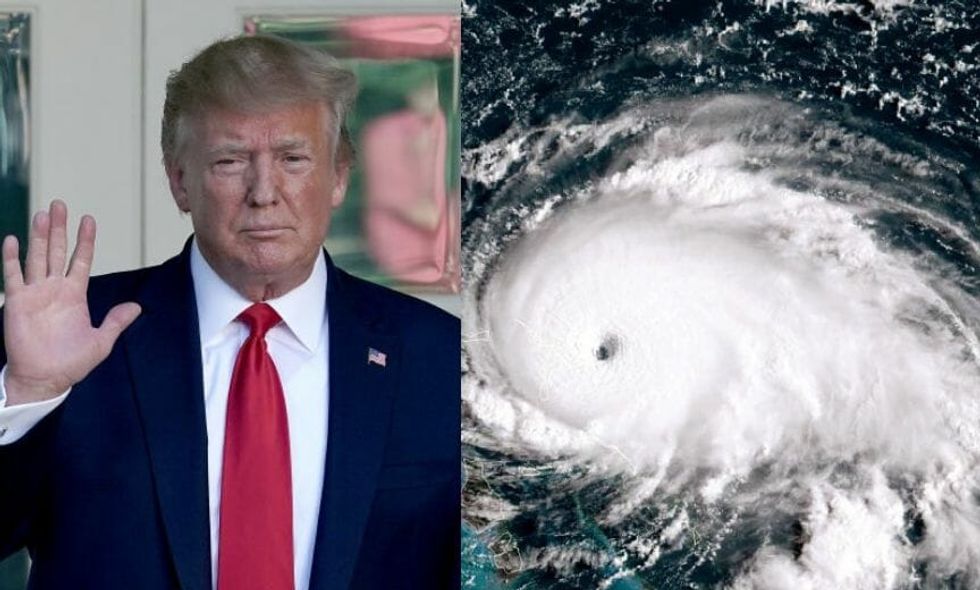 Chip Somodevilla/Getty Images // NOAA via Getty Images
If the Birmingham NWS truly made a mistake in contradicting the president of the United States, then why did it tak… https://t.co/2LidjChHeV

— George Conway (@George Conway) 1567855639.0
"From Wednesday, August 28, through Monday September 2, the information provided by NOAA...to President Trump and the wider public demonstrated that tropical-storm-force winds from Hurricane Dorian could impact Alabama," the statement said. It criticized the "absolute terms" with which the Birmingham National Weather Service asserted that Dorian wouldn't affect Alabama.
Though it was unsigned, NOAA's Director of Communications, Julie Roberts, worked on Trump's 2016 campaign and his inaugural committee.
Now, the acting chief scientist for NOAA, Craig McLean, is breaking with his department's assertion, saying the statement was put forth for "political" purposes.
In a newly-released email, McLean writes:
"There followed, last Friday, an unsigned news release from 'NOAA' that inappropriately and incorrectly contradicted the NWS forecaster. My understanding is that this intervention to contradict the forecaster was not based on science but on external factors including reputation and appearance, or simply put, political."
Stressing the need for the United States' official weather forecasts to be reliable, McLean announced he'd be pursuing information on the veracity of the statement and how it came to light.
"I am pursuing the potential violations of our NOAA Administrative Order on Scientific Integrity."
Multiple weather outlets and experts expressed dismay at the NOAA statement, whose only purpose seemed to be giving Trump the satisfaction of saying he was right the whole time.
Experts defended the veracity of Birmingham National Weather Service's assertion.
Because the gaslighting is getting real strong now, and it's all too easy to start questioning reality, here is eve… https://t.co/BwmLoIhWY6

— Sam Lillo (@Sam Lillo) 1567813528.0
The tweet from NWS Birmingham was spot on and accurate. If they are coming after them, they might as well come afte… https://t.co/COXGkpWFuM

— James Spann (@James Spann) 1567806017.0
This is a complete and utter disgrace. The NWS in Birmingham's tweet was 100% spot on with the absolute terms it ch… https://t.co/nCx2u1RGR7

— Matt Lanza (@Matt Lanza) 1567806506.0
People commended McLean for his efforts to keep the weather reports reliable.
Craig McLean deserves support. There is not a finer public servant than him. I have known him for 20 yrs and counte… https://t.co/1NT5zVpik4

— Monica Medina (@Monica Medina) 1568039543.0
Outstanding decision Craig McLean! It's great to see someone with a true sense of propriety taking action like thi… https://t.co/a5tPAdisbC

— Michael Hancock 🌊 (@Michael Hancock 🌊) 1568055275.0
@forwardarc @LynnetteEndean People like Craig McLean are the profiles in courage we so desperately need in these times. @maddow @morningmika

— Christine Zambrano (@Christine Zambrano) 1568045562.0
@NOAA Craig McLean shows integrity. I will NOT follow NOAA again until your ethics are corrected and you offer an… https://t.co/CzVW3p0zeV

— J M (@J M) 1568053188.0
The nation awaits results from McLean's investigation while Trump argues whether or not the sky is blue.
------
Listen to the first three episodes of George Takei's podcast, 'Oh Myyy Pod!', where we explore the racially charged videos that have taken the internet by storm.
Be sure to subscribe here and never miss an episode.
Keep reading...Show less