Michael S. Schwartz/Getty Images; Tasos Katopodis/Getty Images
Far-right media personality Ann Coulter gained notoriety and conservative adoration by peddling racist, xenophobic, and generally bigoted rhetoric.
Naturally, she was one of President Donald Trump's most vocal supporters during the 2016 campaign, but she's since soured on him for failing to keep the most damaging of his promises.
While most Republicans who've refused to support Donald Trump came to the decision because of his lack of decency, Coulter did so because he hasn't been indecent enough.
She's criticized the President before, but she took things to a new level this Memorial Day weekend, shaming the President's job performance and referring to him with a slur in a Twitter rant that rivaled the President's own deranged behavior on the social media outlet.
3 years ago, a complete moron of a president told NBC's Lester Holt, "I was going to fire Comey. ... [W]hen I decid… https://t.co/9k5HxqNlLZ

— Ann Coulter (@Ann Coulter)1590309741.0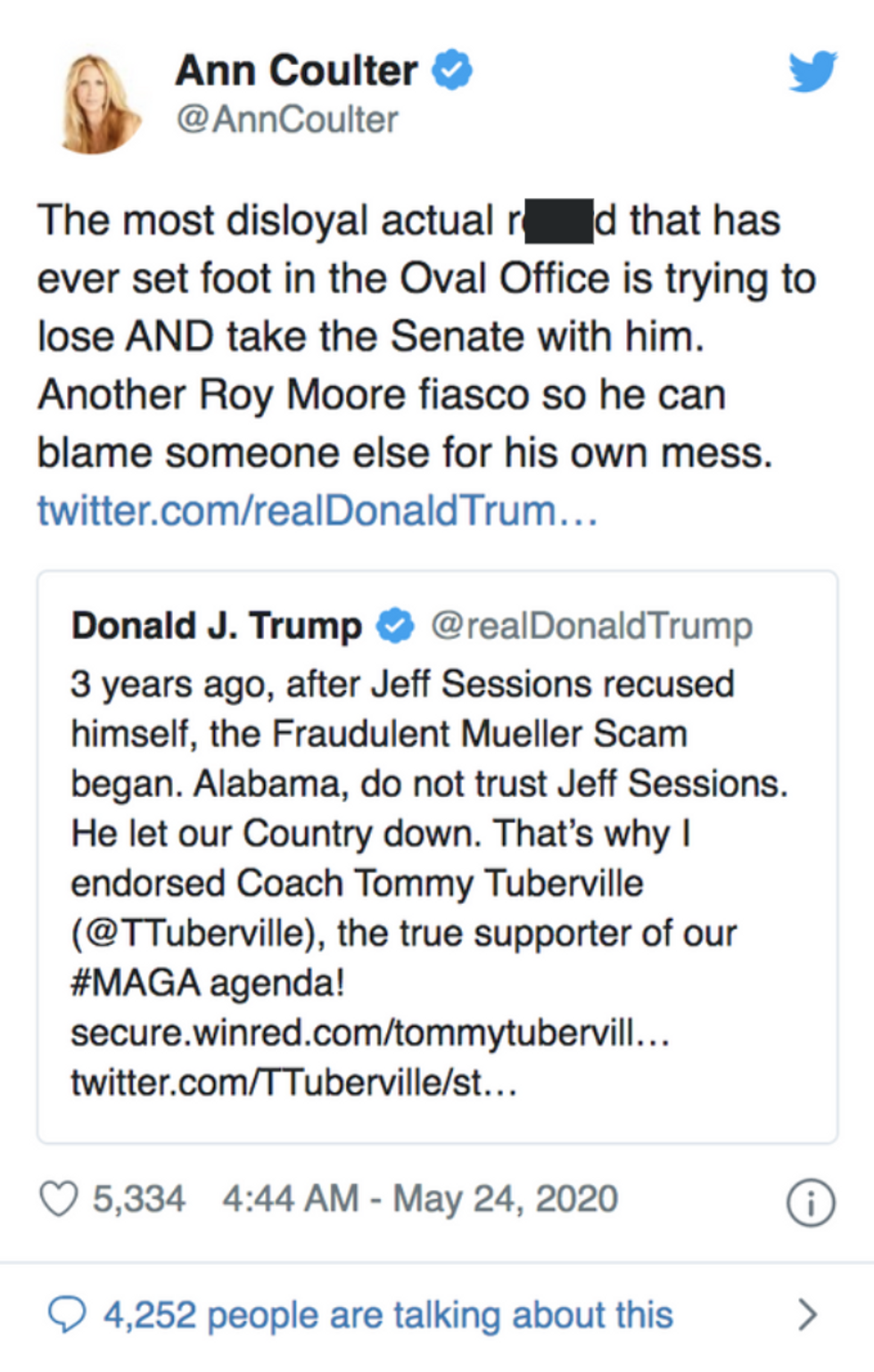 Trump didn't build the wall and never had any intention of doing so. The ONE PERSON in the Trump administration wh… https://t.co/2b0BsJD6ye

— Ann Coulter (@Ann Coulter)1590309970.0
COVID gave Trump a chance to be a decent, compassionate human being (or pretending to be). But he couldn't even do… https://t.co/0XosxLrhrC

— Ann Coulter (@Ann Coulter)1590310053.0
The media is salivating over the former football coach, Tommy Tuberville (choice of the most disloyal human God eve… https://t.co/jaXDVatJUl

— Ann Coulter (@Ann Coulter)1590310294.0
GREAT WORK IN THE LAST ALABAMA SENATE RACE, MR. PRESIDENT! Keep it up and we'll have zero Republican senators. The… https://t.co/guDZOnMkjV

— Ann Coulter (@Ann Coulter)1590310462.0
Sessions HAD to recuse himself, you complete blithering idiot. YOU did not have to go on Lester Holt's show and an… https://t.co/kknZfTERmw

— Ann Coulter (@Ann Coulter)1590310580.0
I can't wait to see what the media have in store for the former football coach, Tuberville. This is going to be an… https://t.co/Vqcf4UIajM

— Ann Coulter (@Ann Coulter)1590310797.0
Coulter was responding to Trump's attacks on his former Attorney General, Jeff Sessions, who is currently fighting to unseat Senator Doug Jones (D-AL). Jones won against the Republican candidate, accused child molester Roy Moore, in a special Senate election in 2018.
Despite Sessions being ideologically aligned with Trump, the President holds Sessions responsible for recusing himself from the Mueller investigation, allowing it to continue.
Coulter's tweets made her no friends.
Trump's detractors began mocking her.
Looks like @AnnCoulter finally seen the light at the end of the tunnel.. 🤣🤣🤣🤣 These white supremacists are having… https://t.co/wnr2LqxjCJ

— Joe Telometto (@Joe Telometto)1590342532.0
@AnnCoulter @gtconway3d They're eating their own.

— Otter Nonsense🥀 (@Otter Nonsense🥀)1590355500.0
@AnnCoulter Man, This is a day of days, I agree with Ann, something is wrong in the timeline, its bazzaro universe !

— Phiber (@Phiber)1590434893.0
@AnnCoulter When I see Coulter and #FailureInChief going at it.. https://t.co/BZDyJq46Sf

— Sam Zodin (@Sam Zodin)1590383625.0
But most of the blowback came from Trump's supporters, who can't abide with any criticism of the President.
@AnnCoulter WOW REAL ORIGINAL LOL ORANGEMANBAD

— Canadian hiding from the mob (@Canadian hiding from the mob)1590310373.0
@AnnCoulter Please watch your language here.Youre speaking about a man who has been hauled through the fire for the… https://t.co/lWSGYKBKEJ

— Naomi Bashan (@Naomi Bashan)1590313264.0
@AnnCoulter Tramp

— ❌The Real Joe Pro❌ (@❌The Real Joe Pro❌)1590329051.0
Oh, Ann.
Keep reading... Show less