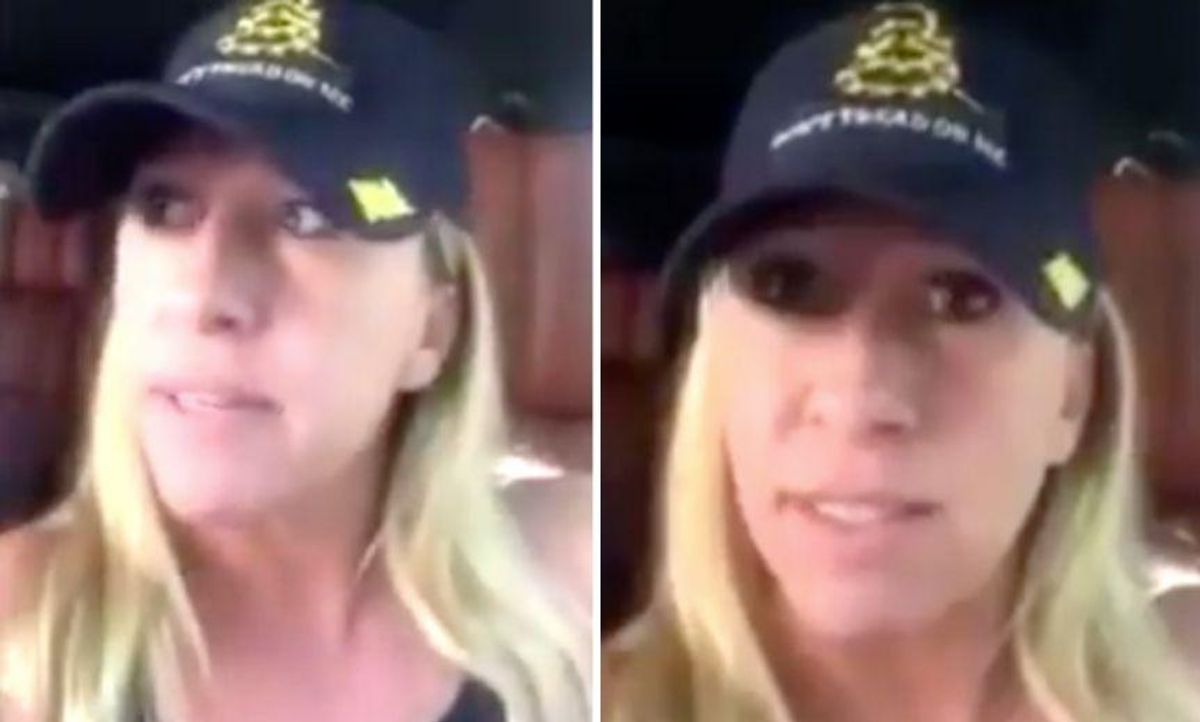 @RonFilipkowski/Twitter // @RonFilipkowski/Twitter
Congresswoman Marjorie Taylor Greene (R-GA) has only been representing Georgia's 14th District for a few weeks, but she's already infamous across the United States.
Greene has previously expressed support for the QAnon conspiracy theory, which hinges on the delusion that the U.S. government is controlled by a secret network of satanic cannibal pedophiles, and that former President Donald Trump was sent to expose them.
The Congresswoman—who says that so-called Trump Derangement Syndrome is the most urgent issue facing the United States—has made waves for her efforts to overturn the results of the 2020 election and to impeach President Joe Biden on his first full day in office.
She's recently faced an onslaught of criticism for resurfaced Facebook activity where she expressed support for the execution of prominent Democrats and endorsed the deranged idea that former Secretary of State Hillary Clinton is on video "filleting a child's face."
If that weren't enough, Greene has claimed in the past that Clinton and House Speaker Nancy Pelosi (D-CA) work together to coordinate school shootings. She's even harassed school shooting victims for their gun law reform advocacy.
Greene is once again in hot water for yet another resurfaced video in which she suggests the shooting of a country music concert in Las Vegas in 2017—which left 61 people dead—was a coordinated effort by Democrats to popularize gun law reform among conservatives.
Watch the bizarre rant below.
Asking her followers how they would go about getting "avid gun owners" to support "anti-gun legislation," Greene suggested:
"Maybe you accomplish that by performing a mass shooting into a crowd that is very likely to be conservative, very likely to vote Republican, very likely to be Trump supporters, very likely to be pro-Second Amendment and very likely to own a gun. You make them scared, you make them victims, and you change their mind set. Then possibly, you could pass anti-gun legislation. Is that what happened in Las Vegas?"
She continued:
"I don't believe [the shooter] was a lone wolf. I don't believe that he pulled this off all by himself, and I know most of you don't, either. So I'm really wondering if there's a bigger motive there, and does it have to do with the Second Amendment?"
Greene was already facing calls for her resignation, and this latest resurfaced video only strengthened those.
People were disgusted that Greene's paranoid delusions have been further legitimized with her ascent to Congress.

House Minority Leader Kevin McCarthy (R-CA) has said he will have a "conversation" with Greene about her "deeply disturbing" comments, but few found his promise assuring.