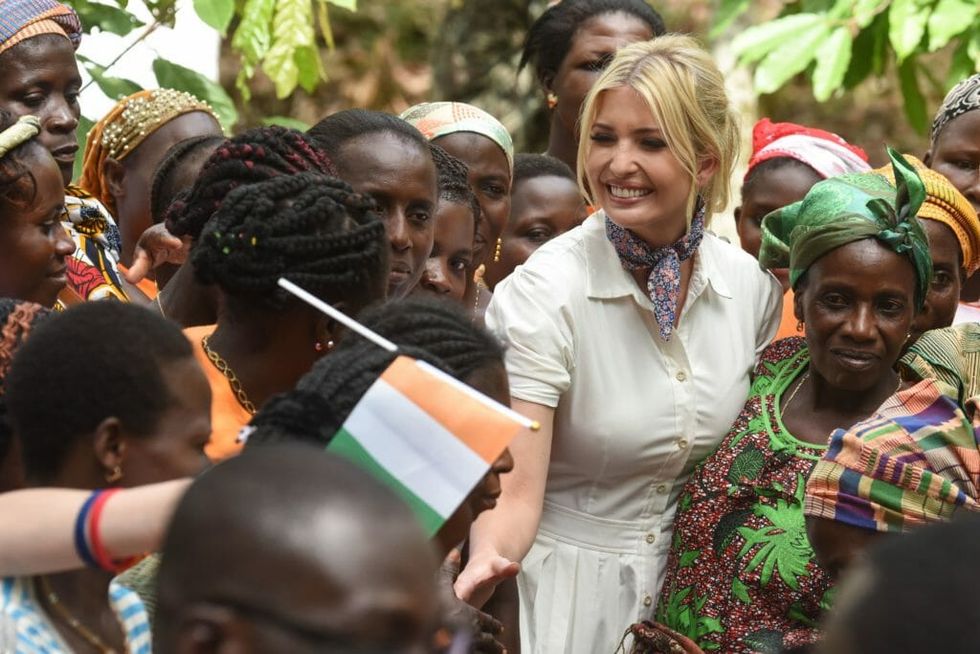 Senior Advisor to the U.S. President Ivanka Trump (C-R) shakes hands as she visits the cocoa cooperative fermers near Adzope as the first Women Entrepreneurs Finance Initiative (We-Fi) West Africa Regional Summit to be held on April 17, 2019 in Abidjan. (Photo by ISSOUF SANOGO / AFP) (Photo credit should read ISSOUF SANOGO/AFP/Getty Images)
Ivanka, who is a Senior White House Advisor as well as the President's daughter, made a charity visit to Africa to discuss the initiative, and to meet with some the people she hopes to empower. You know, the ones her father referred to countries within the continent as "sh--hole countries" and who—as recently as yesterday—moved to slow immigration from several of Africa's countries.
But she danced with them, so that must make it okay.
People began making the obvious joke.
During her trip, Ivanka attended an Ethiopian coffee ceremony, visited a cocoa farm, and tried out a loom at an Ethiopian textile factory, proving that she is, in fact, empowering. Or at least empowering-adjacent.
Ivanka is said to have flown commercial for the trip, but, like any empowered woman, brought along a $1,655 dress to wear to a meeting with Ethiopian president Sahle-Work Zewde.
Ivanka's father, President Donald Trump, referred to countries in Africa as "shithole countries" last year, but Ivanka has been clear that she prefers to stay out of politics. "My job as a member of this administration is not to share my viewpoint when they diverge," Ivanka said in February, adding "My role in this regard is not to—is not to be president of all women's issues or running all women's issues across the United States government."
That's an interesting viewpoint from someone claiming to champion women's empowerment - not to mention the President's senior advisor.
Ivanka, you've got it right: it was your privilege.
Keep reading...Show less