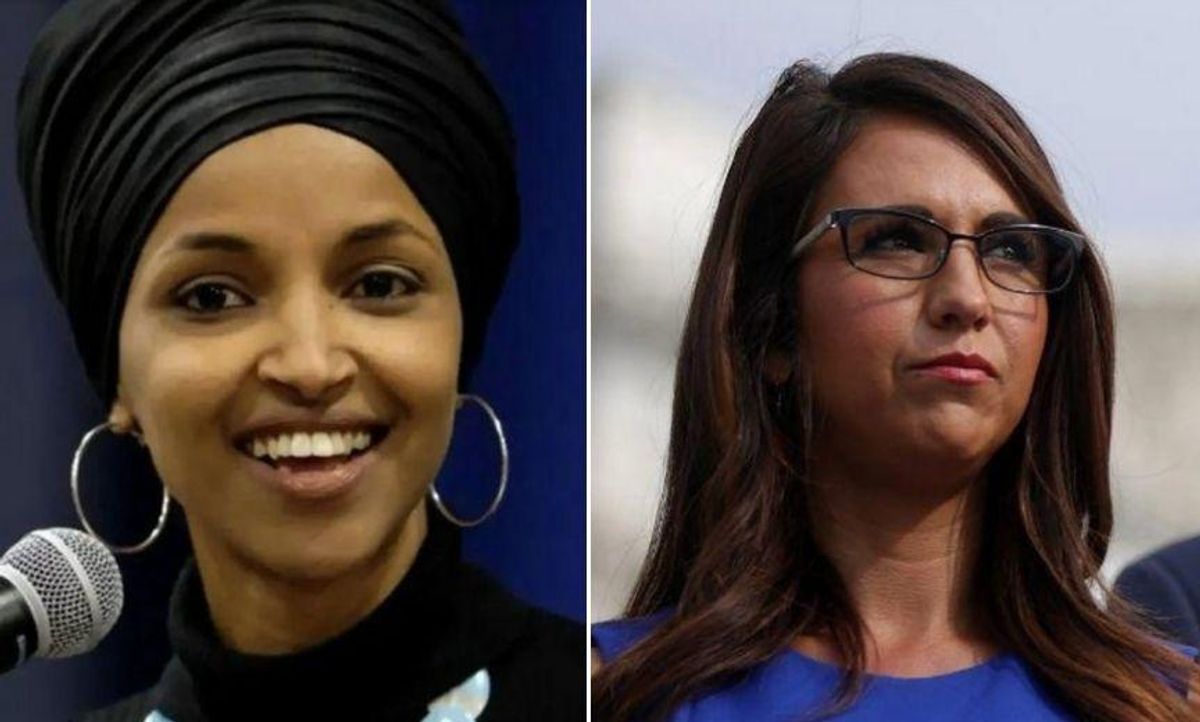 Preston Ehrler/SOPA Images/LightRocket via Getty Images // Alex Wong/Getty Images
Democratic Congresswoman Ilhan Omar of Minnesota, one of the first Muslim women elected to Congress, has routinely faced hatred and bigotry from the right over her religion.
She's been falsely accused of supporting terrorism. She's faced calls to be sent back to Somalia, from which she escaped as a child before becoming an American citizen.
The Congresswoman became the subject of backlash again in an effort to point out double standards in the United States over the varying acceptability in public expression of religious beliefs.
Earlier this week on Twitter, a video of Christians singing religious songs on a plane went viral, appearing to originate on the Instagram of Pastor Jack Jensz Jr.
Omar was one of the many social media users who responded to the video, asking what would happen if, as a Muslim, she chose to engage in a prayer session with her family while on a plane.
The Congresswoman made no remarks about Christianity or any other faith. She did not criticize those featured in the video. She didn't reveal any of their personal information.
Yet her far-right colleague, Congresswoman Lauren Boebert of Colorado, accused her of "anti-Christian hate."
Interestingly enough, Boebert has publicly engaged in anti-Muslim hate while talking with her constituents, even joking on multiple occasions that Omar could be a suicide bomber.
In a response to Boebert, Omar acknowledged that this month is Ramadan and offered to pray for Boebert.
Social media users joined her in dunking on Boebert.
But Omar still faced vicious bigotry in response to her rebuttal.

Muslims across the country continue to face similar discrimination to the kind frequently lobbed at Omar.