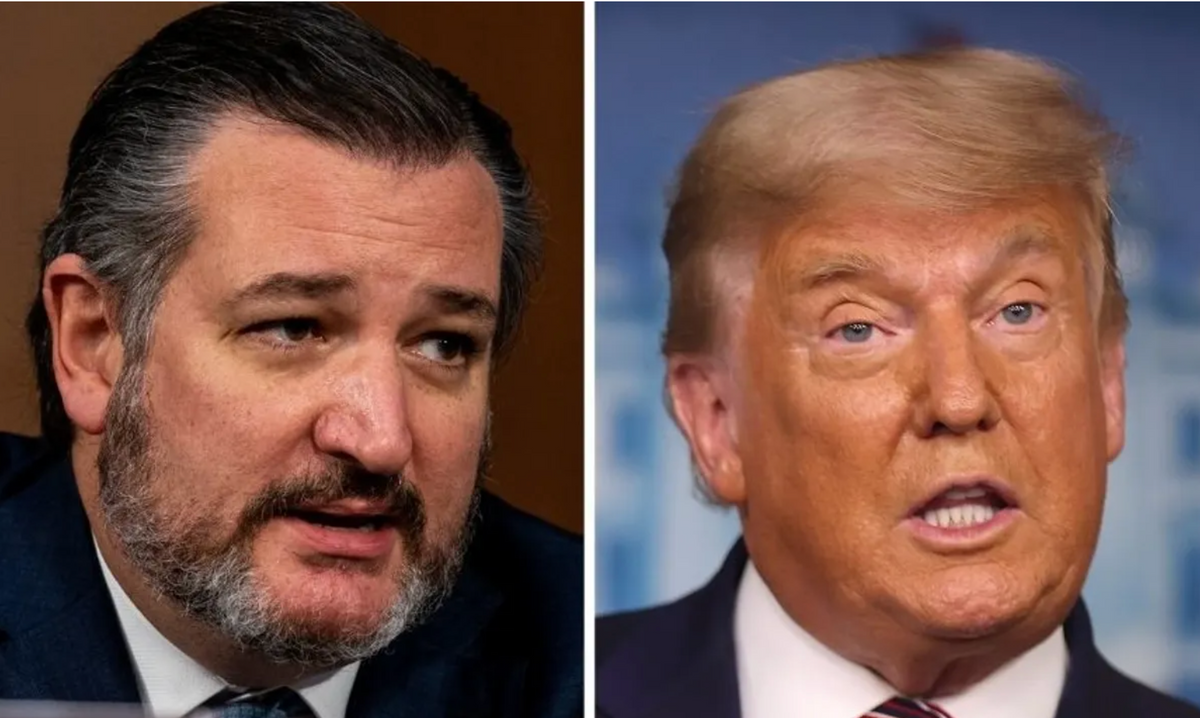 Anna Moneymaker-Pool/Getty Images // Chip Somodevilla/Getty Images
History will forever remember the day of January 6, 2021 as the day a mob of pro-Trump extremists stormed the United States Capitol, fueled by then-President Donald Trump's constant lies about the 2020 election, in a deadly failed insurrection.
The intent of the rioters was to upend the joint session of Congress that nationally certified now-President Joe Biden's victory. In addition to Trump's weeks-long calls for his supporters to come to the Capitol that day, he once again urged them at a rally minutes before the insurrection to march to the Capitol and fight for him.
In addition to this, Trump urged his Republican supporters in the Senate to object to certified electoral votes of swing states that he lost.

Both before and immediately after the deadly riots at the Capitol, Senator Ted Cruz (R-TX) carried out these requests, objecting to the electoral votes of multiple states.
In the weeks since the riots, he's dismissed the idea that Trump incited the riots and he's urged the country to move on.
But in the 2016 campaign, when Cruz and Trump were among the last standing in a bitter primary for the Republican presidential nomination, Cruz warned far-right pundit Glenn Beck that Trump frequently incited violence.
Watch below.

Cruz said:

"I am very troubled by this. Donald Trump now has a consistent pattern of inciting violence, of Donald and his henchmen pushing for violence."
This is a key component of the House impeachment managers' argument: that, beyond the speech that day, Trump had an established pattern of inciting violence and frequently shrunk at the idea of condemning it.

Cruz will almost certainly vote to acquit Donald Trump of the impeachment charges against him, but not before Twitter puts him through the wringer for his hypocrisy.
But since inciting violence works in @tedcruz's favor now, screw it. Retrumplican hypocrisy at its finest. https://t.co/q90RTdTtaT

— Mrs.🦅Beaumont (@Mrs.🦅Beaumont) 1613165513.0
@tedcruz do you recognize this shameless joker? #ConvictAndDisqualify https://t.co/U5GjJoY49A

— Jared Van Dyke (@Jared Van Dyke) 1613161694.0
@SenTedCruz do you stand by your words? https://t.co/RlvvvbsLQ4

— Hilbert🇺🇸 (@Hilbert🇺🇸) 1613161233.0
@tedcruz You're a pathetic coward. https://t.co/VgDVUqB3Ve

— B Buff (@B Buff) 1613158867.0
#TedCruz knew in 2016 & now he's trying to deny it. @tedcruz WHY are you still with HIM? https://t.co/nZejxCrOwm

— TexasHeartNurse (@TexasHeartNurse) 1613158733.0
Is that Ted before the beard? Oh, he's also called rRump a "sniveling coward, a kook, a pathological liar" etc. T… https://t.co/y18cujKbBv

— Kent Henry (@Kent Henry) 1613157682.0
After revelations that Cruz is assisting Trump's defense team despite his oath to act as an impartial juror, the Senator is facing widespread rebuke.
Seriously, Ted Cruz needs to go. He's a co-conspirator and has no place in this trial, let alone the Senate. Can th… https://t.co/K0XXdAmNAm

— Robert Reich (@Robert Reich) 1613162439.0
Not even a glimmer of concern about appearances of impropriety. https://t.co/KqvGRT9mFg

— Elizabeth C. McLaughlin, Esq. (@Elizabeth C. McLaughlin, Esq.) 1613158487.0
How can he be an impartial juror? https://t.co/SlqhjzBgfy

— Republicans against Trumpism (@Republicans against Trumpism) 1613158846.0
The Senate impeachment trial of Donald Trump is expected to conclude on Saturday, February 13.