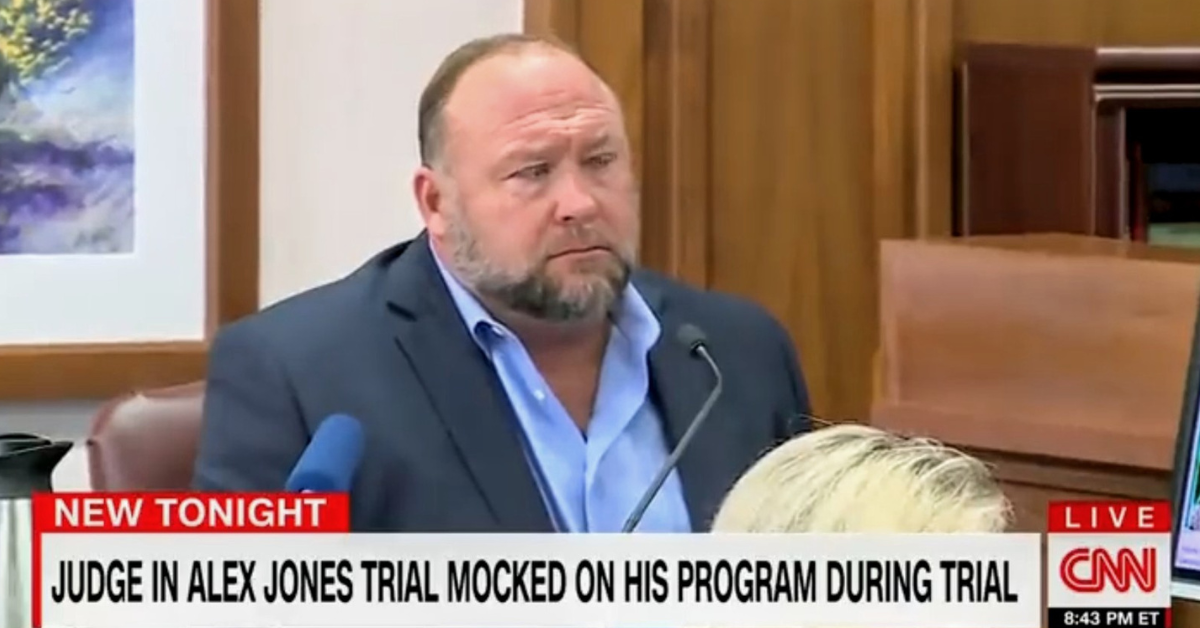 CNN
As the latest defamation trial of Alex Jones wound down to its conclusion, an old saying seemed to become more and more apropos.
How can you tell Alex Jones is lying? His lips are moving.
In the trial that concluded Thursday in Texas, the jury only needed to decide how much Jones owed Sandy Hook parents Neil Heslin and Scarlett Lewis—parents of 6-year-old Jesse Lewis who was murdered in the 2012 school shooting. Sandy Hook victims in Texas and Connecticut already won a default judgment against Jones for defamation and intentional infliction of emotional distress.
As such, it would behoove Jones to only tell the truth while on the stand, under oath. Instead, the InfoWars founder and host was caught in several lies including one about the judge presiding over the trial—Texas District Court Judge Maya Guerra Gamble.
The still grieving parents' attorney Mark Bankston asked Jones' directly if his InfoWars website and program repeatedly shared a meme depicting Judge Gamble on fire.
On the second day of Jones' testimony, Bankston asked:
"You've been broadcasting repeatedly a picture of our judge on fire, haven't you?"
Jones' lawyer immediately objected, but Jones still answered:
"No!"
After Jones first day of testimony, Bankston called for sanctions against him and his lawyer Adino Reynal for knowingly presenting lies to the jury to influence the ruling.

Judge Gamble chastised Jones for lying and not answering the questions he was asked.

The judge provided explicit instructions and guidance on telling the truth then dismissed the parties for the day.
You can see Judge Gamble's excoriation of Jones here:
In response to being told not to lie, Jones told Judge Gamble:
"I believe what I said was true."
The judge—appearing exasperated—replied:
"You believe everything you say is true. But it isn't. Your beliefs do not make something true."
She later added:
"Your belief that something is true does not make it true. It does not protect you. It is not allowed."
"You are under oath. That means things must actually be true when you say them."
On Jones' second day of testimony, plaintiffs' attorney Bankston questioned him about using InfoWars to further defame his clients—Heslin and Lewis—during the trial.
Bankston said Jones also used his platform to try to discredit Judge Gamble, but on the stand, under oath, Jones denied it.
Bankston asked:
"In fact, Mr. Jones, you're telling the world not to believe what happens in this courtroom because the judge worked with Child Protective Services, who you say is involved with pedophilia and child trafficking?"
Jones replied:
"No, that's not what I'm saying."
After Bankston shared more damning evidence...
...Jones justified his answer by claiming he didn't direct or produce the InfoWars segment.
He also suggested it might be taken out of context which Bankston disputed.
Bankston responded:
"Is there anything before and after that that will make it great to show pictures of our judge on fire and tell the world that she's involved with pedophiles?"
"Tell the context that comes before or after that makes that great."
Despite being told the day before about the difference between truth, opinion and conjecture, Jones once again chose to lie then backtrack.

People were astounded at Jones' hubris.
@lindyli/Twitter
On Thursday, the jury awarded Neil Heslin and Scarlett Lewis $4.1 million in compensatory damages.

On Friday, the jury awarded an additional $45.2 million in punitive damages.