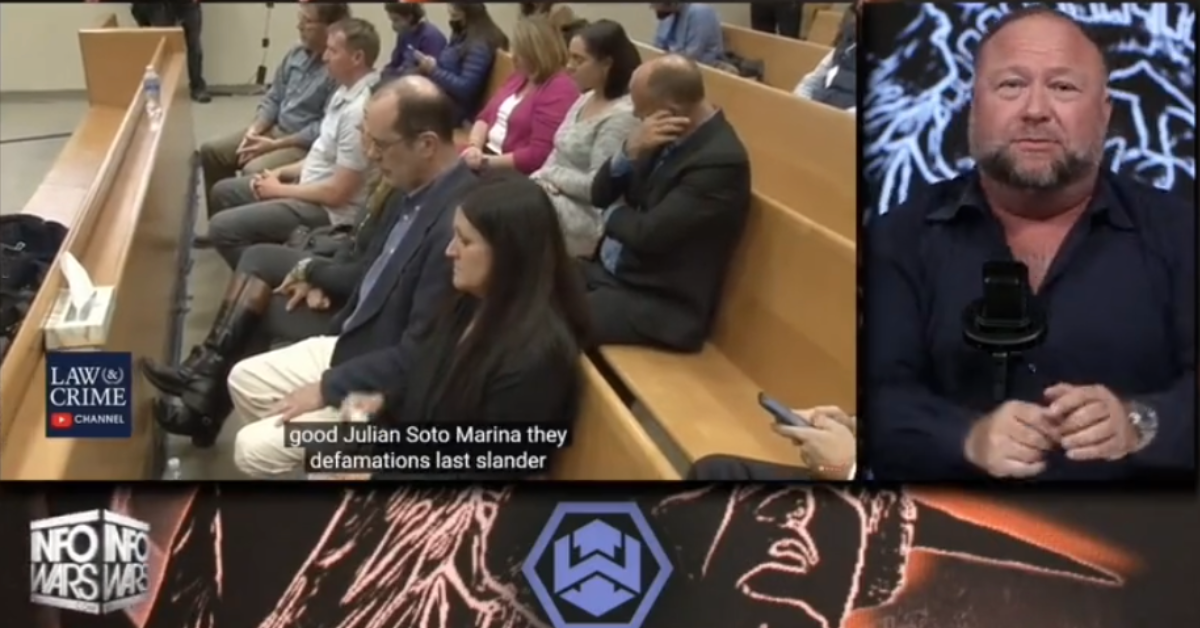 InfoWars/@RonFilipkowski/Twitter
A Connecticut jury ordered Alex Jones to pay nearly $1 billion to families of the victims of the Sandy Hook Elementary School shooting.
The verdict was part of the defamation case against him over his years-long erroneous claims the December 14, 2012 Newtown, Connecticut massacre when 26 people–6 of whom were adult staff members and 20 of whom were children between the ages of 6 and 7 years old–were murdered was just a hoax.

Rather than take responsibility for the years of harassment and death threats against the families his lies caused, the right-wing conspiracy theorist—and friend and advisor to former Republican President Donald Trump—mocked the verdict during a simulcast Livestream.
Jones remarked:
"This must be what Hell is like—they just read out the damages, even though you don't got the money."
Jones also claimed Wednesday's verdict was aimed at "scaring everybody away from freedom" adding "we're not going away, and we're not going to stop."
The families of eight victims and one first responder sued Jones for claiming—with zero substantiated evidence in almost a decade of spreading the lies—the shooting was a staged false flag to help the government take away people's guns and everyone involved were crisis actors.
Jones made a fortune off spreading the lies online and in public appearances while selling supplements and survivalist supplies to fans made paranoid by his conspiracy theories and White nationalist rhetoric.
When the $965 million settlement was read against him, Jones yelled out:
"$50 million! $80 million! Blah, Blah. You get a million! You get a $100 million! You get $50 million!"
This was done as family members were seen crying in the courtroom.
Jones asked:
"Do these people actually think they're getting any of this money?"
"Ain't gonna be happening. Ain't no money."
As he made another plea for donations, he reminded fans he was in bankruptcy to avoid paying any legal judgments.
He added he's got "two years in appeals" and:
"The money you donate does not go to these people [the victims]."
"It goes to fight this fraud and to stabilize the company [Infowars]."
Twitter may have run out of patience for his complete lack of remorse, but they had plenty of words to describe his character.

The largest sum out of all the Connecticut plaintiffs went to Robbie Parker, father of six-year-old victim Emilie Parker.

Jones was ordered to pay Parker $120 million in damages while several other parents of the murdered children were awarded more than $50 million each. A previous judgment was issued in Texas to the parents of Jesse Lewis.
Parker said he and his family were faced with violent threats after Jones made an accusation on his show the grieving father was a crisis actor in a staged hoax.

At one point after Jones faced lawsuits over his spurious claims, he acknowledged the shooting was real and at one point blamed his perpetuating the conspiracy theory on a "form of psychosis." He then returned to his program and backtracked claiming he was justified in questioning the mass murder.
Jones spread lies and conspiracy theories about other mass shootings, but Sandy Hook was his most lucrative target so Jones kept going back to the well for nearly a decade.
The Sandy Hook massacre was the deadliest mass shooting at a school in United States history.
It is also the fourth-deadliest modern mass shooting in the United States, excluding government actions against Indigenous peoples.