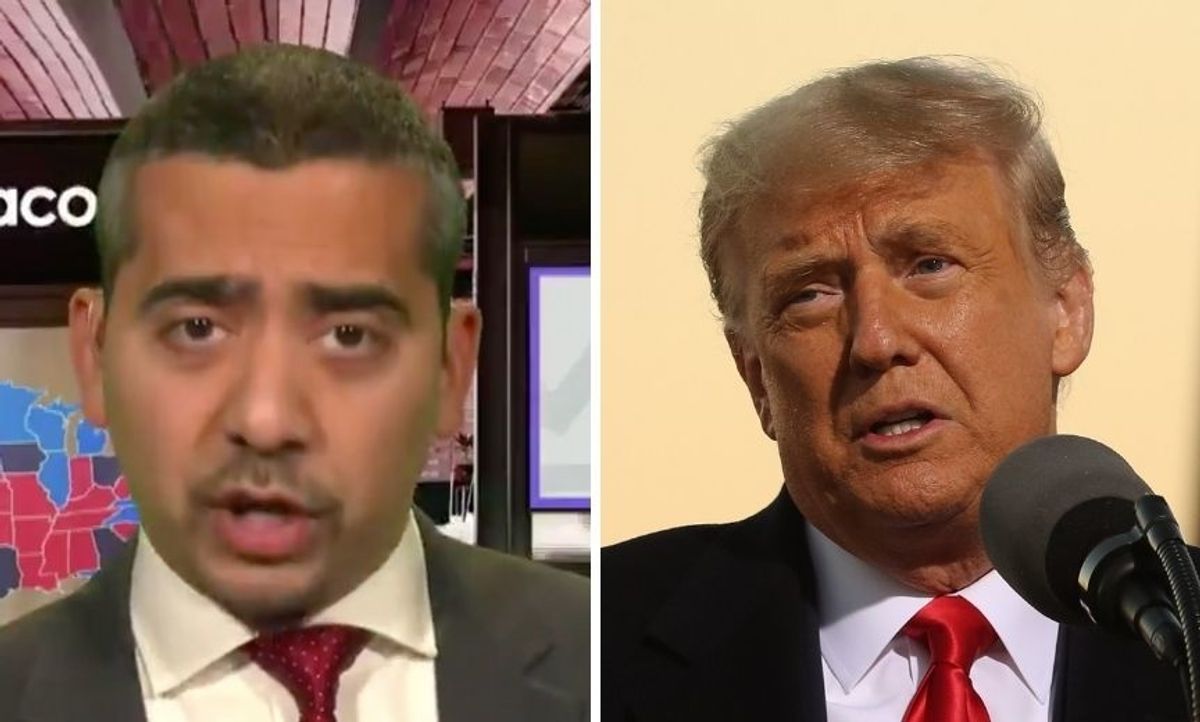 Peacock/NBC // Chip Somodevilla/Getty Images
With over 20 thousand lies told since his inauguration, a years-long investigation into Russian meddling in the United States election, an impeachment, and countless scandals, President Donald Trump's first—and potentially last—term has felt far longer than four years to his critics.
For that reason, it's easy to let some of his worst actions slip through the cracks in the daily onslaught of his everyday antics.
That's why NBC political host Medhi Hasan gave a two minute recap of Trump's most deplorable moments in office—and he did it in just under two minutes, right before the Election Day that will decide Trump's fate.
Watch below.

Telling his producers to "start the clock," Hasan breathlessly recounted Trump's Muslim ban, the "zero tolerance" policy at the border that resulted in expanded family separations, among other atrocities.
Hasan said:

"This is a president who brought in a Muslim ban, closed the door to Syrian refugees, caged migrant kids at the border, praised neo-Nazis in Charlottesville as 'very fine people,' referred to one Black woman as a dog and another as low IQ, referred to African countries as s-hole countries, suggested everyone in Haiti has AIDS."
He reminded viewers that Trump told four American Congresswomen of color to "go back" to the countries they came from, as well as praising the QAnon conspiracy theory and proudly branding himself as a nationalist.
People were amazed at Hasan's expansive and speedy recounting of events.
It was a sobering reminder to Trump's critics of how urgent the 2020 election is.

The United States election is on November 3, and over 100 million people have already voted.