The White House
Vice President Mike Pence and his wife Karen addressed attendees of a National Day of Prayer event outside the White House on Thursday.
Shortly before introducing President Donald Trump, Pence bragged of the president's accomplishments, saying:
Keep reading...
President Donald Trump's administration suffered another legal blow yesterday after the Fourth U.S. Circuit Court of Appeals upheld a district court's nationwide injunction against his revised travel ban. The 10-3 vote halts Trump's plans to deny visas from seven Muslim-majority countries.
Chief Judge Roger Gregory delivered the stinging rebuke to Trump in the court's majority opinion, writing that the order was unconstitutional because of its bias against Muslims:
Keep reading...
By Jay Kuo
We spoke to Professor Elizabeth Ferris of Georgetown, who is a senior fellow in foreign policy at the Brookings Institution in Washington DC, about the recent "Muslim ban." Ferris has written about the "disastrous ripple effects" of that executive action. In her interview with Second Nexus, she describes why Trump's policy against Muslim immigrants does not comport with American culture, and has some suggestions for Trump's anti-immigrant supporters and Muslims seeking to come here.
Keep reading...
Sidd Bikkannavar, a natural born US-citizen and an employee of NASA's Jet Propulsion Laboratory (JPL), was detained by US Customs and Border Patrol (CBP) on January 30 upon returning to the United States. At the time, Bikkannavar was returning from Santiago, Chile, where he had been pursuing his hobby of racing solar-powered cars. He is also enrolled in CBP's Global Entry program, which normally allows those who have undergone a background check to expedite their entry into the US. He has never visited any of the countries mentioned in Trump's executive order and has worked at JPL for 10 years.
After landing at George Bush Intercontinental Airport in Houston, Texas, CBP officials detained Bikkannavar after scanning his passport. While held in a back room, agents asked him questions about his travels and his personal life before pressuring him to give them access to his phone, which was officially NASA property.
Keep reading...
Last night, the Trump administration
defended his executive order
banning Muslims from seven countries from entering the U.S. The Ninth Circuit Federal Court of Appeals heard the Justice Department's appeal in a telephone hearing. More than
130,000 interested listeners
tuned in to hear the arguments.
Trump issued his executive order on
January 28
, stranding travelers who had already undergone vetting to get visas and green cards.  The order sparked 
protests
 at airports and other locations across the country.
On
January 28
, Federal Judge Ann Donnelly issued an emergency ruling that required U.S. border agents to stop returning people who arrived with valid visas or approved refugee applications. A series of additional court decisions have followed in the days since that decision, culminating in the issuance of a Temporary Restraining Order by Judge James Robart in Seattle, which formed the basis of the appeal.
The hearing before the Ninth Circuit will decide whether the ban stays in place or may proceed while the legal challenges to the ban's constitutionality continue to move through the system. The Justice Department argued that national security justified Trump's order and that, traditionally, issues of national security are immune from lawsuits or judicial review.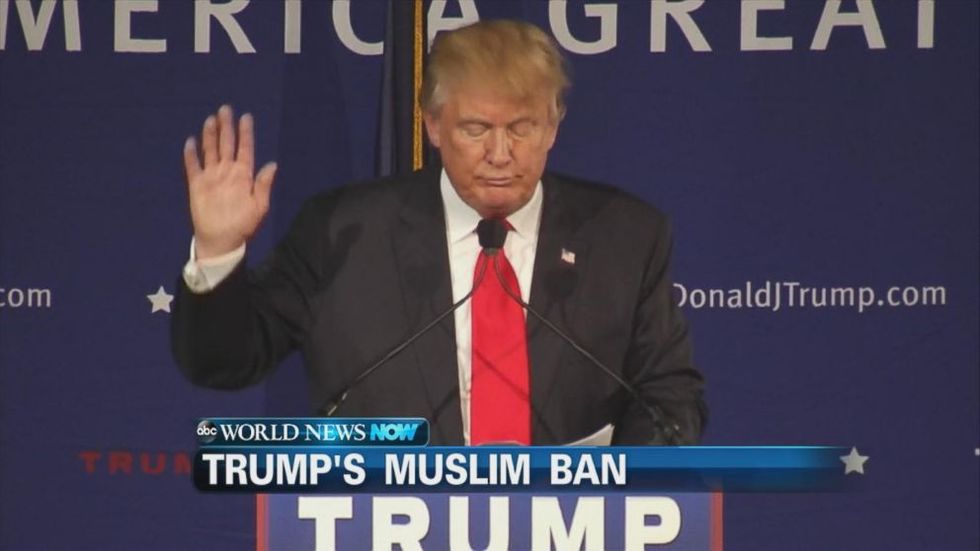 Credit: Source.
Keep reading...
Apple will consider taking legal action against President Donald Trump's executive order on immigration. According to CEO Tim Cook, the order affects hundreds of the company's employees. The order, which suspended entry to the United States for refugees and travelers from seven Muslim-majority countries, ignited spontaneous protests across the nation's airports as protesters sought to prevent the detention and deportation of a number of persons.
"More than any country in the world, this country is strong because of our immigrant background and our capacity and ability as people to welcome people from all kinds of backgrounds. That's what makes us special," said Cook. "We ought to pause and really think deeply through that."
Keep reading...
Attorneys General from 15 states and the District of Columbia have issued a joint statement vowing to fight the Trump administration's executive order barring Muslims from 7 countries from entering the country as well as his permanent ban on refugees from Syria. The group is considering their own court challenge, which would raise the stakes considerably against the White House because, to date, only individual cases have been brought. Court orders came down late Saturday and early Sunday from four separate federal districts in New York, Massachusetts, Washington and Virginia, each affecting the order in some way.
The statement from these attorneys general against the administration minced no words.
Keep reading...