Aside from property and infrastructure damage, this season's hurricanes are leaving long-lasting environmental and health nightmares in their wakes.
25 September 2017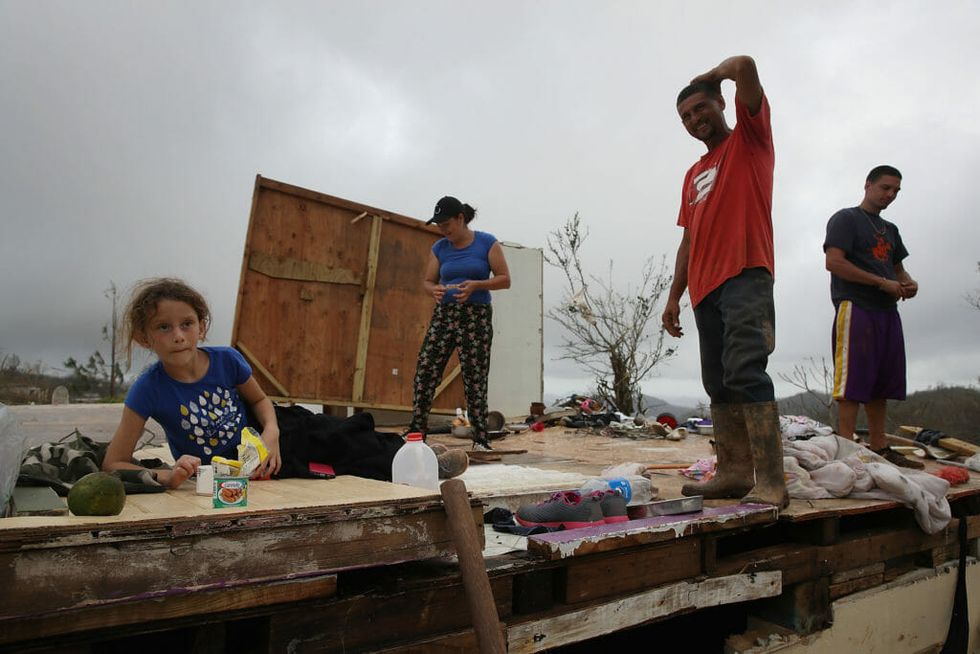 HAYALES DE COAMO, PUERTO RICO - SEPTEMBER 24: Karlian Mercado, 7, Carmen Maldonado, Carlos Flores and Jose Flores (L-R) stand on what remains of their home after it was blown away by Hurricane Maria as it passed through the area on September 24, 2017 in Hayales de Coamo, Puerto Rico. Puerto Rico experienced widespread damage after Hurricane Maria, a category 4 hurricane, passed through. (Photo by Joe Raedle/Getty Images)
As the skies clear above the devastation left by Hurricanes Harvey, Irma, and Maria, and the long road to recovery begins, many are concerned about other consequences from the storms beyond property and infrastructure damage. Harvey was expected to curtail U.S. oil production for several weeks, affecting every aspect of the oil industry down to the pump at gas stations throughout the country. Public health and environmental contamination are other major concerns, as well as such destructive storms becoming the norm due to climate change.
Harvey's excessive rainfall along the Gulf of Mexico coastline exposed a vulnerability of the energy industry regarding the refineries and chemical production in the area, according to Michael E. Webber, deputy director of the Energy Institute at the University of Texas in Austin: "Over the long term, the energy sector will have to consider the costs of additional hardening of the infrastructure on the Gulf Coast versus moving to a different location like the Eastern Seaboard."
The New York Times predicted the possibility of environmental fallout, spiking gas prices, the decline of the oil and gas industry, as well as the boon of electric cars and renewable energy sources. The newspaper based these projections on the experience of Hurricanes Katrina and Rita in 2005, which left 750,000 gallons of spilled petroleum in the Gulf. But more recent reports have the oil and gas industry already on the rebound, well on its way to a full recovery.
Energy Production is Quickly Returning to Business as Usual
Even though crude oil production in the Gulf fell, the overall energy impact from Harvey seems to be minimal. Before Harvey's landfall, production oil and gas production platforms in the Gulf, as well as refineries along the Texas and Louisiana coastline, shut down as a precautionary measure. Now, almost all are back up and running.
There are roughly half a million gallons of leaked gasoline to clean up, but they only account for 0.3% of Houston's storage tanks, and the spillage is currently far away from the city's fresh water supply. The staggering majority of remaining storage tanks that didn't rupture maintained their integrity due to billions spent by the energy industry in infrastructure upgrades in the wake of Hurricanes Katrina and Rita in 2005 and Hurricane Ike in 2008. Because of these protective measures, energy operations are now expected to return to normal faster than previously thought, with Harvey's impact transitory at best.
After Irma, Florida is expected to experience very little impact on the oil and gas production as well, and an increase in natural gas demand, as the state has become dependent on the resource for electric power. But there is also an unexpected and unusual energy resource left over from the storm — debris and trash. Much of coastal Florida burns their waste, and then uses the heat to power steam generators, accounting for 2% of the state's power usage.
Much of wreckage left in Irma's path will fuel these incinerators, providing more renewable energy than usual. In fact, the burning of Florida's waste and trash accounts for a large majority of the state's renewable energy. Waste-to-energy incineration claims less greenhouse gas emissions as opposed to landfills, and has been adopted by environmentally-conscious Sweden.
Yet, as of September 18th over 38,000 Florida homes were still without power, raising in public awareness an issue regarding the lack of use of another renewable and readily-available energy source — solar power. For many of those homes still without power, it is because Florida Power and Light, a major supplier of electricity to the state, successfully lobbied to make it illegal for Sunshine State residents to power their own homes with solar power panels unless they are connected to the local electric grid… which is still down in many areas.
Unfortunately for the 3.5 million Americans living in Puerto Rico, they are facing months without power while grappling with the island's complete devastation.
Public Health and the Environment Face More Long-Term Consequences
While the energy industry recovers, the environment will suffer toxic waste contamination for years to come. The leaked gasoline from storage tanks in Texas, including at ExxonMobil's refinery in Baytown, as well as Dow Chemical plant in Freeport, are all releasing toxic and hazardous gases. It is estimated that 2 million pounds of potentially hazardous airborne pollutants have been released from facilities in the Houston area damaged by Harvey, with the largest amount reported by Chevron Phillips Chemical's Cedar Bayou Plant in Baytown as well.
Elena Craft, senior health scientist at the Environmental Defense Fund, is alarmed by these numbers. "The extra pollution from the shutdowns and storm damage is a threat to the air we breathe," she said. "By industry's own estimates, we've seen months' worth of harmful pollution released in less than a week."
Public health in Houston is another major concern, as the heavy precipitation flooded entire neighborhoods and rivers, exposing them to toxic contamination. Many of the city residents are afraid to drink the tap water, yet cannot avoid traveling through the stagnant floodwaters, which puts them at risk of diarrhea-causing bacteria and other microscopic pathogens. Even their own homes may expose them to  fungal infection from mold.
Days after Harvey's destruction, damaged infrastructure at a flooded chemical plant in Crosby, Texas, revealed another environmental vulnerability to accidents. Two explosions occurred at the Arkema plant, leading to multiple fires. Nineteen and a half tons of volatile chemicals combusted after the plant lost power and its ability to refrigerate the explosive chemicals. In addition, more than a dozen of the most contaminated places in America, as designated by the Environmental Protection Agency (EPA), which are byproducts of the petrochemical industry, were flooded during the storm and may have leaked contaminants.
Climate Change will have Further Catastrophic Consequences
Climate change is responsible for escalating the extent to which property was damaged by Harvey, Irma, and Maria. Over the past century, oceans have warmed by a few degrees and sea levels have risen seven inches. Hurricanes thrive on the warmer water. This leads to increased precipitation overall, which in turn leads to record flooding. Sean Sublette, a meteorologist with Climate Central, explains:
"The short version is, climate change makes these very bad storms worse. [...] It's not the proximate cause of the storm, but it makes these bad storms worse. And in the case of a really bad storm, climate change can make it totally disastrous or catastrophic."
The contamination of pollutants due to damages incurred by the storms and floods are considered indirect environmental consequences of climate change, also known as "knock-on effects" or "cue ball effects." Imagine the cue ball in billiards as climate change, which is put into motion first, and the damaged facilities and leaked wastes as the other balls hit by the cue ball. Houston locals are concerned that long-buried or stored toxic substances will be released by future storms, affecting their health.
The current U.S. administration is less concerned. Scott Pruitt, head of the EPA, said it is "insensitive" to talk about about climate change at this time; other officials in the administration also refuse talk about it, and in describing Irma, President Trump said dismissively, "We've had bigger storms than this."
Scientists are more eager to have a dialogue. Katharine Hayhoe, director of Climate Science Center at Texas Tech University, believes the issue of these growing storms must include conversation about climate change.
"The most dangerous myth that we have bought into as a society is not the myth that climate isn't changing or that humans aren't responsible," she said. "It's the myth that 'It doesn't matter to me.' And that's why this is absolutely the time to be talking about the way climate change amplifies or exacerbates these natural events. This brings it home."
For more information about Climate Change and Hurricanes, go to Climate Central.
Keep reading...Show less