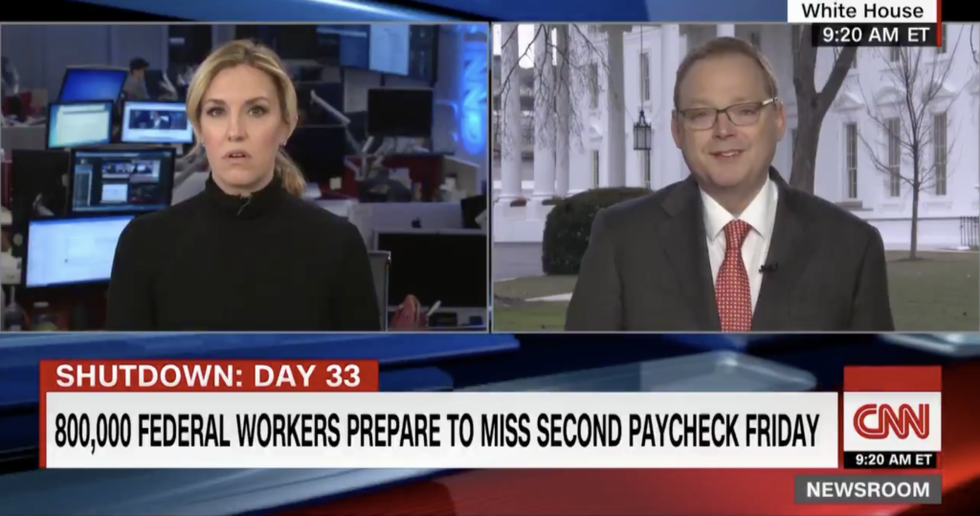 Credit: CNN
As President Donald Trump's government shutdown drags through its 33rd day, one of his top economic advisors is warning of economic stagnation should an end to the stalemate over Trump's border wall not be reached soon.
White House Council of Economic Advisers Chairman Kevin Hassett sounded the alarm on CNN Wednesday morning.
"By your calculations," Poppy Harlow asked Hassett, "couldn't we then see zero growth if this persists through the end of the quarter?"
Hassett, hesitant to directly answer, was pressed again. Harlow again asked if we "could we see zero growth" if the shutdown continues into the spring.
"Yes, we could," Hassett replied. "If it extended for the whole quarter and given the fact that the first quarter tends to be low because of residual seasonality then you could end up with a number very close to zero in the second quarter."
Watch below:
"White House officials say the partial government shutdown is stripping away roughly 0.1 percent of economic growth per week," The Washington Post noted on Wednesday. "Growth for the first quarter was already projected to be low, at below 2 percent, which is how Hassett said he came to his conclusion."
The federal budget deficit is also predicted to approach $1 trillion this year.
So much for Trump's "magic wand."
Roughly 800,000 federal employees, including members of the armed services, are either furloughed or being forced to work for free. Why, then, is Hassett so chipper?
It must be nice to have nothing to lose.
Dark times may lie ahead.
People are laying blame in one place.
This is Trump's shutdown, and Republicans are standing with him.
Wonder who could be reveling in this chaos...
Trump vowed to run the country like he did his businesses - right into the ground.
Keep reading...Show less