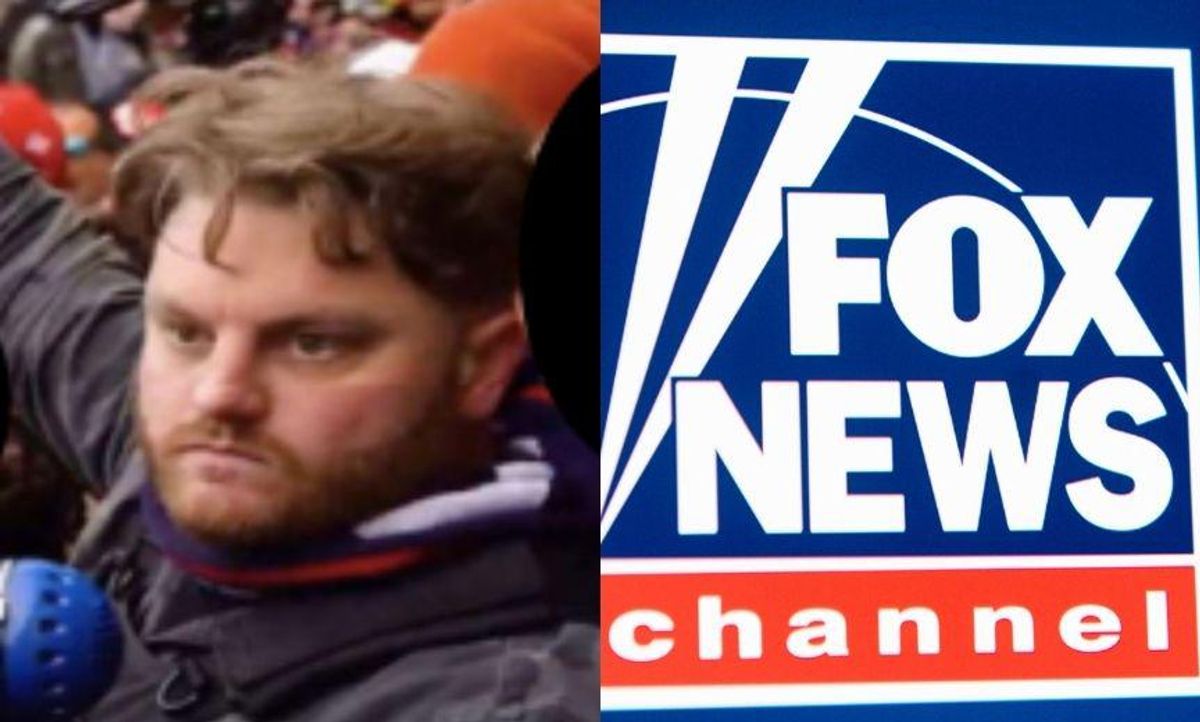 @ryanjreilly/Twitter // Mateusz Slodkowski/SOPA Images/LightRocket via Getty Images
Former President Donald Trump's lies about the validity of the 2020 election prompted a mob of his extremist followers to storm the United States Capitol in a deadly failed insurrection this past January.
Exacerbating Trump's delusional claims that the election was "stolen" by Democrats engaging in widespread fraud was the embrace with which Republican lawmakers and right wing media greeted these claims.
The conservative Fox News network frequently amplified Trump's election conspiracy theories during Trump's lame duck period, particularly during its primetime slots featuring far-right entertainment anchors. Fox host Sean Hannity featured pro-Trump conspiracy theorist lawyer Sidney Powell in the weeks following the election. There, Powell spewed the fantasy that election companies like Dominion Voting Systems and Smartmatic were working with foreign countries to subvert American elections. These lies went unchallenged by Hannity.
Fox News, along with hosts Lou Dobbs, Maria Bartiromo, and Jeanine Pirro, is now facing billions of dollars in defamation lawsuits from Smartmatic. Dominion has sued Fox News as well.
As recently as Thursday, Fox News host wondered "who is right?" about the claims of fraud in the 2020 election, despite the existence of widespread voter fraud being heavily refuted.
So it doesn't take much stretching of the imagination to see why the lawyer of one Capitol rioter is laying the responsibility of his client's actions at the feet of Fox.
HuffPost reports that Lawyer Joseph Hurley, who represents Capitol rioter Anthony Antonio, said to a D.C. magistrate judge that his client fell into a rabbit hole of Fox News coverage after being laid off in light of the pandemic that's killed nearly 600 thousand Americans.
Hurley said:
"For the next approximate six months, Fox television played constantly. [Antonio] became hooked with what I call 'Foxitus' or 'Foxmania' and became interested in the political aspect and started believing what was being fed to him."
Social media users pointed to Hurley's statement as a further indictment of Fox News' dangerous disinformation.
Others noted that watching Fox News isn't an excuse for Antonio's actions.
While Antonio blames Fox News, other Capitol rioters have blamed Trump himself for their actions, insisting that his words—including telling his supporters to march to the Capitol just minutes before the siege began—convinced them what they were doing was right.
Trump and the Republican party continue to embrace the election fraud conspiracy theory, which has come to be known as "The Big Lie," even after the nation watched in horror at the first siege of the United States Capitol by its own citizens in American history.
While Fox has yet to respond to Antonio's defense, the network said in response to the Dominion lawsuit:
"FOX News Media is proud of our 2020 election coverage, which stands in the highest tradition of American journalism, and will vigorously defend against this baseless lawsuit in court."
It also filed for motions to dismiss another defamation lawsuit from election software company Smartmatic.