So, this is terrifying.
19 September 2019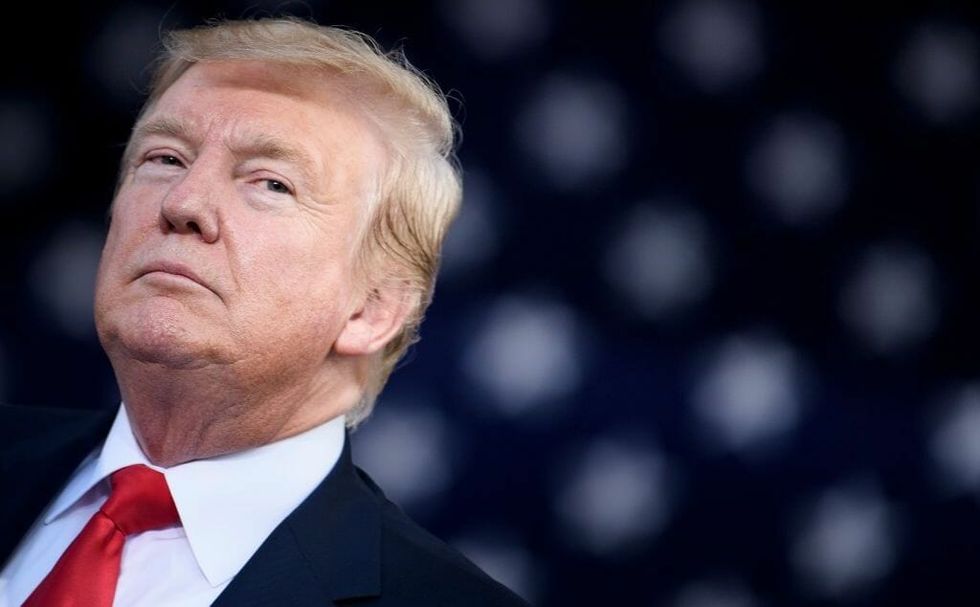 US President Donald Trump speaks during a "Make America Great Again" rally at Aaron Bessant Amphitheater in Panama City Beach, Florida on May 8, 2019. (Photo by Brendan Smialowski / AFP) (Photo credit should read BRENDAN SMIALOWSKI/AFP/Getty Images)
A mysterious whistleblower complaint relating to President Donald Trump's interactions with an unnamed foreign leader is setting the stage for heightened discord between Congress and White House intelligence officials.
According to Washington Post reporters Greg Miller, Ellen Nakashima and Shane Harris, the complaint—filed August 12—involves a "promise" from Trump to another world leader that the whistleblower found concerning.
House Intelligence Committee chairman Adam Schiff (D-CA) is pressuring intelligence officials for more information after Acting National Intelligence Director Joseph Maguire refused to provide Congress with additional information.
Intelligence Community Inspector General Michael Atkinson, who deemed the complaint urgent enough to inform lawmakers, testified before the House Intelligence Committee in a closed door hearing on Thursday morning.
Little is known of the complaint's actual contents, but the President has interacted with numerous world leaders in the months ahead of the complaint's filing, including with Russian President Vladimir Putin, North Korean leader Kim Jong Un, Saudi Crown Prince Mohammed bin Salman.
Also notably, Former Director of National Intelligence Daniel Coats—whom Maguire replaced—left the administration at the end of July. Trump was expected to replace Coats on an acting basis with Coats's immediate subordinate, intelligence expert Sue Gordon, whose career is respected on both sides of the aisle. Trump bypassed Gordon for Acting Director Maguire, who continues to stonewall lawmakers regarding information on the complaint.
Obstructing information is nothing new for the Trump administration, which has repeatedly ignored subpoenas, limited testimony, and lied to the public.
But something about this complaint and the mystery surrounding it seems particularly ominous.
Fit the whistleblower's complaint into a disturbing pattern with Trump: - shared intel w/Russian officials in Oval… https://t.co/teAv4eBPsJ

— Jim Sciutto (@Jim Sciutto) 1568895797.0
I want you to understand that the DNI and AG are doing EVERYTHING in their power to cover up, block and hide the co… https://t.co/P1PJcXnnb6

— Pam Keith (@Pam Keith) 1568869329.0
Why the intel whistleblower complaint is so serious: the IG found it to raise an "urgent concern." According to the… https://t.co/jbRr0WbQiq

— Chris Lu (@Chris Lu) 1568899626.0
We don't know what the whistleblower complaint says: but with a @POTUS whom the Special Counsel couldn't clear of… https://t.co/gm7o19sX0t

— Sam Vinograd (@Sam Vinograd) 1568896086.0
Trump's total silence in the wake of the IC whistleblower complaint speaks volumes.

— Jon Cooper 🇺🇸 (@Jon Cooper 🇺🇸) 1568895207.0
A question to ponder: Given the astonishing things that Trump routinely says about US intel, what could he have sai… https://t.co/qtS8zxv5Xw

— Greg Miller (@Greg Miller) 1568892401.0
@AshaRangappa_ @juliettekayyem @CNN this is all getting rather terrifying, to be honest.

— Obscura (@Obscura) 1568899214.0
One Republican, Ohio Congressman Mike Turner, had one thing to say when leaving the Inspector General's closed door testimony this morning: "No comment."
------
Listen to the first four episodes of George Takei's podcast, 'Oh Myyy Pod!' where we explore the racially charged videos that have taken the internet by storm.
Be sure to subscribe here and never miss an episode.
Keep reading...Show less