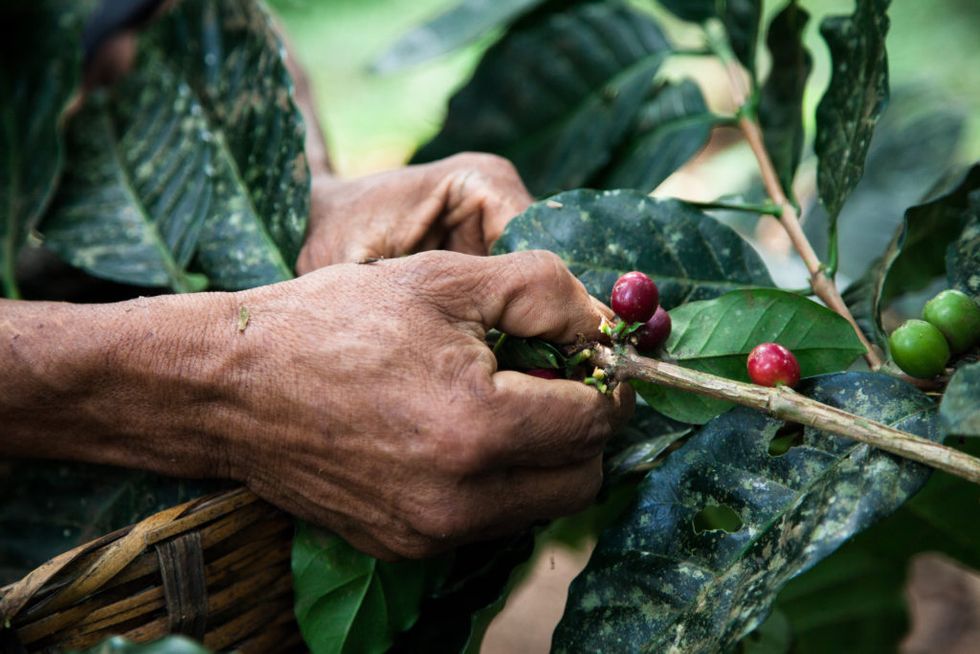 A close up view of a coffee farmer's hands picking ripened beans off of a plant on his farm in Matagalpa, Nicaragua.
You may have to switch to tea within the next two decades if the predictions of some scientists are true.
According to researchers at Kew Royal Botanic Gardens, over half of the world's coffee species could become extinct by 2039. What's more, it's all our fault.
The rapid deterioration is attributed to many of mankind's environmental practices, especially deforestation. Coffee beans require the a heavy forest climate to grow. Changing temperatures and heavy rainfall also play a role in upsetting the meticulous conditions required for coffee plants to reach maturity.
One senior researcher, Aaron P. Davis, told CNN:
"The important thing to remember is that coffee requires a forest habitat for its survival. With so much deforestation going on around the world, wild coffee species are being impacted at an alarming rate."
Some are hoping the eradication of this morning essential may finally wake some people up to the real threat of man-made climate change.
@NatureNews I thought #ClimateChange was affecting only #beer production! Come on #climatechange, leave our crazy coffees unharmed

— Sanita Dhaubanjar (@Sanita Dhaubanjar) 1547689519.0
U know how much we fucked up this planet? COFFEE IS ENDANGERED. Coffee. That drink that you gobble up errday, taste… https://t.co/nlKvoMZe5M

— Sincerely, February (@Sincerely, February) 1547729858.0
If enough species of coffee go extinct over the next decade, will there be a critical mass of disgruntled Sanka dri… https://t.co/X7Bxx0Rykm

— (((Joshua Sauberman)))🌹🍎🔥 佐伯曼 • זאוברמן • 사우버맨 (@(((Joshua Sauberman)))🌹🍎🔥 佐伯曼 • זאוברמן • 사우버맨) 1547729125.0
If you are only in the climate-change fight to save the #coffee, I think I might be OK with that. https://t.co/pzqGbDvDTP #climatechange

— John P. Rafferty (@John P. Rafferty) 1547827443.0
The news has some people concerned.
Coffee has long been revered by working people as a way of waking up. Some claim they wouldn't be able to go on should coffee become a precious product.
@Jon_Fury The world will come to a screeching halt if coffee goes extinct

— PoppaAz (@PoppaAz) 1547830386.0
To be totally clear, if coffee goes extinct then every penny that's been spent on my education... is wasted. https://t.co/PQD6Dui4oT

— geoff richards (@geoff richards) 1547758807.0
@CNN @Andrew_Reiner Ok if all coffee goes extinct then everyone is going to die. That's not a threat of any kind... I'm just saying...

— Christopher Reardon (@Christopher Reardon) 1547680875.0
But climate change and deforestation pose far greater threats to humans than the loss of coffee. If humans don't do something soon, we may go extinct as well.
Keep reading...Show less