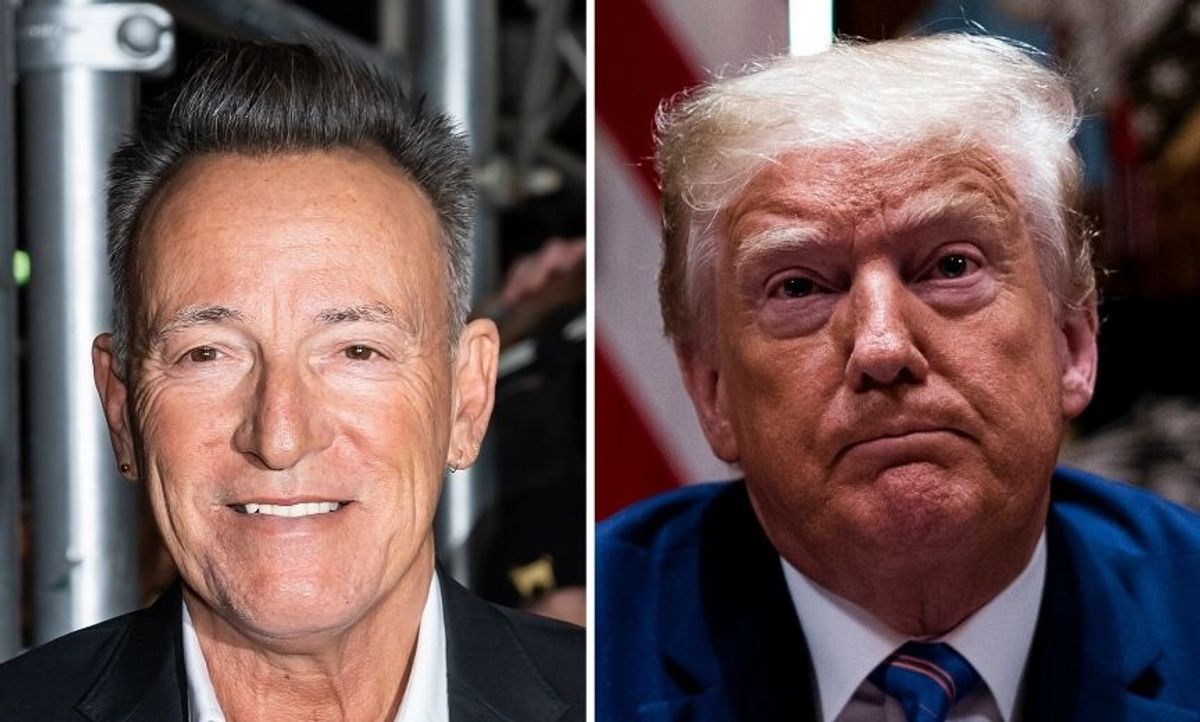 Gilbert Carrasquillo/GC Images // Doug Mills-Pool/Getty Images
"I get up in the evening, and I ain't got nothin' to say," is the beginning line of Rock legend Bruce Springsteen's hit Dancing in the Dark.
But that certainly wasn't Springsteen's problem this week when hosting his Sirius XM radio show From My Home to Yours. Springsteen reflected on the grim state of the union and the apparent disregard for the effects of the pandemic from the White House.
With President Donald Trump set for his first rally this weekend after a months-long pandemic-induced hiatus, Springsteen's criticisms of the President considering human fatalities as "inconvenient statistics for his reelection efforts" couldn't be more timely.
Listen below.
Bruce is hosting a new episode of "From My Home To Yours" on E Street Radio & The @SiriusXM app. Listen to "Volume… https://t.co/Fg8zDrmSxY

— Bruce Springsteen (@Bruce Springsteen) 1592402400.0
Over the accompaniment of the spiritual "Down to the River to Pray," Springsteen said:
"I had another show prepared for broadcast this week on this strange and eventful summer, but with 100 thousand plus Americans dying over the last few months and the empty, shamed response from our leaders, I've been simply pissed off. Those lives deserved better than just being inconvenient statistics for our President's reelection efforts. It's a national disgrace."
The Born in the USA singer continued:
"So if you are ready for a rock and roll requiem, stay tuned. I'm going to start out by sending one to the man sitting behind the resolute desk: With all respect, sir, show some consideration and care for your countrymen and your country. Put on a f***ing mask."
He then dedicated the next song he played—Bob Dylan's The Disease of Conceit—to the President.
Trump's refusal to wear a mask in public, fearing it would make him look weak, has become a symbol to some of his greater unwillingness to grasp the threat the virus poses. The Vice President and the White House staff are frequently seen not wearing masks, despite White House officials' own recommendations that all Americans take the precaution to do so in order to prevent the spread of the virus.
People sang Springsteen's praises for the message.
Bruce, the healing preacher. Thank you.
— Peggy (@peggySSI) June 17, 2020
Wow! Powerful message!!
— anthony mcmanus (@reggie8846) June 17, 2020
Very moving. You've converted the dry and emotionless statistics back to the thousands of personalities that have ceased to be,leaving a big void in the lives of their loved ones. What I loved about the @nytimes they did that while overhere newspapers only report numbers 😰 Thx
— Cindy Wysmans (@CWysmans) June 17, 2020
The acknowledgment and brief descriptions of all who have died. 😢😢😢. Touching.
— Brian Hawkins (@Hawkins5763) June 17, 2020
He's far from the only one imploring the President to wear a mask in the hopes that his supporters will follow the example.
About 20,000 Americans become infected with COVID-19 each day and another 1,000 die. Those numbers would likely fall fast and far if Trump simply wore a mask in public and told others to do the same. He refuses. For some reason this isn't a political scandal.
— Brian Beutler (@brianbeutler) June 13, 2020
The biggest hypocrite is Donald J Trump surrounds himself with Healthcare officials wearing masks and he refuses to.
The president needs to lead by example. The president needs to be trustworthy, responsible truthful have humility and knowledgeable.
Trump is none of those things
— Cheril L (@cherildral) June 15, 2020
Attendees of the rally are expected to sign a liability waiver in case they contract the virus. Death tolls have increased to nearly 120 thousand.