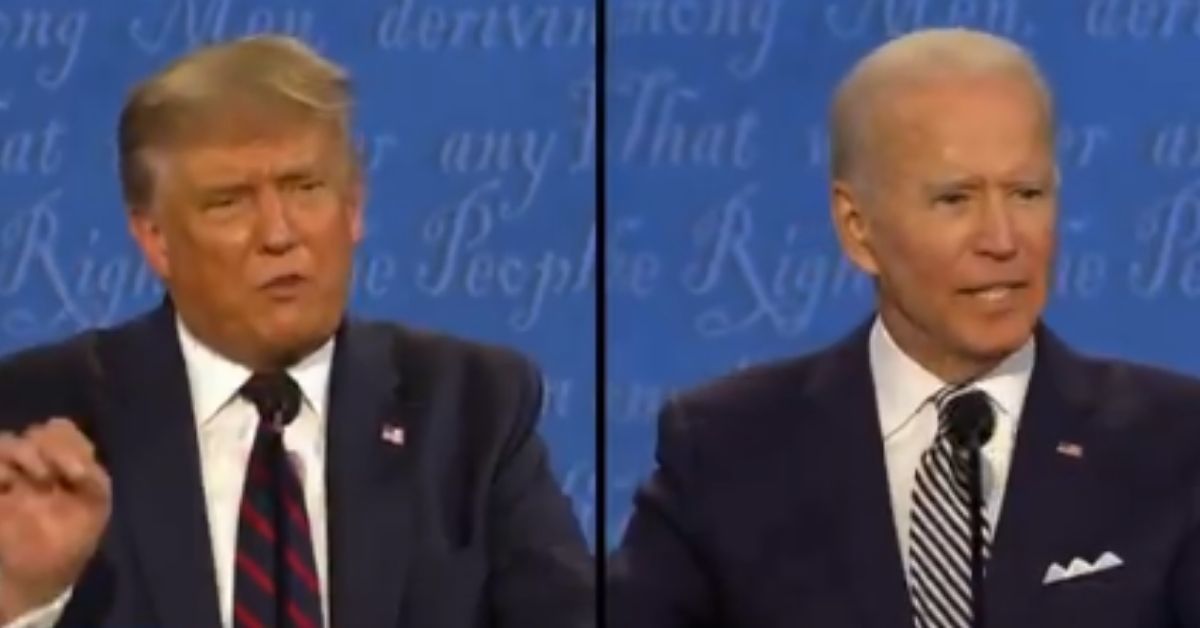 @ABC/Twitter
It may have only been three days since it happened, but Trump's comments mocking Joe Biden for wearing a mask have already become infamous.

In the wake of the President and First Lady's positive diagnosis for the virus that has caused the pandemic, announced last night, the clip has been shared on Twitter so many times, it just may follow him forever.

The clip came in response to debate moderator Chris Wallace's question Tuesday night as to whether the President believes in the efficacy of masks in fighting the spread of the virus.

Trump responded by showing that he had a mask in the pocket of his suit coat, saying that he wears one when he thinks he needs to.

He also seemed to cite the testing and social-distancing measures taken in the studio where the debate took place as an example of why he usually chooses to forgo a mask.

Trump then mocked Joe Biden for his frequent mask-wearing. Gesturing at his opponent, Trump said:

"I don't wear face masks like him. Every time you see him he's got a mask. He could be speaking 200 feet away, and he shows up with the biggest mask I've ever seen."
In response to his comment, Biden simply chuckled knowingly, before pointing out that the President's own pandemic task force and the Centers for Disease Control have said that widespread mask usage could save up to 100,000 lives by January.

The chuckle that opened the former Vice President's comments now seems prescient: Just 48 hours after the debate in which he mocked Biden's mask use, the President and First Lady were diagnosed with the virus after traveling with presidential advisor Hope Hicks, who also tested positive earlier this week.

Despite Trump's softly pro-mask stance during the debate, the President has mocked Biden's mask usage for months, and refused to wear one himself until finally doing so during a visit to injured military service members at Walter Reed Medical Center in July, some five months into the pandemic.

On Twitter, the clip of Trump's mockery has been retweeted thousands of times, with people pointing out how quickly the President's words came back to haunt him.
Others pointed out that the President was likely already infected when he mocked Biden's safety precautions.
And some could only express disbelief at 2020's latest bizarre turn of events.
While others couldn't help but see a certain poetic justice.
Due to their exposure to the Trumps Tuesday night, Joe and Dr. Jill Biden have both been tested for the virus as well, and received negative results.