How do you like them apples?
13 May 2019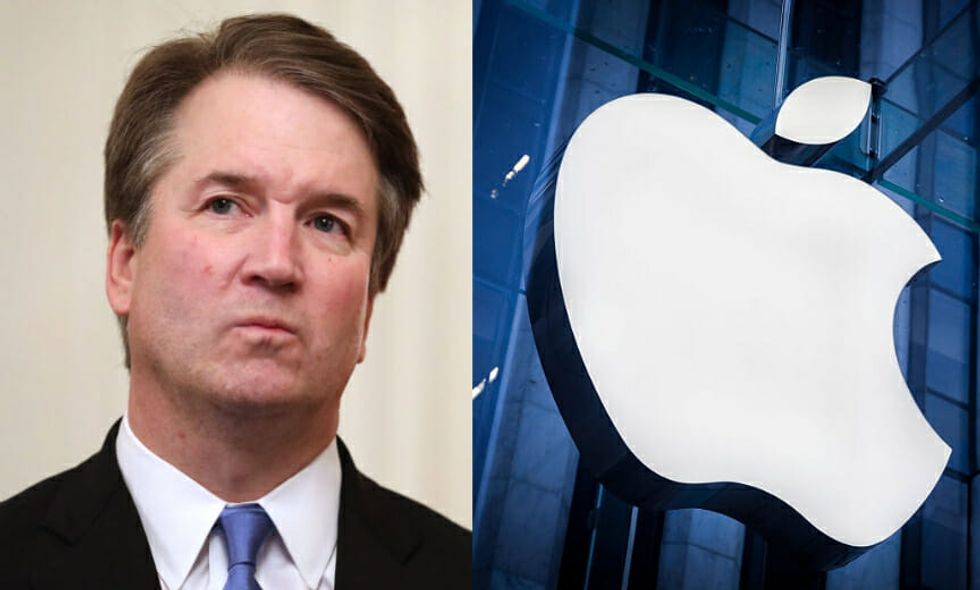 Chip Somodevilla/Getty Images // Thomas Trutschel/Getty Images
Some Apple users are pursuing an antitrust lawsuit against the company for its 30% commission on apps featured in the online App Store.
In Apple v. Pepper, Apple argued that only app developers had the right to sue the company—since the commission comes from developer profits. However, consumers argued that the commission is passed on to them in the form of higher app prices.
The court sided with the consumer, with Trump appointee Justice Brett Kavanaugh siding with the four Democrat-appointed Justices Ruth Bader Ginsberg, Sonia Sotomayor, Elena Kagan, and Stephen Breyer. Conservative-appointed Justices Samuel Alito, Neil Gorsuch, John Roberts, and Clarence Thomas sided with Apple.
The decision marks a split between President Donald Trump's two appointed Justices, Gorsuch and Kavanaugh, with Kavanaugh writing the majority opinion.
The opinion states that, because the App Store is the only place where users can "lawfully buy apps," consumers could sue the company for unfair use of monopoly power.
Many stood in agreement with the decision, but stood wary of whether Kavanaugh—whose controversial nomination process deepened a growing rift between Democrats and Conservatives—will continue this pattern of apparent open-mindedness.
@sahilkapur https://t.co/F5Dt7qDYPX

— Nathan Poulosky (@Nathan Poulosky) 1557758089.0
@sahilkapur Well hopefully he keeps a good balance like this, but I doubt this will continue

— Kristopher cote (@Kristopher cote) 1557758573.0
@sahilkapur I will not harbor false hope. I will not harbor false hope. I will not harbor false hope. I will not harbor...

— M (@M) 1557757690.0
The crucial point that iPhone users can only purchase apps from the App store can be argued by consumers as an abuse of monopoly power may ripple to other online stores with exclusive apps and content.
Keep reading...Show less