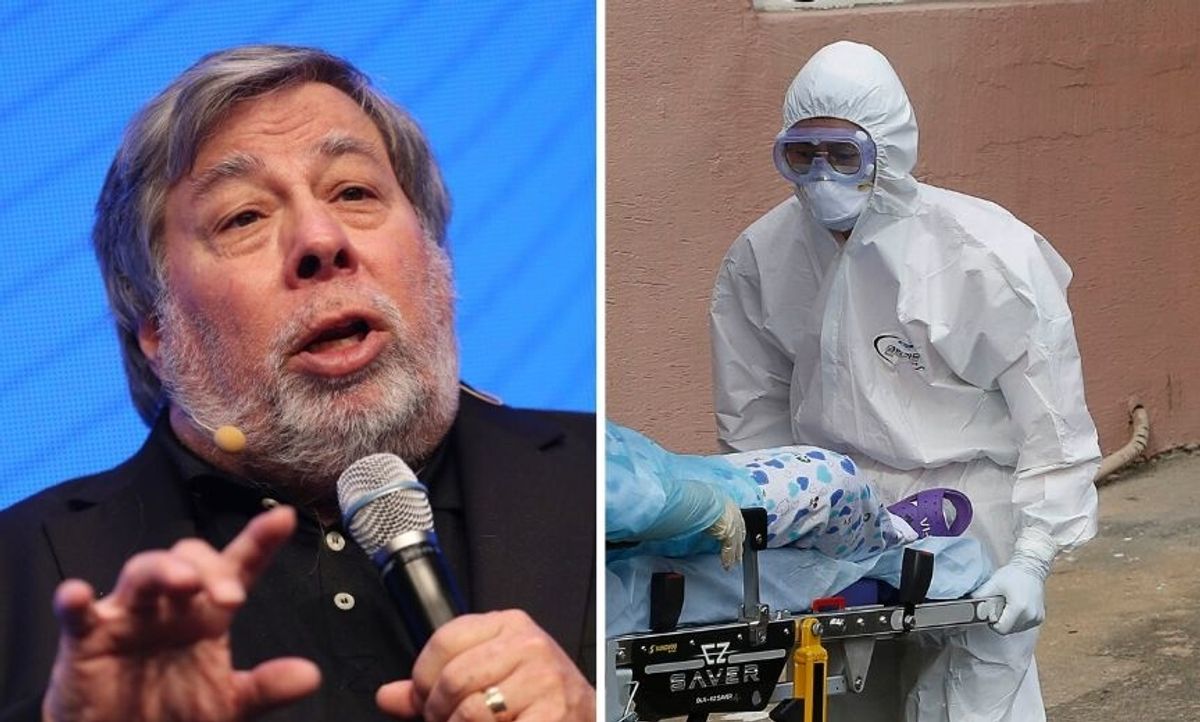 Sean Gallup/Getty Images // Seung-il Ryu/NurPhoto via Getty Images
Steve Wozniak, the co-founder of Apple, came forward with some potentially shocking news regarding his wife and the growing spread of the novel coronavirus, which has spread through 14 states and infected nearly 100 thousand people worldwide.
Wozniak tweeted that his wife, Janet Hill, had contracted a bad cough on January 4 shortly after the pair returned from China. The first case of coronavirus was diagnosed in China on December 31 of last year.
Check out Wozniak's tweet below.
Checking out Janet's bad cough. Started Jan. 4. We had just returned from China and may have both been patient zero… https://t.co/JK1hM44Vsz

— Steve Wozniak (@Steve Wozniak) 1583180765.0
Wozniak sent the tweet from Santa Clara, California, where three cases of the virus have been confirmed so far.
The billionaire inventor's theory has yet to be confirmed, and it left Twitter users scratching their heads.
lol wutttttt https://t.co/8qr6JNpcDM

— Zeb Mannix (@Zeb Mannix) 1583181921.0
weird flex, but ok 🤷🏽‍♂️ https://t.co/QgmcybspTb

— Tej Sahota (@Tej Sahota) 1583185094.0
This feels like some really bizarre kind of humblebrag. Also, get well soon!? https://t.co/qA9LeIQJCO

— Joanna Stern (@Joanna Stern) 1583182364.0
hi, steve. quick follow up question here: WTF https://t.co/HMhBUBlWpy

— Bris Crocker (@Bris Crocker) 1583186305.0
Is this for real? Wozniak was P0 in Cali? WTF?! https://t.co/rlfEecbMaC

— Suvy Bo (@Suvy Bo) 1583186053.0
A recent tweet from USA Today's Jessica Guynn, however, claims that Hill assured her that the cough was due to a sinus infection.
False alarm it appears: Janet tells USA TODAY she has a sinus infection https://t.co/8glcKFqnvb

— Jessica Guynn (@Jessica Guynn) 1583185193.0
While the Wozniaks may be off the hook as patients zero, people still aren't reassured that the worst is over when it comes to coronavirus.
With lives on the line, our HHS Secretary is playing politics instead of doing his job and keeping people safe from… https://t.co/GJ0dR2NIX1

— (((Rep. Nadler))) (@(((Rep. Nadler)))) 1583186614.0
Raise your hand if you agree that the Trump administration is totally unprepared to deal with coronavirus ✋

— Publius (@Publius) 1582900010.0
When was the last time you washed your hands?
Keep reading...Show less