Since 2005, Grey's Anatomy has been providing viewers with a medical drama filled with romantic twists and turns, medical miracles, and heartbreak. Currently in its 14th season since September 2017, Grey's Anatomy will be receiving a second spin-off that airs tonight, March 22, 2018, on ABC.
Titled Station 19, the spin-off follows the men and women whose lives are intertwined through Seattle Fire Station 19. Produced by Grey's Anatomy producer Shonda Rhimes, Betsy Beers, Paris Barclay, and series creator Stay McKee, Station 19 will star Jaina Lee Ortiz, Jason George, Grey Damon, Barrett Doss, Jay Hayden, Okieriete Onaodowan, Danielle Savre, Miguel Sandoval, and Alberto Frezza during the initial 10-episode season.
---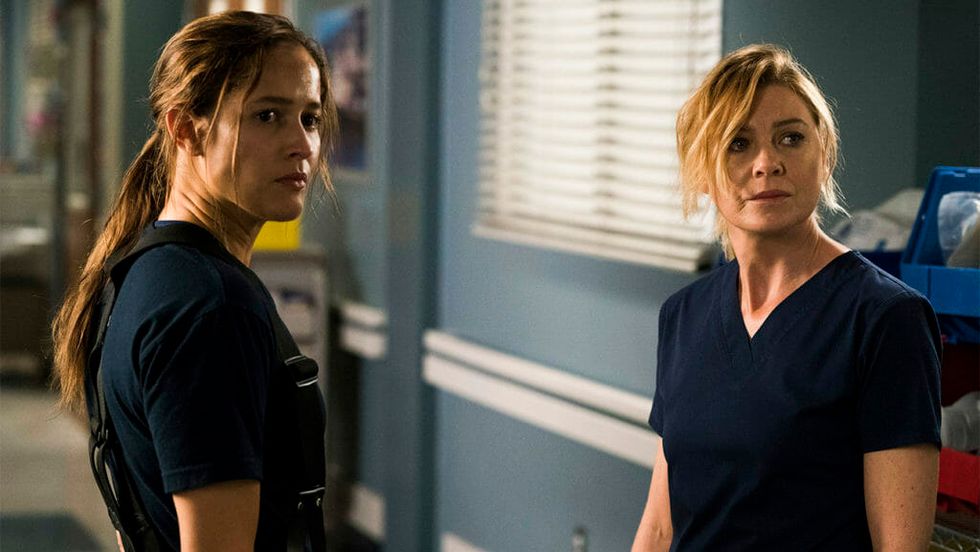 Fans of Grey's Anatomy will be able to catch the first episode of Station 19, "You Really Got a Hold on Me," at 9 pm EST. The premiere episode will introduce the new cast but also immediately remind viewers that they're watching a spin-off of Grey's Anatomy. After two young boys are rescued from a house fire and brought to the ER, Meredith Grey (Ellen Pompeo) will be introduced to the captain of the Station 19 firehouse.
Station 19 promises to mix the staple drama of its parent series with the action expected from following around a firehouse. Throughout the 10-episode run, it's inevitable that plenty of episodes will circle back to the emergency room that started it all and Grey's Anatomy fans will be treated to plenty of cameos from their favorite doctors and nurses.
The Grey's Anatomy spin-off is one of three different series based in the same universe. In 2007, Kate Walsh headlined ABC's Private Practice, which followed Dr. Addison Montgomery after she leaves Seattle Grace Hospital to start her own practice. Private Practice ran until 2013 and ended after its sixth season. On Jan. 9, 2018, Sarah Drew announced on her Instagram page that Grey's Anatomy: B-Team was available for streaming starting two days later. B-Team follows interns of Grey Sloan Memorial and only ran for six episodes.
Station 19 will be available for viewing on the ABC app found on iTunes and Google Play stores.