In an appearance on Fox and Friends, Fox News correspondent Geraldo Rivera suggested a consolation prize for President Donald Trump after his recent popular vote and electoral vote loss in the 2020 election: naming the virus vaccine "Trump."
His suggestion, however, seemed to draw an audible scoff from Fox and Friends host Steve Doocy who understandably figured Rivera was joking.
Narrator: he was not joking.
Rivera stated:
"I had an idea, with the world so divided and everybody telling [President Donald Trump] he's got to give up, and it's time to leave, and the time to transition and all the rest of it, why not name the vaccine 'The Trump'."
"You know, make it like: 'Have you got your Trump yet?' You know, it'd be a nice gesture to him, and years from now would become just a kind of a generic game. 'Have you got your Trump yet now?' 'I got my Trump. I'm fine'."
Despite the looks on the faces of Doocy and Earhardt...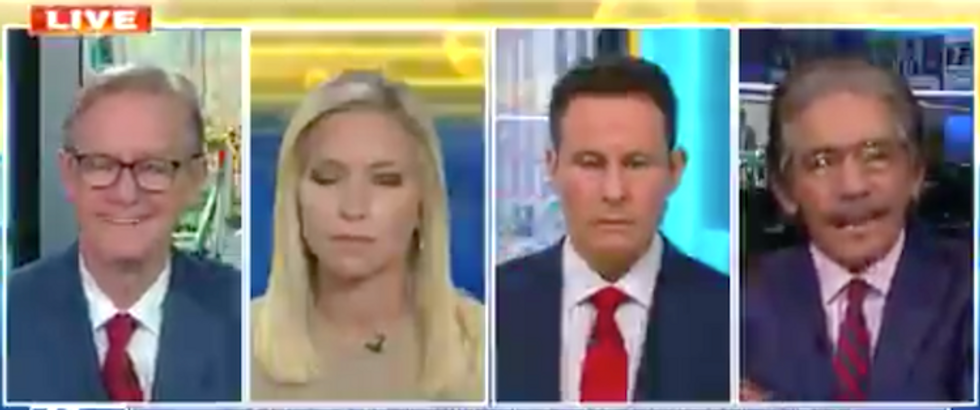 Fox News
...Rivera kept speaking.

"I wish we could honor him in that way because he is definitely the prime architect of this Operation Warp Speed. And but for him, we'd still be waiting into the grim winter for these amazing, miraculous medical breakthroughs."
People online were no more receptive to Rivera's suggestion than his colleagues on Fox News.
Some focused more on the messenger than the message.

While some let Rivera know the vaccine already had a name and someone more deserving of the honor.
So far Rivera has found little support for his proposal. Whether it will eventually catch on with President Trump's most ardent fans remains to be seen.