President Donald Trump signed several executive orders to advance the Keystone and Dakota Access Pipelines yesterday. In total, Trump signed five orders regarding environmental issues in the Oval Office, including two which address the pipeline projects and actions to expedite environmental reviews for projects considered high priority.
"The regulatory process in this country has become a tangled up mess," Trump said.
---
Trump, who told reporters gathered in the Oval Office that any pipeline material used to construct a pipeline in the United States would be built domestically, also added that his actions on the Keystone and Dakota Access projects would be subject to terms and conditions currently being negotiated by the United States.
Those who back the pipeline say Trump's action will create more jobs and cut energy costs. Speaking at a roundtable with automobile industry leaders earlier yesterday, Trump announced a "very big push" from his administration to have companies produce products within the country.
"Our friends that wanna build in the United States, they go many, many years and then they can't get the environmental permit over something that nobody ever heard of before," he said at the time. "And it's absolutely crazy. I am, to a large extent, an environmentalist. I believe in it. But it's out of control and we're going to make a very short process and we're going to either give you your permits or we're not going to give you your permits, but you're going to know very quickly."
The orders Trump signed:
But the president's decision has angered environmental activists who believe the pipeline projects would have severe negative impacts on the areas where they are built and would encourage the nation to rely more heavily on fossil fuels. In particular, the Standing Rock Sioux tribe has tried to block the planned $3.7 billion oil pipeline which would transport fracked crude from North Dakota's Bakken oil field to a refinery in southern Illinois. The tribal leadership has alleged that the project could destroy sacred lands, but their attempts to block construction in court have been unsuccessful. Energy Transfer Partners, the Texas-based pipeline operator, had moved forward, building on lands indigenous leaders say contain sacred burial grounds.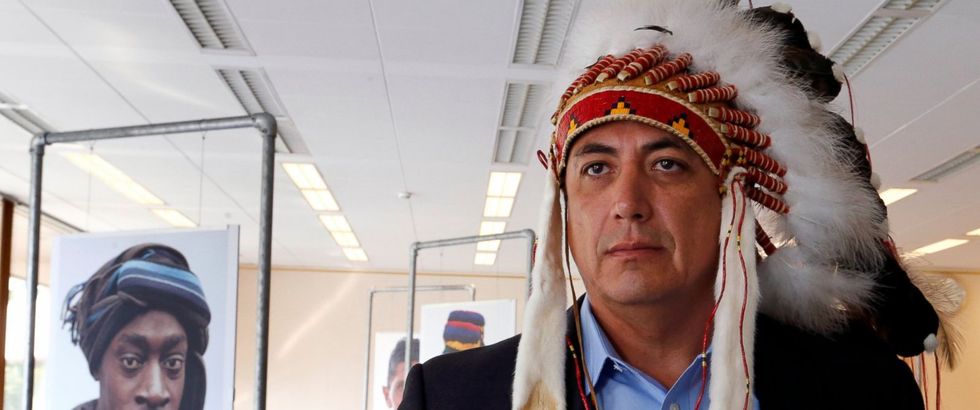 Standing Rock Tribal Chairman Dave Armchambault II (Credit: Source.)
Standing Rock Sioux Tribal Chairman Dave Archambault II told reporters that the Sioux will take immediate action to fight Trump's executive order. "The Trump administration's politically motivated decision violates the law and the Tribe will take legal action to fight it," he said. "We are not opposed to energy independence. We are opposed to reckless and politically motivated development projects, like DAPL, that ignore our treaty rights and risk our water. Creating a second Flint does not make America great again."
Trump's orders lie in stark contrast to a decision made by the Army Corps of Engineers in December to deny a permit to access and drill under Lake Oahe, a key section of the Dakota Access Pipeline. According to Jo-Ellen Darcy, the Army's Assistant Secretary for Civil Works, the decision was based on a need to explore alternate routes after choosing to delay the decision on the easement to discuss with the Standing Rock Sioux Tribe, whose reservation lies a half mile south of the proposed crossing.
"Although we have had continuing discussion and exchanges of new information with the Standing Rock Sioux and Dakota Access, it's clear that there's more work to do," Darcy said at the time. "The best way to complete that work responsibly and expeditiously is to explore alternate routes for the pipeline crossing." She added that the Army Corps intends to issue an Environmental Impact Statement "with full public input and analysis."
After the Army Corps made this announcement, Energy Transfer Partners and Sunoco Logistics Partners slammed the Army Corps with a sharply worded response, indicating that it would seek to continue construction as soon as President Barack Obama left office.
"The White House's directive today to the Corps for further delay is just the latest in a series of overt and transparent political actions by an administration which has abandoned the rule of law in favor of currying favor with a narrow and extreme political constituency," they said at the time. "As stated all along, ETP and SXL are fully committed to ensuring that this vital project is brought to completion and fully expect to complete construction of the pipeline without any additional rerouting in and around Lake Oahe. Nothing this Administration has done today changes that in any way."
Credit: Source.
The fear that Trump, who owns stock with Energy Transfer Partners, could complicate matters by seeking to complete the original route is not an unfounded one. In a statement following the Army Corps' decision, Trump's transition team released a briefing saying that Trump supports the completion of the project. But their communication was quick to note that Trump's support "has nothing to do with his personal investments and everything to do with promoting policies that benefit all Americans." The transition team also attempted to strike down any claims that suggest otherwise, saying that critics of the president-elect's position "are only attempting to distract from the fact that [President-elect Trump] has put forth serious policy proposals he plans to set in motion on Day One."
According to journalist Daniel Gross, "it's easy to see" how the decision from the Army Corps "could be reversed in a matter of months," saying that "the fact that Trump owns shares in some of the companies backing the pipeline company doesn't seem to be a disqualifying issue for him." Moreover, he writes, "the media and political systems have normalized the notion that Trump will use his position to pursue policies that appear to benefit him and his family financially."
There's "good reason to believe," continues Gross, that the companies' "analysis of the situation isn't just posturing—and their confidence is downright terrifying… The companies are confident that, regardless of the merits, regardless of the perceived independence and professionalism of the Army Corps of Engineers, the corporations will essentially be able to have their way. They're confident that under the Trump administration, the executive branch will easily reach down into agencies to influence policy made by career civil servants in ways that benefit private corporations and investors."