President Barack Obama announced yesterday what he called a permanent ban on new oil and gas drilling in federal waters in the Atlantic and Arctic Oceans in a bold move to preserve an environmental legacy that cannot be so quickly undone by Donald Trump, his successor. The announcement would ban offshore drilling in roughly 98 percent of federally owned Arctic waters (about 115 million acres), an area home to endangered species including polar bears and bowhead whales. The block would also protect 3.8 million acres of coral canyons off the Atlantic Coast which stretch from Norfolk, Virginia, to the Canadian border and protect unique deepwater coral and rare species of fish.
Obama invoked an obscure provision of the Outer Continental Shelf Lands Act, a 1953 law which permits him to act unilaterally––legal experts expressed confidence that the ban will withstand legal challenges by the incoming administration. (The president-elect has claimed that global warming is a hoax perpetrated by the Chinese, has openly derided Obama's environmental regulations, and has made fossil fuel mining and oil drilling a cornerstone of his economic program.)
---
The concept of global warming was created by and for the Chinese in order to make U.S. manufacturing non-competitive.

— Donald J. Trump (@Donald J. Trump) 1352229352.0
While it is unlikely that Trump will let the ban go unchallenged, the specific language of the law, which states that the president of the United States "may, from time to time, withdraw from disposition any of the unleased lands of the Outer Continental Shelf" for "any public purpose" may well have built a firewall around the sitting president's economic's policies.
According to a senior official within the administration who spoke to reporters on condition of anonymity, nowhere does the law say that a future president can reinstate those areas. The official drew a comparison between Obama's use of the 1953 oil drilling law and the president's authority to designate national monuments, granted under the 1906 Antiquities Act. No presidentially designated monuments have been removed by later presidents, he said. He further noted that former presidents Dwight Eisenhower, Richard Nixon, George Bush and Bill Clinton invoked the 1953 law to protect portions of federal waters and that none of those designations have been undone by later administrations.
Jason Hutt, a lawyer with Bracewell who has worked on behalf of energy companies against Obama's environmental policies, agrees: "The statute does not say, 'A president can reinstate,'" he said. "It only seems to be one-directional."
Legal experts say Republicans have one avenue they could use to undo the ban––a filibuster-proof Senate vote for Congress to amend the law and specifically allow sitting presidents to
reverse the drilling bans of former presidents. To do so, however, would require a 60-vote Senate majority. The Senate currently has only 52 Republicans.
A representative on Trump's transition team did not respond to requests for comment on the announcement, but oil lobbyists are upset but might have been outmaneuvered.
Erik Milito, the upstream director for the American Petroleum Institute (API), disagreed about the ban's permanence and expressed hope that Trump will use an executive order to lift it. "We are hopeful the incoming administration will reverse this decision as the nation continues to need a robust strategy for developing offshore and onshore energy," he said.
Andrew Radford, a senior policy adviser with the API, also weighed in. "We don't see how this could be permanent," he said. "Similar to how President Bush issued a memo in 2008 to add areas back in, we're hopeful that the Trump administration will take a look at this to reverse that decision and we look forward to working with them to make that happen."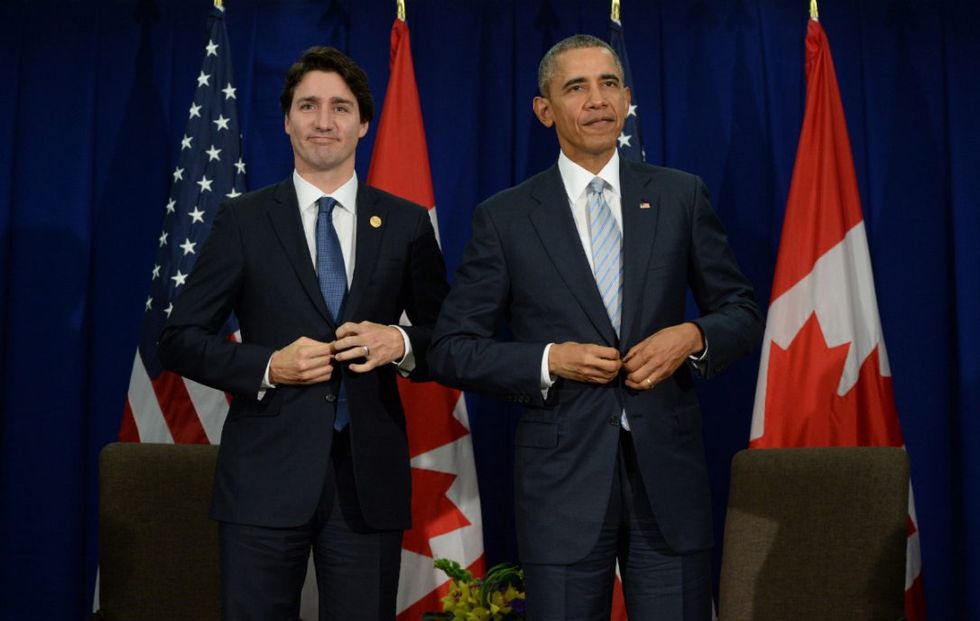 Justin Trudeau, Prime Minister of Canada (left) and President Obama (right). (Credit: Source.)
Obama's move was a joint venture with Prime Minister Justin Trudeau of Canada, who simultaneously imposed a ban on new drilling in the Canadian Arctic. In a joint statement issued yesterday, the duo said they "are proud to launch actions ensuring a strong, sustainable and viable Arctic economy and ecosystem, with low-impact shipping, science-based management of marine resources, and free from the future risks of offshore oil and gas activity."
In his own statement, Obama said that his administration's actions "and Canada's parallel actions, protect a sensitive and unique ecosystem that is unlike any other region on earth" and "reflect the scientific assessment that even with the high safety standards that both our countries have put in place, the risks of an oil spill in this region are significant and our ability to clean up from a spill in the region's harsh conditions is limited."