As news of the growing likelihood of a surprise upset by Donald Trump reached traders in Asia, markets there plunged nearly six percent. By the time his victory was all but certain, they had pushed down the dollar, spiked the price of safe havens such as gold, and punished the Mexican peso by bringing it to record low levels.
European markets followed suit, with major markets in Frankfurt, Milan and London shedding between two and three percentage points. Markets pared their losses somewhat following Trump's acceptance speech.
---
The shock to the markets cane because they had largely priced in a Hillary Clinton victory, predicated on near universal polling that had put her a few percentage points ahead of Trump nationally and in the key states she lost. The result mirrored the surprise win by the Leave camp in the UK's EU referendum, or Brexit. Pollsters there also had failed to predict the strength of anti-integration and nativist forces in the British electorate.
Meanwhile, commentators around the world led with opinion pieces that minced few words expressing their concern, and in many cases shock and dismay.
In an essay for The New Yorker, David Remnick called Trump's election to the presidency "nothing less than a tragedy for the American republic, a tragedy for the Constitution, and a triumph for the forces, at home and abroad, of nativism, authoritarianism, misogyny, and racism... That the electorate has, in its plurality, decided to live in Trump's world of vanity, hate, arrogance, untruth, and recklessness, his disdain for democratic norms, is a fact that will lead, inevitably, to all manner of national decline and suffering."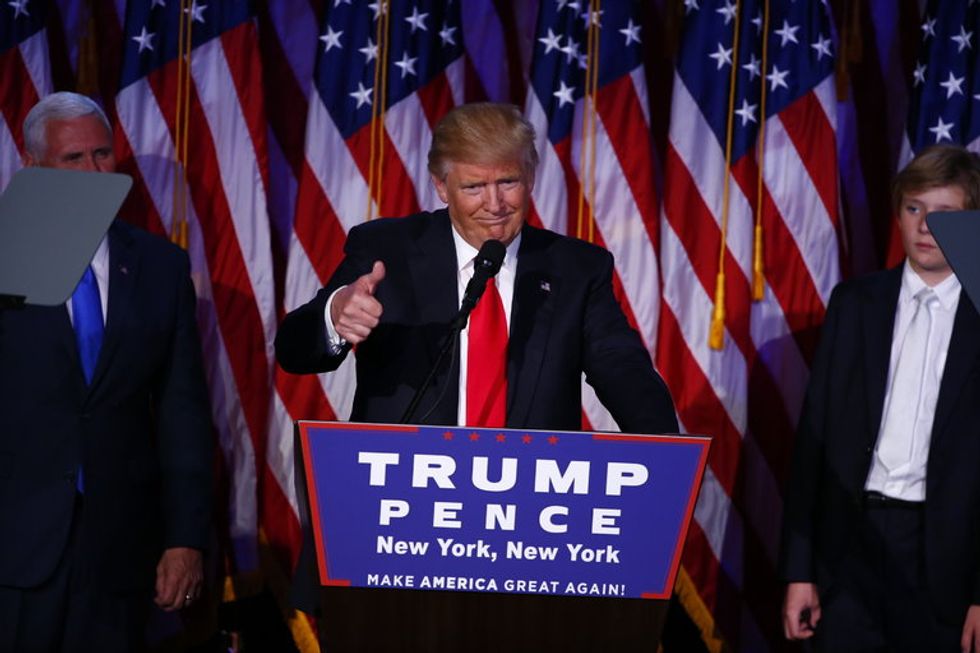 Credit: Source.
Australian journalist Wendy Squires lamented the election results in a piece for the Sydney Morning Herald: "I am woman, hear me sob… Surely, I believed we had made some progress. I knew feminism has a way to go but the world was ready for a female President. Especially one with such experience, such conviction and such a sexist, narcissist, megalomaniac oaf as an alternative.  believed, or make that hoped at least, that Donald Trump was an aberration, a distraction that we would look back in horror on. He was the close call we all would be relieved to see put back in his penthouse box, his ego broken, his scary bluster a hot wind that was extinguished by good sense.
But no. I have watched today as I did 9/11, with my hands over my eyes in shock, disgust and horror and cries of "this can't be happening!" on constant rotation."
The New York Times' Editorial Board issued a sobering response: "After a year and a half of erratic tweets and rambling speeches, we can't be certain. We don't know how Mr. Trump would carry out basic functions of the executive. We don't know what financial conflicts he might have, since he never released his tax returns,
breaking with 40 years of tradition in both parties. We don't know if he has the capacity to focus on any issue and arrive at a rational conclusion. We don't know if he has any idea what it means to control the largest nuclear arsenal in the world."
World leaders were more diplomatic and cautious in addressing the possible global impact of a Trump administration.
NATO Security General Jens Stoltenberg said he looks forward to working with Trump and emphasized the importance of the United States to the world's largest military alliance. "It is important that the transatlantic bond remains strong… US leadership is as  important as ever."
UK Prime Minister Theresa May congratulated Trump on his victory and said that Britain and the US have "an enduring and special relationship based on the values of freedom, democracy and enterprise." She continued: "We are, and will remain, strong and close partners on trade, security and defence. I look forward to working with president-elect Donald Trump, building on these ties to ensure the security and prosperity of our nations in the years ahead."
Scottish First Minister Nicola Sturgeon urged Trump to champion for the rights of all US citizens regardless of their heritage. "I hope the president-elect will take the opportunity to reach out to those who felt marginalised by his campaign and make clear - in deeds as well as words - that he will be a president for everyone in modern, multicultural America. Today must also be a moment for those who share progressive values - all of us who believe in tolerance and diversity - to speak up loudly and clearly for the values we hold dear."
Nicola Sturgeon. (Credit: Source.)
French president François Hollande was less enthusiastic. "Certain positions taken by Donald Trump during the American campaign must be confronted with the values and interests we share with the United States," he said. "What is at stake is peace, the fight against terrorism, the situation in the Middle East. It is economic relations and the preservation of the planet."
German Chancellor Angela Merkel also offered her support and guidance. "There's no country we Germans have as close a relationship with as the United States of America. Whoever rules this vast country, with its enormous economic strength, its military potential, its cultural influence, carries a responsibility which is felt all over the world… Germany and America are connected by common values: democracy, freedom, respect for the law and for human dignity irrespective of origin, skin colour, religion, gender, sexual orientation or political conviction. On the basis of these values, I offer the future president of America, Donald Trump, a close working relationship."
Speaking at a ceremony in the Kremlin, Vladimir Putin said: "We heard the campaign slogans when he was still a candidate which were aimed at restoring relations between Russia and the United States. We understand that it will not be an easy path given the current state of degradation in the relations. And as I have repeatedly said, it's not our fault that Russian-American relations are in such a poor state. But Russia wants and is ready to restore full-fledged relations with the United States. I repeat we understand that this will be difficult, but we are ready to play our part, and do everything to return Russian-American relations to stable and sustainable development track. This would serve the interests of both the Russian and American peoples, and would have a positive effect on the general climate of global affairs given the special responsibility of Russia and the US to sustain global security."
He congratulated Trump on his victory via telegram.