Tomi Lahren of Fox News fame is largely recognized as a mouthpiece for anything from conservative to alt-right to White supremacist talking points. The Fox Nation host also frequently steps in it on Twitter.
Lahren has been called out numerous times for hypocritical declarations about Black and brown skinned people. Now she's done it again.
---
On Tuesday, Lahren posted:
"If you traipse your kid 2,000 miles in dangerous conditions you're not only a criminal, you're a shi**y parent."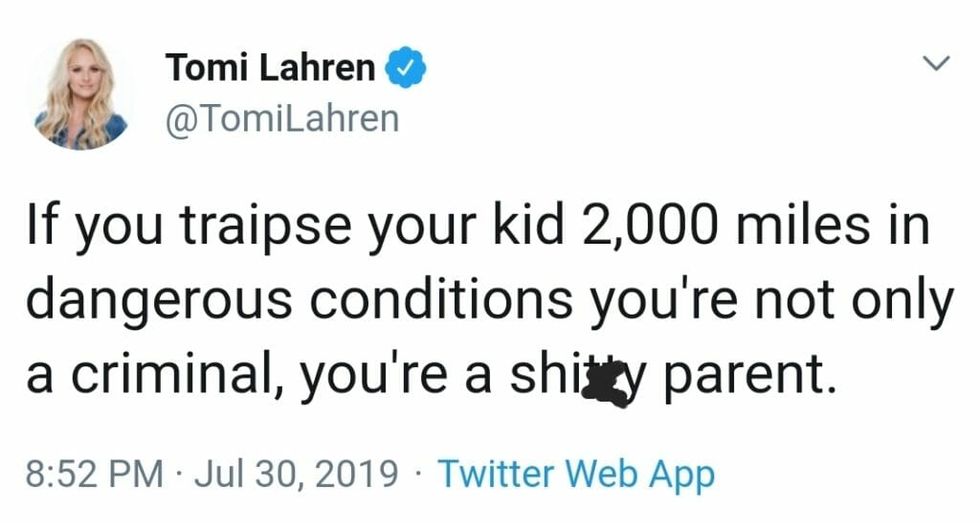 @Tomi_Lahren/Twitter
If 2,000 miles is criminal, what is 3,220 miles? Will Lahren be campaigning to have the pilgrims that landed in Massachusetts declared disgraceful criminals?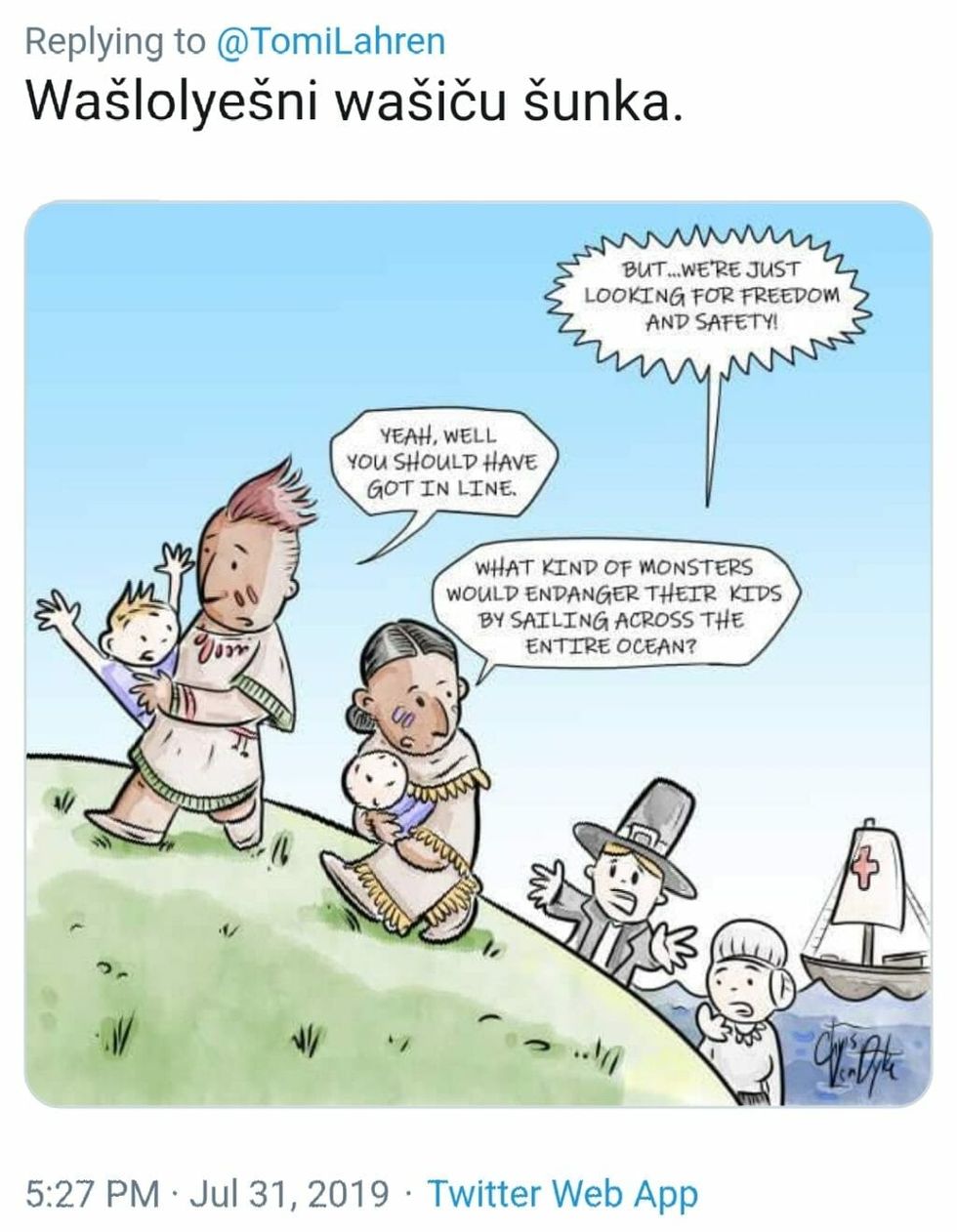 @iroquo1s/Twitter
Or what about traveling 4,753 or 4,259 miles? Did Lauren's ancestors—who hailed from Norway and Germany and settled in South Dakota—all remain childless until the end of their journey over twice the distance Lahren condemned?
If not, is Lahren proclaiming her ancestors criminals and shi**y parents?
@TomiLahren Sooo Tammy. Where did your ancestors parachute in from? #indigenous

— Feistyfem 🇺🇸 (@Feistyfem 🇺🇸) 1564604004.0
People felt perhaps she failed to think her latest diatribe through carefully.
@TomiLahren So all the European immigrants who traveled by boat across the Atlantic to Ellis Island were shitty par… https://t.co/EosAD2wp7k

— The Wreninator 🐮🌊🌊🌊 (@The Wreninator 🐮🌊🌊🌊) 1564591003.0
@TomiLahren It takes a lot of work to pretend to not understand something this thoroughly.

— John Iadarola (@John Iadarola) 1564534727.0
@TomiLahren Mary and baby Jesus might disagree

— text NH to 70785 (@text NH to 70785) 1564578443.0
@ManMet80 @TomiLahren Once Tomi found out that Jesus wasn't snow white & didn't speak English , she's been less interested... #FakeChristian

— Sandy Paws (@Sandy Paws) 1564578698.0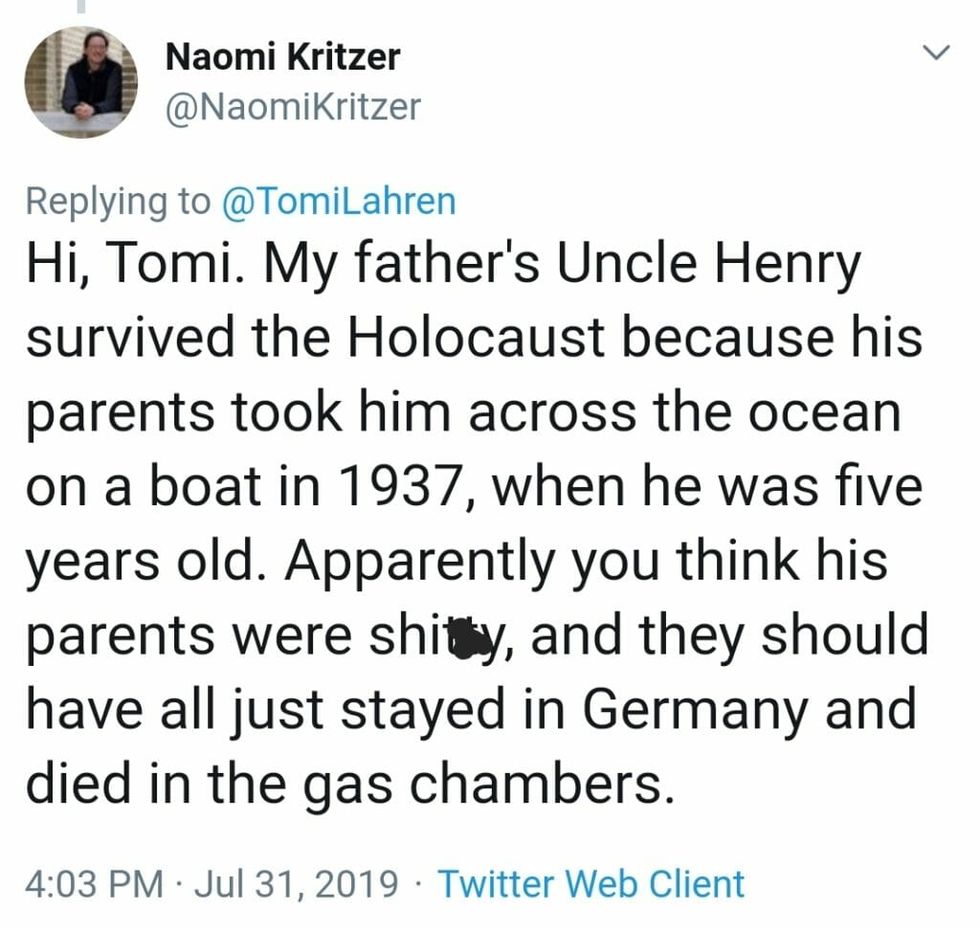 @NaomiKritzer/Twitter
@NaomiKritzer @TomiLahren I'm reasonably certain she is a big fan of gas chambers.

— scottalias (@scottalias) 1564605519.0
@TomiLahren How do you think European immigrants got here, Tomi?

— Dave Hogg (@Dave Hogg) 1564597422.0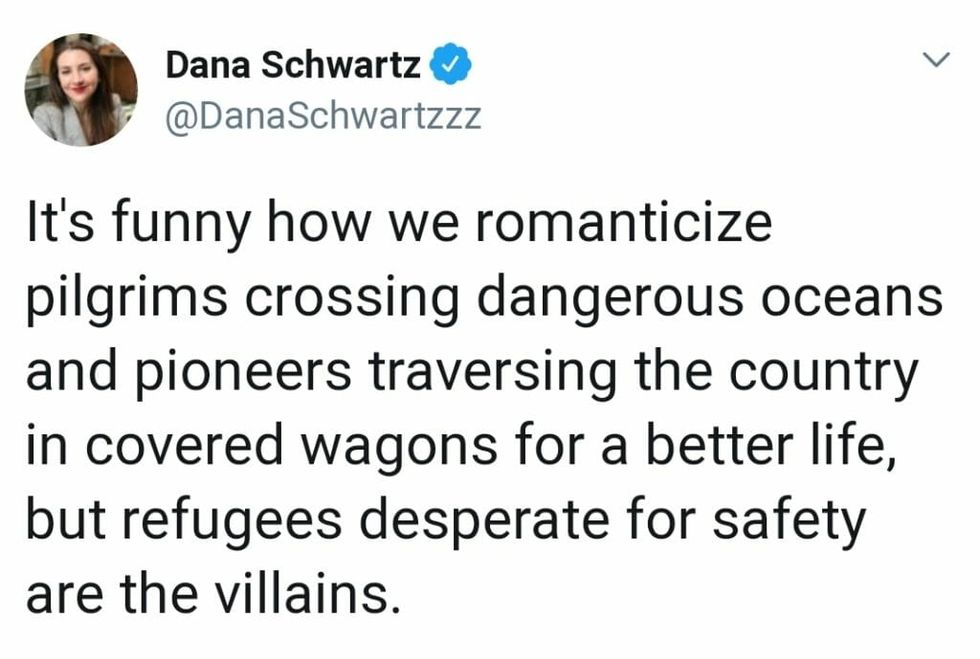 @DanaSchwartzzz/Twitter
@TomiLahren Like these a-holes. https://t.co/d4kFmcMQgw

— Betty F*ckin' White (@Betty F*ckin' White) 1564589580.0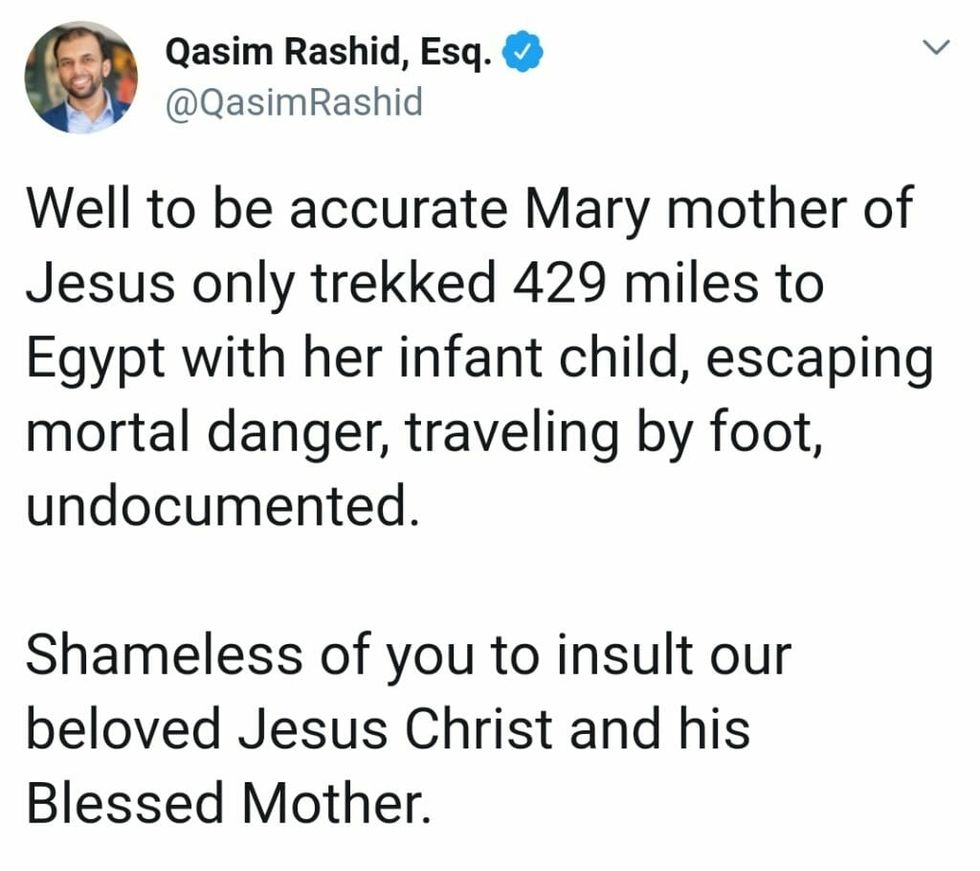 @QasimRashid/Twitter
@TomiLahren Jesus was a refugee. We have empathy for his family's plight. The Pilgrims brought their children acro… https://t.co/rgfat1uYFd

— Reader Adrift (@Reader Adrift) 1564556694.0
@ReaderAdrift @TomiLahren If they depicted Jesus as he actually looked, dark hair and skin, not some golden haired,… https://t.co/LPIV2RUCUy

— Robb Cowell (@Robb Cowell) 1564604499.0
@TomiLahren Jesus' family fled to Egypt when he was a newborn to avoid genocide... ... but then, only Christians would know that.

— John Pavlovitz (@John Pavlovitz) 1564603928.0
@TomiLahren Ever read Exodus?

— Victor Stoddard (@Victor Stoddard) 1564576832.0
@TomiLahren In 1908 my great grandparents took their young children across the Atlantic in the steerage of an overc… https://t.co/GHJylp7c98

— (((Edelweißpirat))) Ich will Nichts (@(((Edelweißpirat))) Ich will Nichts) 1564606307.0
And while many schooled Lahren on US history and her own Christian beliefs, others found purpose in her Twitter posts.
@TomiLahren https://t.co/lWrnO42py3

— 𝟷𝟿𝟾𝟺⚘ɪꜱ ɴᴏᴛ ꜰɪᴄᴛɪᴏɴ 🌊💦💙 (@𝟷𝟿𝟾𝟺⚘ɪꜱ ɴᴏᴛ ꜰɪᴄᴛɪᴏɴ 🌊💦💙) 1564605464.0
Many people currently in the United States traveled thousands of miles through dangerous conditions for the hope of a better life. To learn more, the book Coming to America: A History of Immigration and Ethnicity in American Life is available here.