[DIGEST: McClatchy's Washington Bureau, Chicago Tribune]
The FBI and five other intelligence and law enforcement agencies are collaborating on an investigation into Russian interference in the 2016 presidential election, according to two people familiar with the inquiry who spoke on condition of anonymity to McClatchy, whose DC bureau broke the story.
---
The FBI the CIA, the National Security Agency, the Justice Department, the Treasury Department's Financial Crimes Enforcement Network and representatives of the director of national intelligence are involved in the inquiry, which will determine whether money moved from the Kremlin covertly helped Donald Trump win. Additionally, the inquiry will determine whether Russian officials used a system for paying Russian-American pensioners to pay hackers in the United States (or supply the money to intermediaries who would then pay the hackers) to hack the Democratic National Committee last year and undermine Democratic presidential nominee Hillary Clinton. John Podesta, Clinton's campaign chairman, was also a target.
The informal interagency working group began its inquiry into Russian meddling last spring, long before the FBI received information from a former British spy hired to develop "politically damaging" and unverified information about the president-elect. The six-agency group is currently probing several Americans affiliated with Trump's campaign or his businesses and are looking into ties with several individuals from Russia and former Soviet nations.
Last week, the Senate Intelligence Committee announced it has opened its own investigation into Russian meddling. Their panel will have the power to issue subpoenas.  At a recent hearing before the Senate, FBI Director James Comey refused to comment on whether the bureau was conducting its own investigation into Russian meddling for possible criminal prosecutions.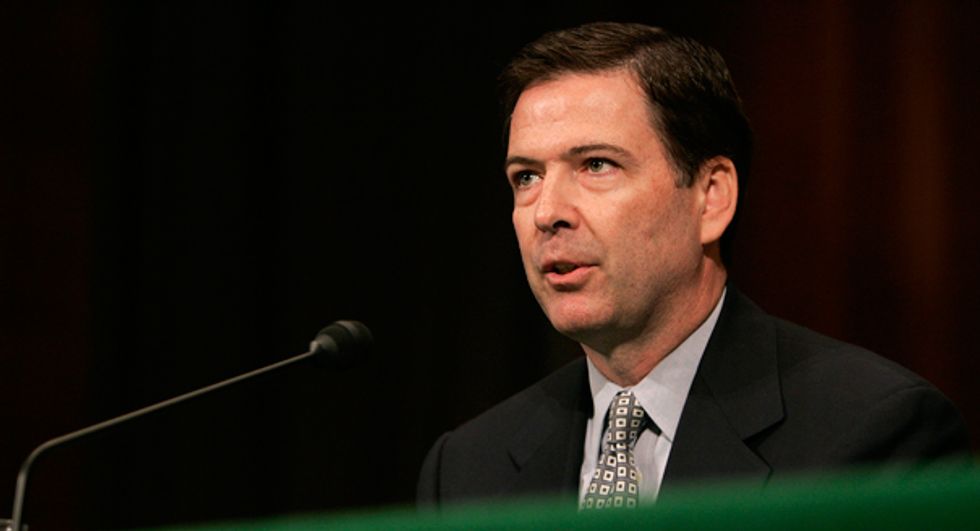 FBI Director James Comey. (Credit: Source.)
Trump, who will be inaugurated tomorrow and whose transition team has not commented publicly on the inquiry, has continued to post positively about Russia and Vladimir Putin and has continuously dismissed the assessment from U.S. intelligence that it was confident that Russia was behind the hacks, a belief he expounded upon in an interview with TIME, in which he suggested that the conclusion of Russian interference was politically motivated.
Having a good relationship with Russia is a good thing, not a bad thing. Only "stupid" people, or fools, would think that it is bad! We.....

— Donald J. Trump (@Donald J. Trump) 1483801340.0
Trump's statements continued to raise questions about his Russian ties and continued affinity for Moscow despite the concerns of 17 intelligence agencies that Russian interference has heightened geopolitical tensions. He has also said that while he believes Russia orchestrated the hacks, he does not believe they changed the election outcome. But Senator Dianne Feinstein (D-California), a former chair of the Senate Intelligence Committee, disagrees. On Sunday, Feinstein told Meet the Press that she believes Russian interference did influence the election results.
During his campaign, Trump displayed ignorance that Russian-backed separatists had invaded Crimea in eastern Ukraine in 2014 and he later made a public call for Russia to hack into Hillary Clinton's private server and distribute emails she never made public during her tenure as Secretary of State.
Trump's campaign associates later weakened a provision within the Republican Party platform advocating more military support for the Ukranian government to defend itself from the Russian incursion.
According to a recent report from the BBC, the interagency inquiry was launched after the CIA learned, through a Baltic ally, of a recording indicating the Russian government planned to funnel funds into the United States to influence the election outcome. Longtime British intelligence agent Christopher Steele, who was hired to gather opposition research about Trump for a Republican client and later a Democrat, was another source of information. Steele alerted authorities when the information he received from a network of Russian sources described Trump's business relationships with wealthy Russians and alleged ties to the Kremlin. The information came from two sources who spoke on condition of anonymity, citing the sensitivity of the matter.
Steele's reports also allege Russian consulates in New York, Washington and Miami were used to deliver "tens of thousands of dollars" to operatives hired by the Kremlin. These operatives used fictitious names to pretend they were legitimate Russian pensioners. Steele's reports suggested that the plan was designed to give Russia "plausible deniability." Russia does not operate a consulate in Miami, however. Steele had worked with the FBI before, and was well regarded. He presented the bureau with information in July and in September suggesting collusion between Trump's associates and Moscow in the DNC hack. He later met with an FBI official in Italy to share information alleging that a top Trump campaign official knew about the hacking as early as last June. A month after the election, Sen. John McCain (R-Arizona) gave FBI Director James Comey a copy of Steele's reports.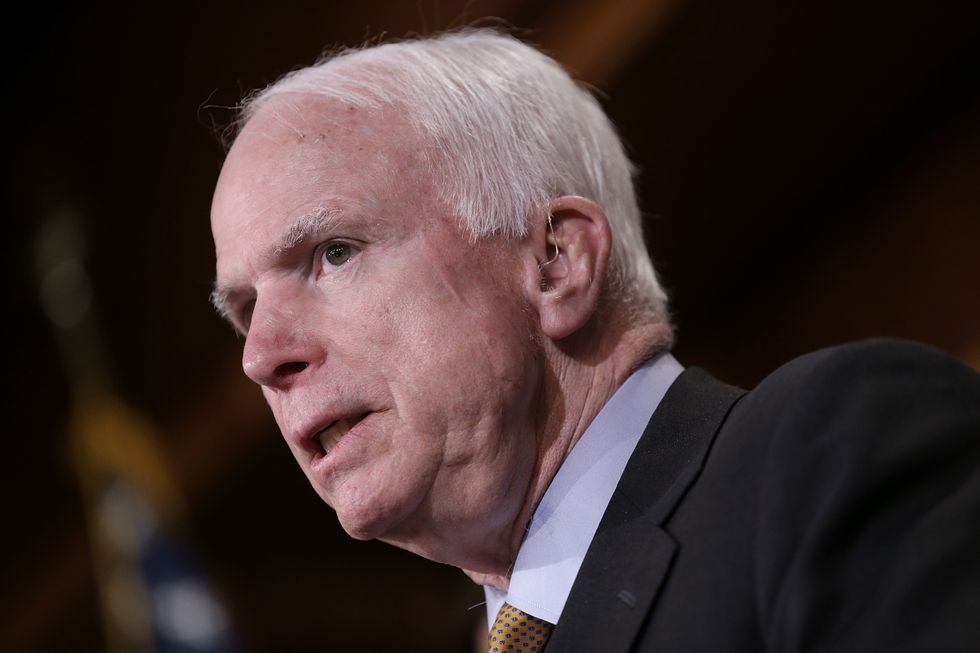 Sen. John McCain. (Credit: Source.)
Buzzfeed obtained the 35-page dossier and published it online, though it acknowledged the report had obvious errors and had not been completely verified. Several news organizations, including McClatchy, had the document earlier, but refrained from publishing until the Steele's allegations could be corroborated. Trump and Putin have dismissed the dossier is "fake news." The interagency working group is treating Steele's reports as unverified intelligence because much of the information came from purported Kremlin leaks and is difficult to corroborate.
One of McClatchy's sources confirmed a BBC report that the FBI had obtained a warrant on Oct. 15 from the Foreign Intelligence Surveillance Court allowing investigators access to financial statements about potential payments and money transfers related to Russia. Speaking to reporters, Susan Hennessey, a former attorney for the National Security Agency who is now a fellow at the Brookings Institution, said she does not know whether the Foreign Intelligence Surveillance Court issued a warrant in the investigation of Russian meddling. She did say, however, that investigators issue these warrants if they can establish "probable cause" that the target was a foreign power or its agent and the likelihood the surveillance would produce foreign intelligence is high. She said Steele's dossier could not have met these requirements.
"If, in fact, law enforcement has obtained a FISA warrant, that is an indication that additional evidence exists outside of the dossier," she said.