There were several new pieces of evidence that landed like bombshells during Thursday night's prime time hearing of the January 6 Committee.
Here are some of the major ones and why they matter to the overall story that the Committee is telling.

Top Aides and Family Accepted Trump Had Lost the Election and Told Him So
Many within Trump's inner circle had investigated the claims of election fraud that had been circulating and had concluded that there was nothing to them.
Within the first few minutes of the hearing, Chairman Bennie Thompson (D-MS) played a clip of former Attorney General Bill Barr's deposition in which Barr said:
"I made it clear I did not agree with the idea of saying the election was stolen and putting out this stuff, which I told the President was bullshit."
In a later clip Barr states that he told Trump his election fraud claims were "crazy stuff and they were wasting their time on that, and that it was doing great, great disservice to the country."
This contradicts the story Barr gave at the time of his departure. In his resignation Barr had praised Trump and had said he was departing to spend time with family. Now, well clear of Trump, he's saying he left because he didn't want to be part of Trump's false fraud claims.
Similarly, Trump's top campaign officials, including former senior campaign advisor Jason Miller, testified that the campaign's lead data expert had spoken to Trump post-election.
Miller admitted under oath:
"I remember he delivered to the President in pretty blunt terms that he was going to lose."
And a clip from the testimony of a former Trump campaign lawyer showed that the lack of support for the former President's fraud claims had been conveyed to Chief of Staff Mark Meadows in mid to late November 2020:
"I remember sharing with him that we weren't finding anything that would be sufficient to change the results in any of the key states."
He then added:
"I believe the words he used were, 'So there's no there there?'"
Even Trump's own daughter Ivanka accepted what the experts were saying and that her father had lost.
On hearing Attorney General Bill Barr's statement that he had found no fraud sufficient to overturn the election, she testified:
"It affected my perspective. I respect Attorney General Barr. So, I accepted what he was saying."
The testimony is important because Trump's state of mind in plotting and attempting to carry out the coup by disrupting the electoral count on January 6 is key to any potential criminal case against him. Trump will argue that he genuinely believed that he had won the election, and therefore it was the Democrats who were carrying out a coup because they had committed widespread vote fraud.
The Committee aims to show that Trump knew his election fraud claims were baseless and was stoking the Big Lie in order to galvanize his supporters and ultimately unleash them on the Capitol.
This is the trickiest part of any potential prosecution against Trump.
If a jury cannot unanimously agree beyond a reasonable doubt that Trump knew his actions to thwart the transfer of power were wrong and unjustified, then prosecutors would fail to obtain a guilty verdict. The fact that Trump's senior campaign staff and his Attorney General, among others, told him he was wrong, and that his own daughter agreed with them, is valuable evidence that Trump's continued promulgation of the Big Lie was only a pretense to hang onto power.
"Corrupt intent" is a bit of a murky standard, and the Supreme Court has not defined it for purposes of the obstruction statute at issue.
But as Judge David Carter observed in his ruling earlier this year, in which he found that Trump likely committed corrupt obstruction of Congress, the Ninth Circuit has made clear that the threshold for acting "corruptly" is lower than "consciousness of wrongdoing," meaning a person does not need to know their actions are wrong to break the law.
Because President Trump likely knew that the plan to disrupt the electoral count was wrongful, his mindset exceeds the threshold for acting "corruptly" under § 1512(c).
If this ever becomes a criminal case, what "corruptly" ultimately means will be key to determining whether Trump is guilty.
Trump Was More than "Inactive" during the Insurrection. He Wanted It to Continue.

Trump's corrupt intent might also be proven by his actions on January 6 itself. According to Rep. Liz Cheney, who can back up her statement with verbatim witness testimony, on January 6 Trump was yelling and "really angry at advisors who told him he needed to be doing something more."
He told staff that the insurrectionists "were doing what they should be doing," and when informed about their "hang Mike Pence" chants, Trump responded, "Maybe our supporters have the right idea" and that Pence "deserves it." The statement produced audible gasps within the hearing room.
Unsurprisingly, according to Cheney, Trump made no effort to check on Pence's well-being.
Cheney said, tellingly of Trump:
"He placed no call to any element of the US government to instruct the Capitol to be defended."
Importantly, she noted:
"President Trump gave no order to deploy the National Guard that day."
Aides begged Trump to put out a statement, and someone even hand wrote a proposed statement on the Chief of Staff's notepad that said:
"Anyone who entered the Capitol illegally without proper authority should leave immediately."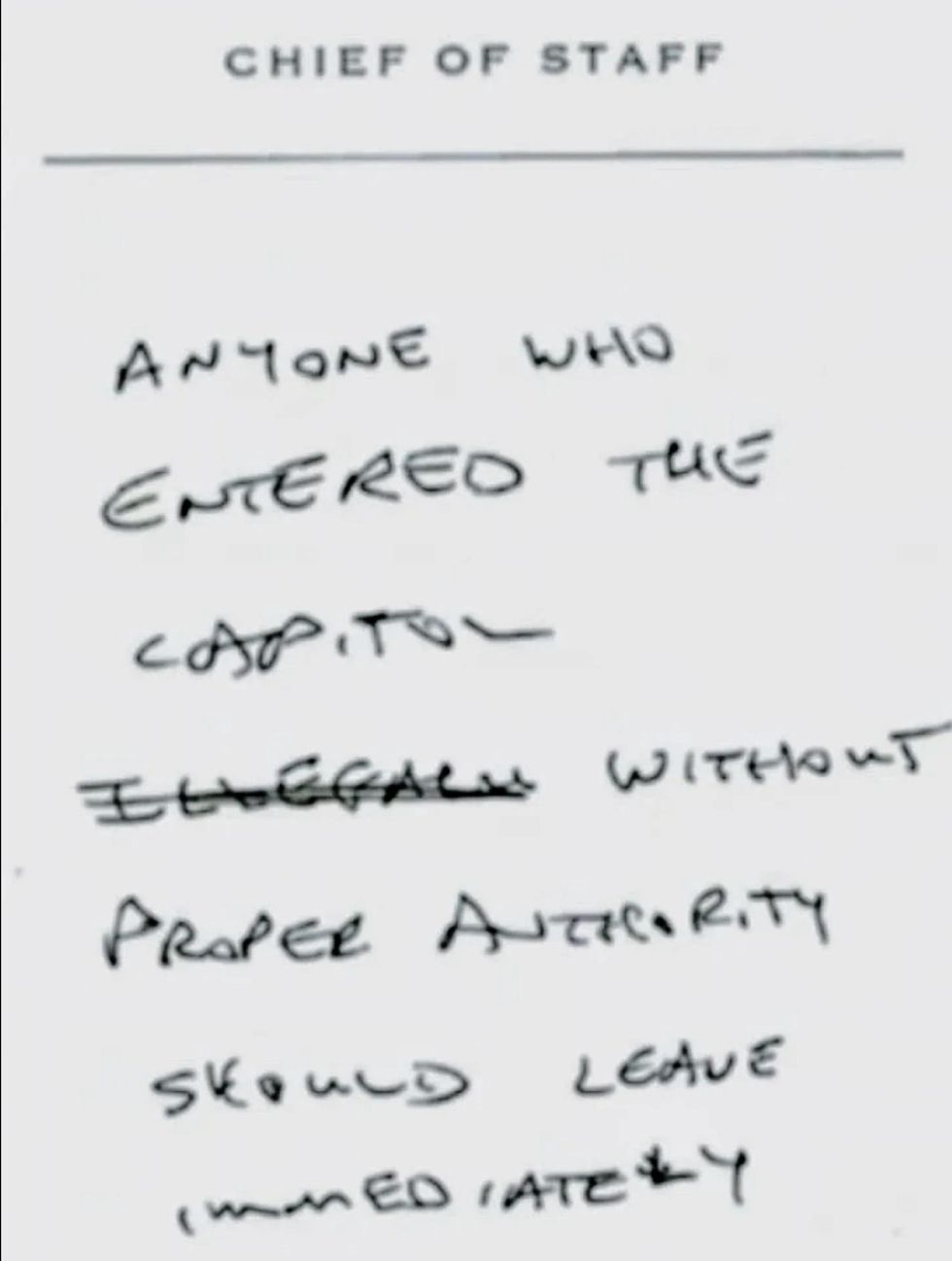 National Archive
The statement was never sent.
The hours of inaction and harsh words of the former president indicate strongly that Trump shared the goals and approved of the methods of the insurrectionists, and that his ultimate goal was to stay in power at any cost—and not, as he wants us to believe, simply to overturn a fraudulent election.
In theory, Trump could be found guilty of corrupt intent for holding the sole power to stop the mob but affirmatively deciding not to wield it. (Picture someone who hates his neighbor and wants to see him gone, and who then stands idly by holding a fire extinguisher while that neighbor's house catches fire and burns down.)
Congressional Co-Conspirators Sought Pardons from Trump
If there were any doubts that Liz Cheney would hold back against her fellow Republicans, she dispelled them last night.
Cheney stated:
"As you will see, Representative Perry contacted the White House in the weeks after Jan. 6 to seek a presidential pardon."
"Multiple other Republican congressmen also sought presidential pardons for their roles in attempting to overturn the 2020 election."
Speculation immediately began around who those other Congressmen might be.
The Committee likely gave us a strong clue when it decided to subpoena five Congressmen including Perry. Those included Jim Jordan (R-OH), Andy Biggs (R-AZ), Mo Brooks (R-AL) and Minority Leader Kevin McCarthy (R-CA).
All of them have refused to testify, claiming the Committee is illegitimately constituted. Perry, Jordan, Biggs, and Brooks are known to have participated in planning meetings with the White House around the rally at the Ellipse, along with others including Matt Gaetz (R-FL), Lauren Boebert (R-CO), Marjorie Taylor Greene (R-GA), Paul Gosar (R-AZ), Jody Hice (R-GA), Debbie Lesko (R-AZ) and Louis Gohmert (R-TX).
Perry in particular had stated in one meeting that he approved of the idea of marching the crowd down to the Capitol in defiance of the rally's permit.
Perry's ties to the attempted coup run fairly deep.
He was the Congressman who connected Trump with Jeffrey Clark, the official in the Department of Justice who supported Trump's efforts to overturn the election and who Trump wanted to elevate to replace Acting Attorney General Jeffrey Rosen. Perry is the chair of the House Freedom Caucus, and he repeatedly pushed Mark Meadows to implement the scheme they had cooked up.
Perry texted Meadows on Dec. 26, 2020:

"Mark, just checking in as time continues to count down."
"11 days to 1/6 and 25 days to inauguration. We gotta get going!"
Perry and Meadows apparently took great pains to cover their tracks, including using the encrypted messaging app Signal to send texts. And according to the testimony of Meadows's aide Cassidy Hutchinson, Meadows also invited Perry over for a meeting and then burned papers in his office afterwards.
As I wrote about earlier, Hutchinson is a key witness for the Committee on many of Meadows's actions and communications, so look for her in the coming sessions to provide an eyewitness account of the plot she was seeing unfurl in real time.