Vladimir Putin has decided not to retaliate against the United States' expulsion of Russian diplomats and new sanctions. Earlier, the Russian Foreign Ministry had recommended he do just that, and send home 35 US diplomats in response to Washington's move yesterday. But Putin signaled he would not take immediate action: Instead, he said, he would attempt to rebuild US relations after the inauguration of Donald Trump, the president-elect.
According to Russian state media, Putin said, "We will not create problems for American diplomats. We will not send anyone away. We will not prohibit their families and children to use for their usual vacation spots in the New Year's holidays."
---
But Putin did say that Russia reserves the right to respond to the new sanctions and the closure of two Russian compounds which President Barack Obama's administration announced yesterday after the US intelligence community concluded that Russia had intentionally interfered in the 2016 presidential election––specifically to help Donald Trump win. The administration declared 35 Russians suspected of working for Russian intelligence "persona non grata," and penalized four top officers working for Russian intelligence services. Diplomats and their families have 72 hours to leave the country. "Further steps towards the restoration of Russian-American relations will be built on the basis of the policies carried out by the administration of President Trump," Putin said in a statement issued by the Kremlin.
Putin's about-face came as Russian Foreign Minister Sergei Lavrov recommended expelling diplomats and called the allegations about election hacking "groundless" and "without proof." Maria Zakharova, a Russian Foreign Ministry spokeswoman, took to her official Facebook account to announce that American officials had "'anonymously briefed their mass media" about a report that Russian authorities had ordered the closure of the Anglo-American School in Moscow to US and foreign nationals. "This is a lie," Zakharova said. "Clearly, the White House has completely lost its senses and begun to invent sanctions against its own children."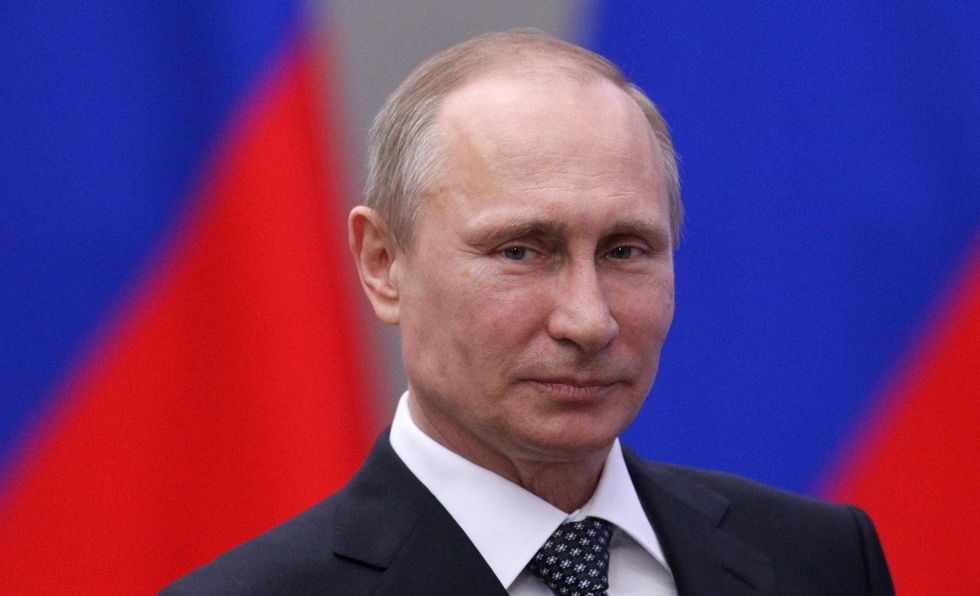 Vladimir Putin. (Credit: Source.)
The Obama administration's recommendation amounted to the strongest American response to election hacking yet. "Russia's cyberactivities were intended to influence the election, erode faith in US democratic institutions, sow doubt about the integrity of our electoral process, and undermine confidence in the institutions of the US government," a White House statement said. "These actions are unacceptable and will not be tolerated." While it is still unclear whether the Kremlin will make any new moves beyond the recommendation of the Russian Foreign Ministry, Lilit Gevorgyan, a political analyst for IHS Global Insight, said that the historically strained economic ties between the two nations would likely result in Russia bowing to "diplomatic gestures."
Even before the Russian Foreign Ministry recommended expelling US diplomats, Russian Prime Minister Dmitry Medvedev issued a scathing response to the new sanctions, accusing the Obama administration of ending its tenure "in anti-Russian agony." The Russian embassy issued a message of its own, later writing that the sanctions will not be considered "just as (an) unfriendly act."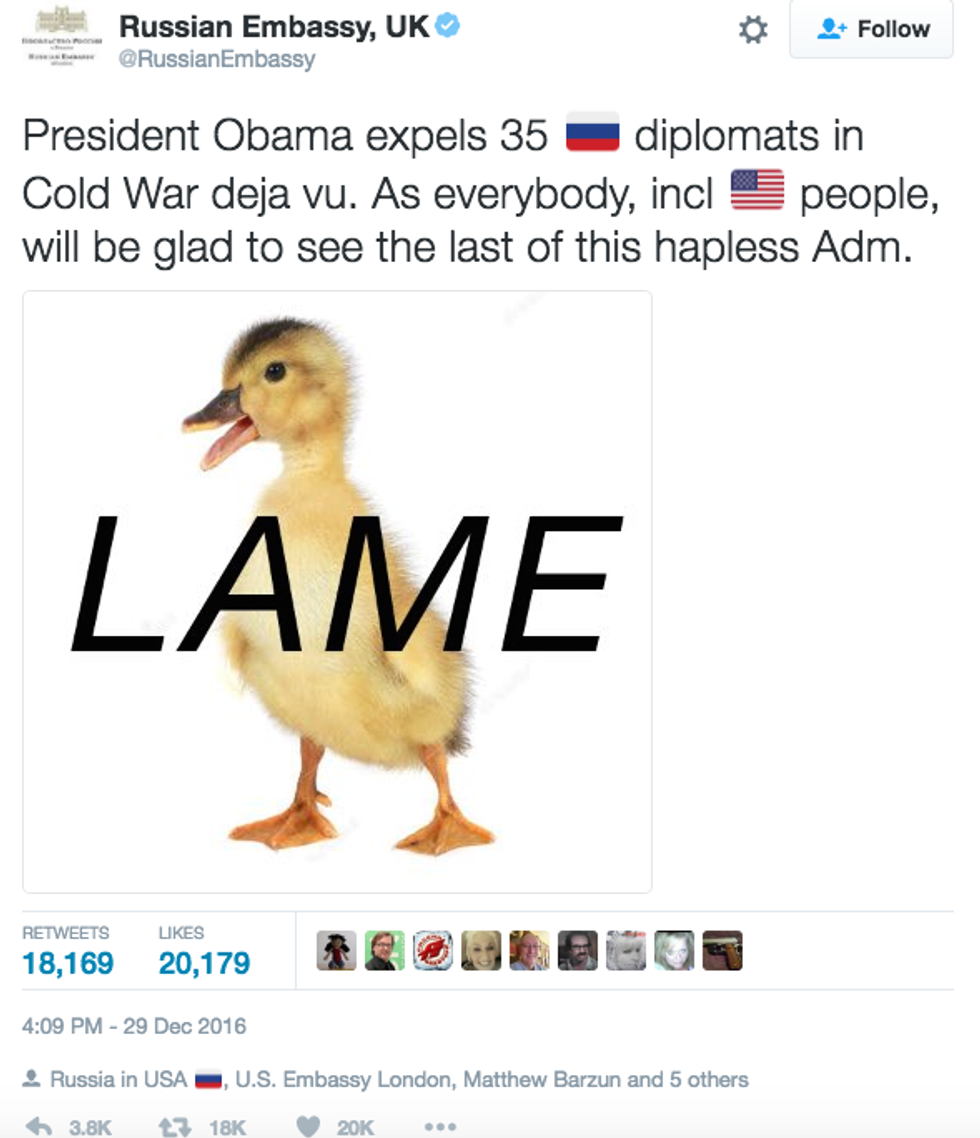 The president-elect will take office in three weeks' time and has often suggested he would like to improve relations with Russia. Trump, during his campaign, also came under increasing scrutiny for his oddly sympathetic views toward Putin's policies toward Ukraine. Trump has continuously dismissed the assessment from U.S. intelligence that it was confident that Russia was behind the hacks, a belief he expounded upon in an interview with TIME, in which he suggested that the conclusion of Russian interference was politically motivated:
I don't believe they interfered. That became a laughing point, not a talking point, a laughing point. Any time I do something, they say 'oh, Russia interfered.'

Why not get along with Russia? And they can help us fight ISIS, which is both costly in lives and costly in money. And they're effective and smart.

It could be Russia. And it could be China. And it could be some guy in his home in New Jersey.

I believe that it could have been Russia and it could have been any one of many other people. Sources or even individuals.
Trump's statements continued to raise questions about his Russian ties and continued affinity for Moscow despite the concerns of 17 intelligence agencies that Russian interference has heightened geopolitical tensions. Earlier this month, the CIA concluded in a secret assessment to lawmakers that Russia had intentionally interfered in the election, and characterized its motivations as an attempt to undermine the electoral process. But those assessments always stopped short of saying that Moscow's goal was to help elect Trump. FBI Director James Comey and National Intelligence Agency Director James Clapper later agreed with the CIA's assessment.
Senior Republicans in Congress have backed the Obama administration's actions against Russia, even while criticizing President Obama's approach to foreign policy. An official within the administration acknowledged that Trump could reverse the sanctions by executive order but said doing so would not "make a lot of sense."