Three explosive revelations late Monday and early Tuesday by separate news organizations have rocked the Trump campaign just one week before the election. Mother Jones, Slate, and NBC News each reported separate stories on Trump's possible direct ties to Russia and on ongoing but heretofore undisclosed FBI investigations that each raise not only alarms at the highest levels of government but may comprise evidence that national security has been compromised.
A SPECIAL SERVER IN TRUMP HEADQUARTERS WAS SET UP TO COMMUNICATE DIRECTLY AND SOLELY WITH TWO SERVERS AT A RUSSIAN FINANCIAL ENTITY
---
Slate broke the first story Monday about a secret server set up by the Trump Organization whose sole communications were with Alfa Bank, a Russian financial institution. Paul Vixie, an top DNS expert who reviewed logs of the communication, noted as follows:
"The parties were communicating in a secretive fashion. The operative word is secretive. This is more akin to what criminal syndicates do if they are putting together a project."
As Slate reported in depth, the server at Trump Headquarters apparently was designed to communicate directly with two servers at Alfa Bank while obscuring the fact that the communications were even ever occurring. Other experts who reviewed the extensive logs concurred that the communications are nearly certainly human generated and not the result of spam. Others have concluded that the logs and their date and stamps essentially also rule out the possibility they were faked or manipulated.
The New York Times, which conducted its own investigation, originally contacted Alfa Bank directly about the server, after which it was immediately shut down without explanation. Then, curiously, another server name was established by Trump Headquarters, with the very first communication again going to Alfa Bank.
Some observers, including FBI officials interviewed by the New York Times, noted that there could be innocuous reasons for why these servers and these communications occurred, but the Trump Organization has not yet provided any. In an email response to Mother Jones, Hope Hicks, a Trump campaign spokeswoman, maintains, "The Trump Organization is not sending or receiving any communications from this email server. The Trump Organization has no communication or relationship with this entity or any Russian entity." The Times noted that FBI officials have been conducting an investigation all summer but to date have not found any evidence directly linking Trump to the Russians.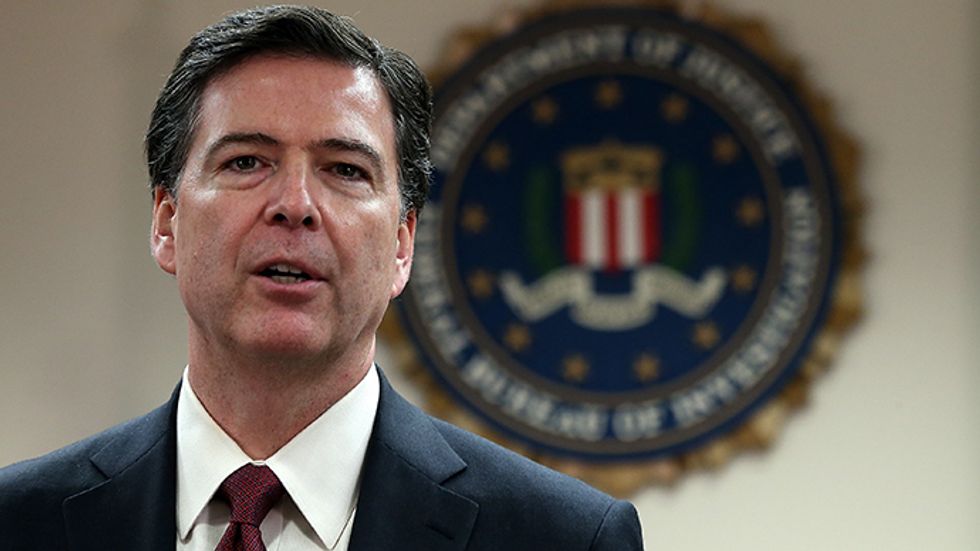 James Comey, Director of the Federal Bureau of Investigation. (Credit: Source.)
The fact that the investigation is occurring at all, however, is news to many. The revelation ironically comes just days after FBI Director Comey broke with official protocol to announce a further investigation into possible Clinton emails contained on a device in the possession of Anthony Weiner, who was being investigated in another matter. But as some experts and congress members have noted, nothing in that long investigation comes remotely close to the level of national security concerns posed by the secret Trump server. If the server was supposedly not in contact with Alfa Bank, many now question what was it doing pinging the two servers on a regular basis--and why the communications were both exclusive and hidden.
A full and detailed technical account by Slate of the Trump server and its mysterious communications with Alfa Bank can be found here.
A VETERAN SPY REPORTS HE PROVIDED THE FBI WITH EVIDENCE TRUMP WAS COMPROMISED AND HAS BEEN WORKING FOR RUSSIA FOR FIVE YEARS
Mother Jones was the next news organization out with its own equally disturbing late October surprise on Monday. It reported that, earlier this summer, an experienced Western Intelligence officer had reported to the FBI that he had found evidence of "an established exchange of information" between the Kremlin and Trump going back no less than five years.
The operative told Mother Jones that in recent months he provided the bureau with memos based on his recent interactions with Russian sources. These reports asserted that the Russian government for years has attempted for some time now to to co-opt and assist Trump.  In a memo reviewed by Mother Jones, the operative gave this remarkable and troubling conclusion:
"Russian regime has been cultivating, supporting and assisting TRUMP for at least 5 years. Aim, endorsed by PUTIN, has been to encourage splits and divisions in western alliance."
It also maintained that Trump "and his inner circle have accepted a regular flow of intelligence from the Kremlin,
including on his Democratic and other political rivals." It claimed that Russian intelligence had "compromised" Trump during his visits to Moscow and could "blackmail him." It reported that Russian intelligence had compiled a dossier on Hillary Clinton based on "bugged conversations she had on various visits to Russia and intercepted phone calls."
The FBI did not immediately request additional material after the first memo, according to the former intelligence officer and his American associates. But things changed in August when the FBI asked him for all information in his possession and for him to explain how the material had been gathered and to identify his sources. The former spy forwarded to the bureau several memos—some of which referred to members of Trump's inner circle. After that point, he continued to share information with the FBI, which he claimed viewed the information with "shock and horror."
"This is something of huge significance, way above party politics," the former intelligence officer commented. "I think [Trump's] own party should be aware of this stuff as well."
A senior US government official not involved in the case but familiar with the former intelligence operative told Mother Jones that the intelligence operative has been a credible source with a reliable track record of providing reliable, sensitive, and critical information to US intelligence. The officer spent almost two decades on Russian government secrets and now works with a US firm that gathers information on Russia for corporate clients. In June he was tasked with investigating Trump's Russia dealings for an opposition research project originally financed by an undisclosed Republican client.
Credit: Source.
"It started off as a fairly general inquiry," says the operative. But as he dug further, he unearthed information indicating deeper connections between Trump and the Russian government. According to his sources, "there was an established exchange of information between the Trump campaign and the Kremlin of mutual benefit." The FBI maintains, however, that the ongoing investigation has to date produced no direct links between Trump and Russia, but Democrats are unconvinced, demanding full disclosure in light of Comey's statements about further investigations into Clinton emails.
Senate Minority Leader Harry Reid sent Comey an angry letter citing the controversy and information that Comey appears to have been sitting on: "In my communications with you and other top officials in the national security community, it has become clear that you possess explosive information about close ties and coordination between Donald Trump, his top advisors, and the Russian government––a foreign interest openly hostile to the United States, which Trump praises at every opportunity," Reid said. "I wrote to you months ago calling for this information to be released to the public… and yet, you continue to resist calls to inform the public of this critical information."
At the end of August, Reid also had written to Comey and demanded an investigation of the "connections between the Russian government and Donald Trump's presidential campaign." That letter indirectly referred to Carter Page, an American businessman named by Trump as one of his foreign policy advisers. Page was discovered to have financial ties to Russia and had recently visited Moscow.
Senate Minority Leader Harry Reid. (Credit: Source)
Trump has variously emphatically denied any ties to Russia despite mounting evidence plainly to the contrary, as well as his top advisors' own close connections. His critics note that Trump's tax returns could shed significant light on this question, but he has emphatically refused to release them.
THE FBI HAS NOW LAUNCHED AN INVESTIGATION INTO TRUMP'S FORMER CAMPAIGN MANAGER'S TIES TO RUSSIAN OLIGARCHS
NBC News also reported late last night that the FBI quietly has been conducting a preliminary inquiry into Donald Trump's former campaign manager Paul Manafort's foreign business connections, according to law enforcement and intelligence sources who spoke with NBC News.
The FBI did not comment, but Manafort told NBC News "none of it is true... There's no investigation going on by the FBI that I'm aware of." He said he had never had ties to Russian president Vladimir Putin, or had dealings with Putin and his government. He said any suggestion of such ties was "Democratic propaganda."
NBC News reported earlier in August, however, that Manafort was a key player in large scale business proposals with Russian and Ukrainian oligarchs. One was a close Putin ally
with alleged ties to organized crime. Foreign policy experts believed these connections raised questions about the pro-Russian bent of the Trump candidacy, which successfully lobbied to a change to the GOP platform to remove criticism of Russian incursions into the Ukraine. Manafort further was paid $12.7 million in cash, according to the New York Times, for his efforts representing a pro-Russian politician in the Ukraine.
When news of these ties and payments went public, Manafort abruptly resigned as chairman of the Trump campaign.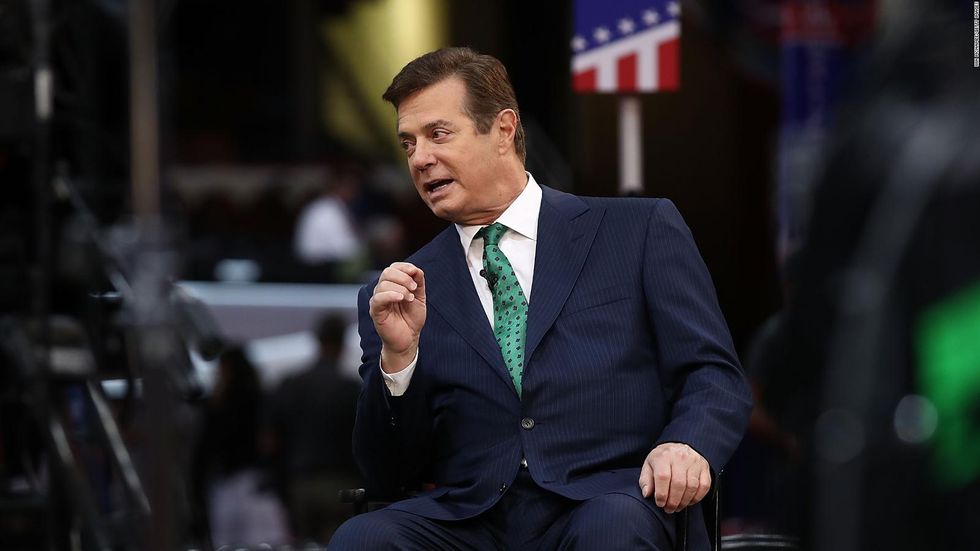 Paul Manafort, Trump's former campaign manager. (Credit: Source.)
Trump has taken a series of pro-Russian positions that experts from both parties say are far outside the mainstream, and remain inexplicable from a political viewpoint. Trump continues to cast doubt on Russian involvement in election hacking, for example, despite the intelligence community's public assessment.
"The relationships that Trump's advisors have had with pro-Russian forces are deeply disturbing," said David Kramer, a former senior State Department official in the George W. Bush administration and a former adviser to Marco Rubio. "Trump's attitude on Russia is not in line with most Republican foreign-policy thinking. Trump has staked out views that are really on the fringe."  The FBI inquiry is currently a preliminary examination that falls short of a criminal investigation. But it has some arguing that Comey is applying a double standard.
NBC News spoke with Rep. Adam Schiff of California, the ranking Democrat on the House Intelligence Committee, who regularly receives sensitive briefings. While Schiff said he could not discuss the investigation or Harry Reid's assertions, he said, "Americans have every right to be concerned about what they see in terms of Trump advisors and their closeness with the Kremlin, Trump's policies vis-a-vis Russia, Trump's potential financial interest, all of those things ought to be of deep concern to voters."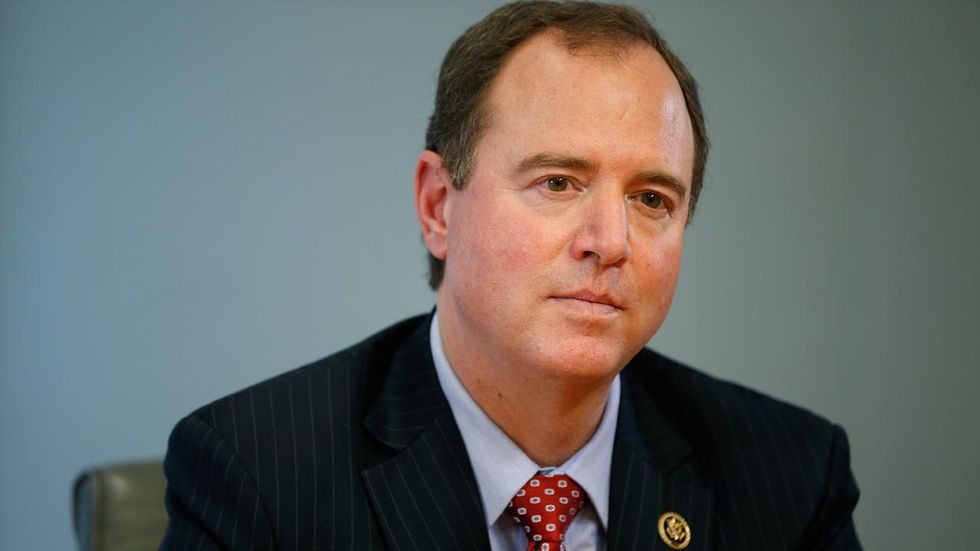 California Rep. Adam Schiff. (Credit: Source.)
Of Comey's handling of the investigation into Hillary Clinton's use of a private email server while Secretary of State, he said, "Any specifics of what the FBI or intelligence agencies may be looking at are not something that the bureau should be discussing publicly. But here, where the director has discussed an investigation involving one candidate, it opens the director up to claims of bias if he doesn't discuss other potential investigations."
WHAT'S NEXT?
As word of the three overnight bombshells spreads, the final week of the campaign may take an unprecedented turn as Trump and his advisors dig in and continue refuse to answer not only questions about his undisclosed taxes but now also the memos and investigations by the FBI, which many security and computer experts assert display very close ties to Russia.