Incumbents enjoy a huge advantage when it comes to elections. Some 85 percent of incumbents retain their seats in each election cycle. But according to a new NBC News/Marist poll , a Texas Senate seat may no longer be a sure thing.
Of course, 85 percent success means 15 percent are defeated. Now Robert Francis "Beto" O'Rourke hopes to be part of a turnover of incumbents—specifically Republican incumbents—in the United States Senate.
---
Texas Democratic Representative O'Rourke—originally given no chance to defeat Texas Republican incumbent Senator Rafael Edward "Ted" Cruz—currently serves in the U.S. House of Representatives for his birthplace and hometown of El Paso, Texas. Canadian immigrant Cruz serves as the junior Senator for all of Texas.
But through a series of barnstorming town hall meetings across the state , O'Rourke narrowed the gap between himself and Cruz. In a new poll by NBC News/Marist, that gap sits at just 4 percentage points.
O'Rourke garnered 45 percent support to Cruz's 49 percent among registered voters. With six percent of voters still undecided, winning those votes could decide the election.
Along party lines, 90 percent of Democrats back Beto O'Rourke and 91 percent of Republicans favor Ted Cruz. But Texas independents gave the two men almost equal shares, with 46 percent for O'Rourke and 45 percent for Cruz.
A further breakdown of numbers shows the split among demographics for both men.
Cruz captures the Republican, conservative, White, men, over 45 and overall demographics. O'Rourke picks up independents, Latinos, women, under 45, moderate, liberal, African-American and Democratic voters.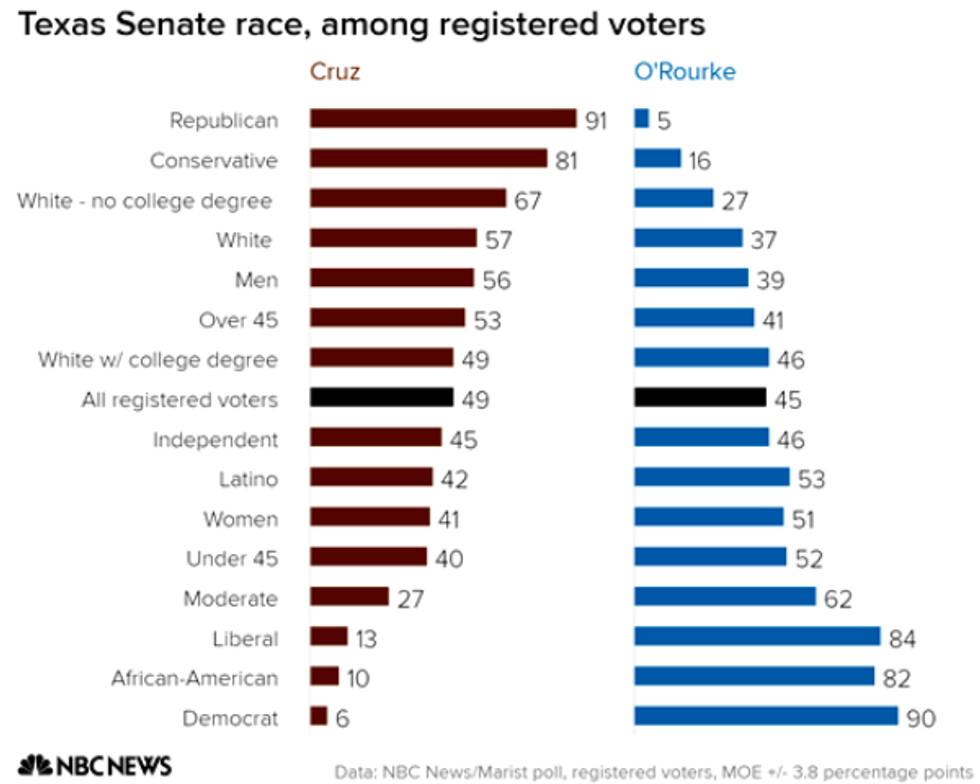 NBC News/Marist poll results August 12-16, 2018 ( NBC News/Marist )
Strongest support for Cruz comes from conservatives at 81 percent, white evangelicals at 79 percent, whites without a college degree at 67 percent and rural voters at 66 percent. O'Rourke gains his most fervent backers among liberals with 84 percent, African-Americans with 82 percent, moderates with 62 percent and voters under 45 with 52 percent.
Surprisingly, the Irish-American O'Rourke—who gained his traditionally Latino nickname of Beto from friends as a child in El Paso—leads Cuban, Irish and Italian-American Cruz among Latino voters who make up 20 percent of the voting base in Texas. 53 percent favor O'Rourke versus 42 percent for Cruz.
Of the decided voters, 60 percent state they strongly support their candidate and remain unlikely to change their vote between now and November.
Reactions to NBC News release of the poll numbers however seemed to favor O'Rourke. Cruz's national popularity took a hit when he ran for President while O'Rourke draws comparisons to Robert Kennedy.
Social media reactions to Cruz's lead in the poll drew less than favorable responses as the following tweets show.
Reactions were less than flattering toward Senator Cruz.
Cruz, once a power player in Washington DC took a back seat after losing in the 2016 presidential race. Some speculated the GOP may not mourn his loss.
However since O'Rourke goes against almost 30 years of Republican control in Texas, people still think Cruz will retain his Senate seat.
Midterm elections are slated for Tuesday, November 6, 2018.