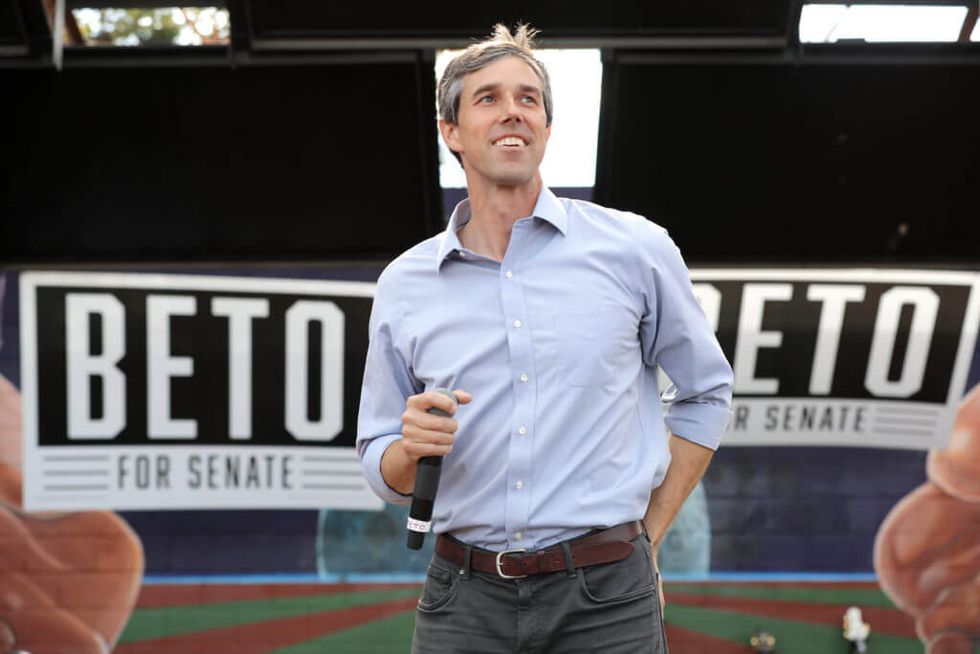 AUSTIN, TEXAS - NOVEMBER 04: U.S. Senate candidate Rep. Beto O'Rourke (D-TX) addresses a campaign rally at the Pan American Neighborhood Park November 04, 2018 in Austin, Texas. As Election Day approaches polls have shown the gap narrow between O'Rourke his opponent, incumbent Sen. Ted Cruz (R-TX). (Photo by Chip Somodevilla/Getty Images)
With the announcement of Beto O'Rourke's candidacy for President, many Americans went wild with Betomania. On the day O'Rourke officially put his hat into the ring, his campaign raised a whopping $6.1 million.
Beto O'Rourke seems like he's larger than life, and one guy took that to the next level. Artist Stan Herd created a crop circle in honor of the former Congressman's campaign, and it really does look like him.
The giant image of O'Rourke's face is inside a circle says "Beto 2020."
"We're trying to tell the story of this amazing man from Texas who's making a difference in the national climate," says artist Stan Herd, who created the piece using rock, gravel, mulch, and pecan shells.
The two-acre homage is located in Texas, where O'Rourke served three terms in the United States House of Representatives. Herd's artwork is located about a mile and a half from the Austin-Bergstrom International Airport "so that we kind of guarantee a captured audience coming in."
"Stan was in the field for hours a day," says John Zarr, a project manager who assisted Herd. The project took about two weeks and cost more than $10,000, but it's worth it to Herd and Zarr, who asks "Why not let your voice be heard?"
Make sure your flight goes through Austin: the piece will be visible for about two weeks and can be seen from the sky.
Keep reading...Show less