[DIGEST: Defense One, Marketplace, U.S. News & World Report]
Historically, restricting funds has proven one of the most effective tactics in the war on terror. In past efforts, the global community has imposed economic sanctions, trade restrictions, and even legal judgments to reign in the funding of terrorist organizations. In 1983, Iran was subject to a $2.65 billion default judgment after funding a 1983 terrorist attack on American service members in Beirut. And in 2009, the U.S. sought to cut off funding from al-Qaeda and the Taliban by barring them from the international banking system, cutting it off from private funding.
---
For the most part, that strategy worked. But restricting ISIS's funds requires more than these tools.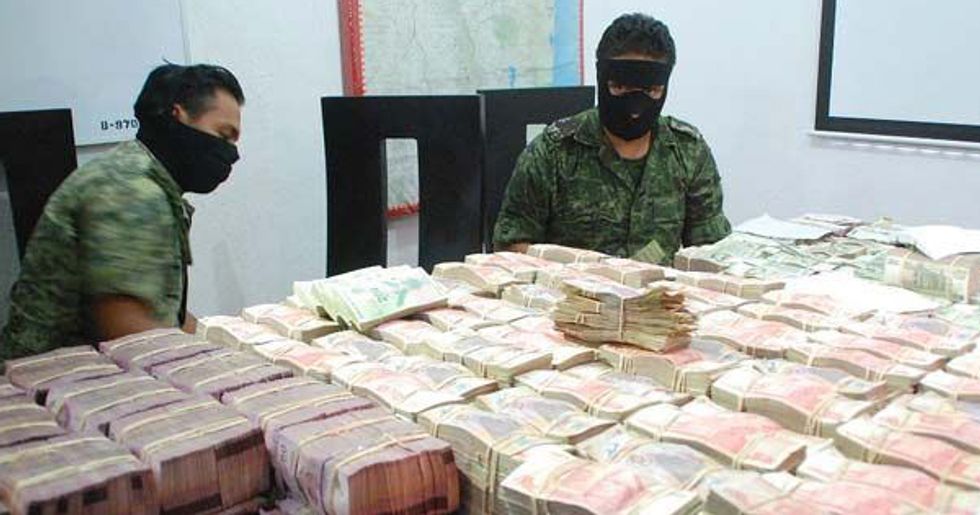 Credit: Source.
Whereas organizations like al-Qaeda and the Taliban rely primarily on private funding, ISIS has been more economically self-sufficient because it controls such a large amount of territory. So while the organization does receive some funding from private donors, ISIS primarily funds itself by exploiting the people and resources within its seized territory.
Money From the People
The bulk of ISIS's funding apparently derives from the exploitation of populations in the regions it now commands. According to U.S. News & World Report, ISIS siphons money through perpetrating a variety of
To read more, continue to the next page.
criminal schemes, everything from collecting taxes on banking transactions to stealing property and selling it back to the rightful owners.   
Although exact numbers aren't known, ISIS also has kidnapped hundreds (possibly thousands), extracting exorbitant ransoms from the individuals' families and countries of origin. According to Caroline Nyce of Defense One, ISIS raised about $45 million in 2014 through the collection of ransoms.
When ransoms are refused, victims face particularly gruesome consequences; this has led lawmakers in the U.S. to question whether the U.S.'s long-standing policy of refusing to pay ransoms to terrorist organizations should continue. The U.S. reasons that terrorists will be less likely to kidnap Americans if doing so isn't profitable. But some question whether that policy is effective, especially against ISIS. Diane Foley, mother of the American journalist, James Foley, who was beheaded by ISIS in 2014, testified before the House Foreign Affairs panel in November, arguing that her "family's ordeal was made worse by" what she called "our incoherent and often ineffective hostage policy."
Money from the Lands
ISIS relies heavily on oil sales from the areas it controls. But to get the oil to market, it often must smuggle it into areas it doesn't. Although it had been making as much as $3 million per day in 2014, ISIS still 
To read more, continue to the next page.
rakes in between $40 and $50 million per month in oil sales despite U.S. efforts to foil the smuggling. In the days following the deadly attack in Paris, U.S. airstrikes destroyed many of the trucks ISIS was using to transport oil; however, ISIS also uses hoses and hidden compartments in trucks to transport oil along well-established smuggling routes. Dismantling that infrastructure will take time.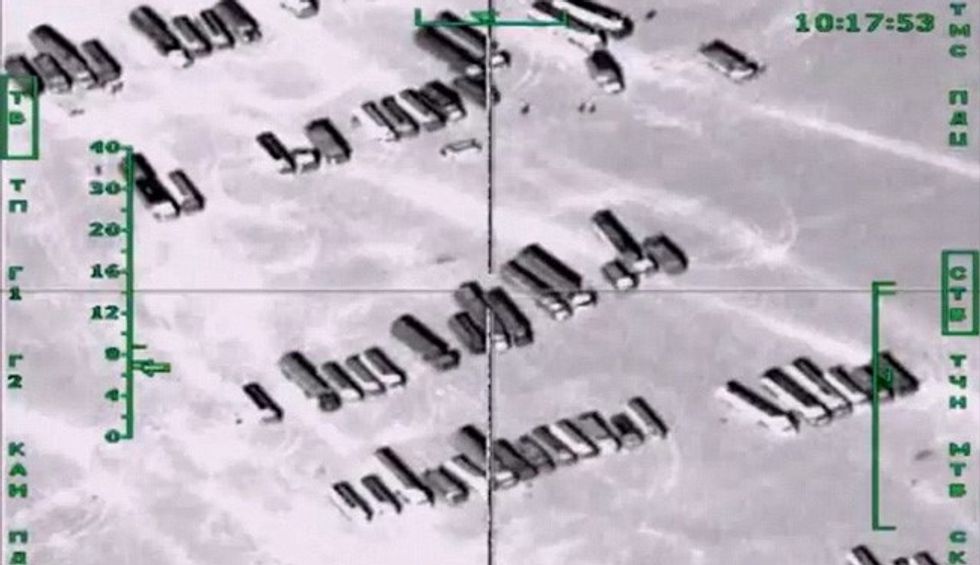 Credit: Source.
ISIS has also made a business of selling antiquities plundered from captured lands. As a result, Dr. Michael D. Danti of the American Schools of Oriental Research argues that we are in the midst of "the worst cultural-heritage crisis since World War II." According to Dr. Danti, "ISIS has developed a highly organized approach to looting, trafficking, and selling antiquities and other cultural property for funding." These items may be priceless artifacts to the world, but to ISIS they are merely resources to be exploited.
Waiting Has Its Price
The good news is that ISIS cannot maintain its finances long term if entirely isolated from international markets. Assuming the U.S. and its allies can cripple its oil smuggling operation, and the antiquities within its reach are either sold off or destroyed, ISIS will face the same financial problems as its terrorist predecessors. Although the territory it holds has helped ISIS to create its wealth, the Islamic State cannot maintain an economy based on terror alone. The vast majority of funds ISIS collects goes toward maintaining the new "state" itself; terrorism on its own is relatively cheap by comparison.
But while some believe ISIS will inevitably devour itself and collapse, regardless of international efforts to suppress it, when this will happen is unclear. Meanwhile, the human cost to those within its grip continues to rise.