It could have been just a misstatement had President Donald Trump been willing to simply apologize and move on.
Instead, Trump is still trying to vindicate his September 1 tweet, which said Hurricane Dorian would be headed for Alabama. It prompted a swift correction from the National Weather Service and a subsequent angry tweet. Days later, Trump gave updates on Dorian in the Oval Office, where he displayed a six day old map of Dorian's outdated trajectory. The cone of uncertainty in the graph was altered with black permanent marker to include Alabama. When asked to explain what it was, Trump said, "I don't know. I don't know. I don't know."
---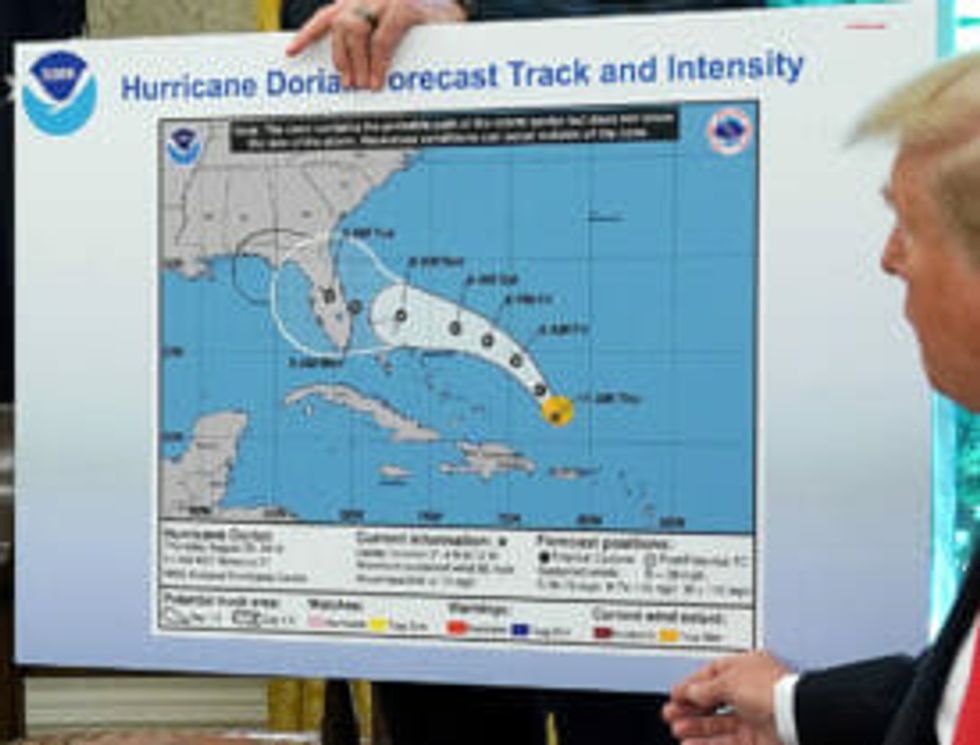 (Photo by Chip Somodevilla/Getty Images)
If that wasn't disturbing enough, Fox News White House Correspondent John Roberts met with the President at Trump's request. Now, an email from Roberts to other Fox News employees obtained by CNN is shedding some light on the gaffe Trump is desperately trying to make true.
Roberts wrote:
"[Trump]  stressed to me that forecasts for Dorian last week had Alabama in the warning cone," Roberts wrote. "He insisted that it is unfair to say Alabama was never threatened by the storm."
He went on to say that Trump was "just looking for acknowledgment that he was not wrong for saying that at some point, Alabama was at risk—even if the situation had changed by the time he issued the tweet."
Trump also urged Roberts to "hit back" at Fox News host Shepard Smith, whose coverage of Trump has been critical. He called the Sharpie-altered map "fake news defined."
Trump continues to insist he was correct the whole time, but his obsession with proving himself right is becoming disturbing.
Roberts has yet to comment.
------
Listen to the first three episodes of George Takei's podcast, 'Oh Myyy Pod!', where we explore the racially charged videos that have taken the internet by storm.
Be sure to subscribe here and never miss an episode.