The school year is winding down for Portland Public Schools (PPS) in Oregon. Kids are wriggling in their seats, willing summer to arrive and the school doors to shut. But parents have other reasons to want the school year over. PPS informed parents late last week that their children also have been drinking lead-poisoned water while at school. For parents, that initial shock has now turned to anger: The district recently admitted that it knew the water had dangerously high lead levels, yet did nothing to prevent students and staff from continuing to drink it while it scrambled to fix the problem.
Poisoned Water in the Schools
The water crisis in Flint, Michigan, has led to increased concern over water quality nationally. In response to that crisis, concerned parents from two Portland schools asked the school district for data about the water quality in their kids' schools.
---
Upon learning that no systematic water quality testing had been performed at the schools since 2001, the parents demanded action. In response, the district tested the water at the two schools: Rose City Park School in Northeast Portland and Creston School in Southeast Portland. Combined, the two schools serve close to 1,000 children in grades K through 8.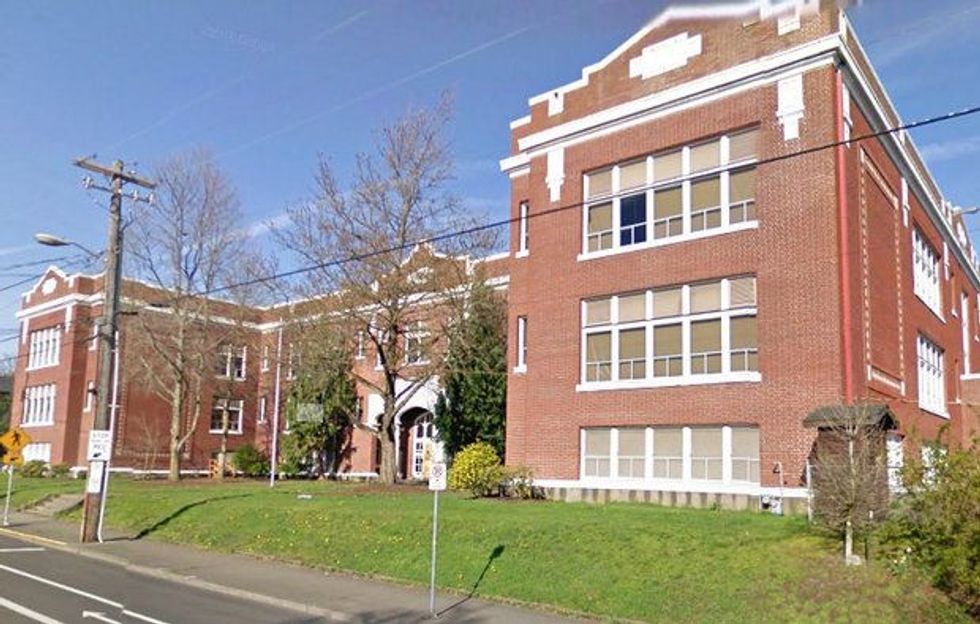 Rose City Park School. (Credit: Source.)
At Rose City Park, results showed that of the 36 fixtures tested, eight exceeded the EPA maximum contaminate level for lead, which is set at 15 parts per billion. Three were at or over double that level. While individual results were not released for Creston, PPS reported that six of the 56 fixtures tested exceeded the EPA's maximum.
When the district revealed the results of its testing, parents with children in the affected schools were in shock. "Parents are worried. I am worried," said Andrea Paluso, mother of a fifth- and third-grader at Rose City Park.
Christopher Cowell, whose two sons attend Rose City Park, lambasted the school board. "A school district's primary responsibility–a responsibility so obvious that it's rarely stated–is to
ensure the safety of its students," Cowell stated. "While a school district can't be expected to prevent every playground bruise, it can be expected to prevent poisoning through the water supply. There's no excuse for what has happened."
Martha Ruttle, whose daughter's classroom was shown to have one of the highest levels of lead contamination, broke down in tears. "I feel very betrayed," she told the Oregonian.
They Kept the Faucets On and Parents in the Dark
Despite initial assurances by Portland Public Schools spokeswoman Christine Miles that school employees "immediately" cut off access to the contaminated water, PPS has since revised its story.
Christine Miles. (Credit: Source.)
In an email sent to parents late on the Friday before a long weekend, Portland Superintendent Carole Smith acknowledged that the schools allowed water to keep flowing while steps to repair the plumbing were underway. The district took no steps, however, to inform parents of the ongoing risk. At Rose City Park, that meant students and staff continued to drink the unsafe water for eight school days after the toxic results came back. It is unclear how long the contaminated water sources at Creston were kept open.
Expressing "regret," Smith noted that "best practices indicate that once elevated levels of lead are found, those water faucets should not be used for drinking or food preparation until they are replaced and retested. We apologize for not following this protocol."
Superintendent Carole Smith. (Credit: Source.)
She gave no explanation as to why PPS failed to shut off the affected systems. The failure by  Smith to take affirmative steps to safeguard health and to inform the parents of affected students has caused many to call for her resignation, with some even reporting her to child protective services.
Harmful Lead Levels
While 15 ppb is the threshold for the EPA's lead contaminate level, levels below 15 are not necessarily safe. In Flint, for instance, any reading over 5 ppb is a "level of concern," a finding with which the World Health Organization agrees. The EPA itself has stated that its goal level is zero because
.
"lead is a toxic metal that can be harmful to human health even at low exposure levels. Lead is persistent, and it can bioaccumulate in the body over time."
Children are among those most at risk to lead's harmful effects. The same dose that would have little effect on an adult can impact a child tremendously. The EPA reports that "low levels of exposure have been linked to damage to the nervous system, learning disabilities, shorter stature, impaired hearing, and impaired formation and function of blood cells."
The EPA estimates that drinking water can make up 20 percent or more of a person's exposure to lead.
At Rose City Park, where individual results for each fountain and sink were released, only three of the 36 fixtures tested had no lead detected.
Action Steps
The district stated in an email to parents that "going forward" it will follow EPA protocols about turning off fixtures with elevated levels of lead. It also stated that it would "revise our communication procedures for families and staff to ensure that they receive timely notification of any health and safety concerns."
However, the district has not released a plan to perform comprehensive water testing at every school on a routine basis. Parents are left wondering whether there will be any long-term plan, and what legal consequences might follow if the district fails to adhere to it.
For now, PPS has agreed to shut down all drinking fountains in PPS until it conducts comprehensive district-wide water testing over the summer.
For the final two weeks of the school year, PPS has pledged to provide bottled water for its 50,000 students, as well as its faculty and staff, and to use bottled water for all food preparation. It will also use disposable plates and utensils for the remainder of the school year. PPS will work with the county to provide on-site blood lead level screening for the two schools already tested, and it has also scheduled community meetings at those schools.
Where the funding for these steps will come from is unclear. Oregon schools already test in the bottom third nationally, partly because it lags far behind the national average in classroom spending. (Compare Oregon at roughly $9,500 per student with New York at close to $20,000 per student.)
A 15 Year Old Problem, With No Solution
Most schools in Portland have not been tested for lead since 2001 or 2002, when – even then – PPS found dangerous levels of lead in the water. The 2001 results showed that "most schools have at least one location where lead levels are above 15 ppb."
Parents were angry and demanded immediate action. The schools installed filters, which were later revealed
not to be certified as effective for lead reduction. (These filters are still in place today.)
The district also vowed to test more frequently and to keep parents informed. It did-- for one year. But since 2002, the district has done no systematic testing of water quality.
A Bigger Problem?
The findings at Creston and Rose City Park are leaving many other Portland parents wondering about the state of the water in PPS's remaining 76 schools, but the problem is likely bigger still.
Testing for lead is voluntary under federal law, and roughly 90 percent of the nation's schools are not required to test water under state or local laws either (an exception applies if the school operates its own independent water system.). While the EPA has detailed guidance on how to test for lead, there are no ramifications if those guidelines are not followed. When lead is found, there is no regulatory agency tasked with stepping in. It remains up to the individual school to resolve (or not resolve).
This lack of regulatory structure creates a disincentive to test. Testing for lead is expensive. In Spokane, Washington, for instance, over $200,000 has been spent testing the city's 6,000-plus water features. And that's just the testing. Remediation efforts can be much more costly, particularly if the lead is seeping in from outdated plumbing systems.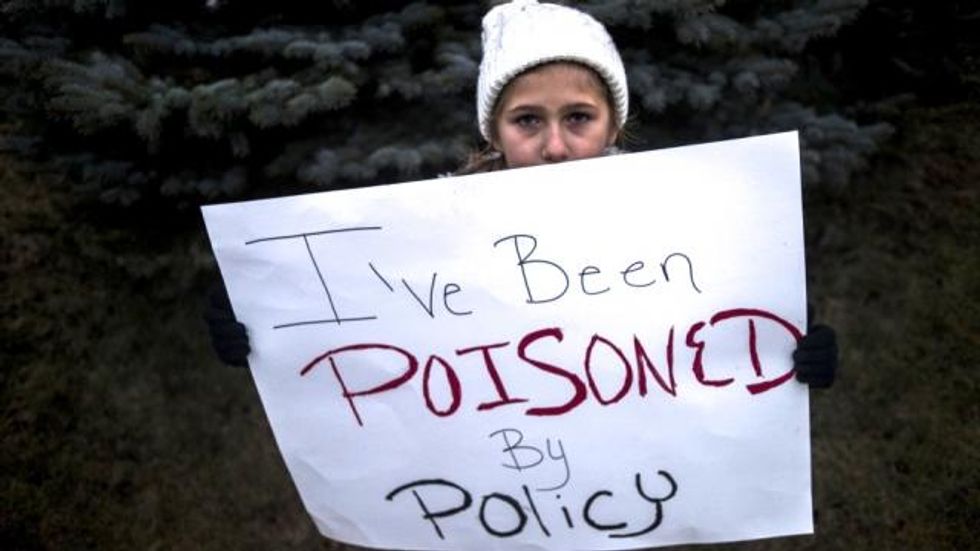 Credit: Source.
Despite the costs, some districts are testing. In the past year, Washington, Ohio, New Jersey, Maryland, Massachusetts, and many other states have found lead contamination in their schools' water supply. Several school districts across the U.S. have responded to finding high levels of lead in their drinking water by immediately shutting down water in all buildings.
These results are likely to multiply as more parents demand action. Many schools are located in older buildings, which may have pipes, faucets, and fountains that can leach lead into the water. Without systematic, regular testing, dangerous levels of lead can be consumed by school children for decades.
Martha Ruttle clarified that her concerns went beyond Portland. "As a mother, I am upset about my own child's possible exposure to lead from the school drinking water. But I am also very concerned about children in all schools. We are fortunate that a parent advocate pushed for testing at our school. Other schools do not yet have information about whether or not the water their children have been drinking is safe."
"It's a regulatory vacuum," said Yanna Lambrinidou, a Virginia Tech University scientist who studies the issue. "From a public health perspective, it's unconscionable."