Attorney General William Barr—tagged to head the Department of Justice by President Donald Trump—faced another scandal under his watch Thursday.
The National Association of Immigration Judges, a labor union, said the Department of Justice's Executive Office for Immigration Review (EOIR) sent employees of the federal government an email newsletter with a link to an antisemitic post by White nationalism website VDare.
---
As reported  by Buzzfeed News, in a message sent by NAIJ union chief Ashley Tabbador to the DoJ, she stated:
"The post features links and content that directly attacks sitting immigration judges with racial and ethnically tinged slurs and the label 'Kritarch.' The reference to Kritarch in a negative tone is deeply offensive and Anti-Semitic."
The White nationalism link included photos of sitting judges with the word "Kritarch" in front of their names.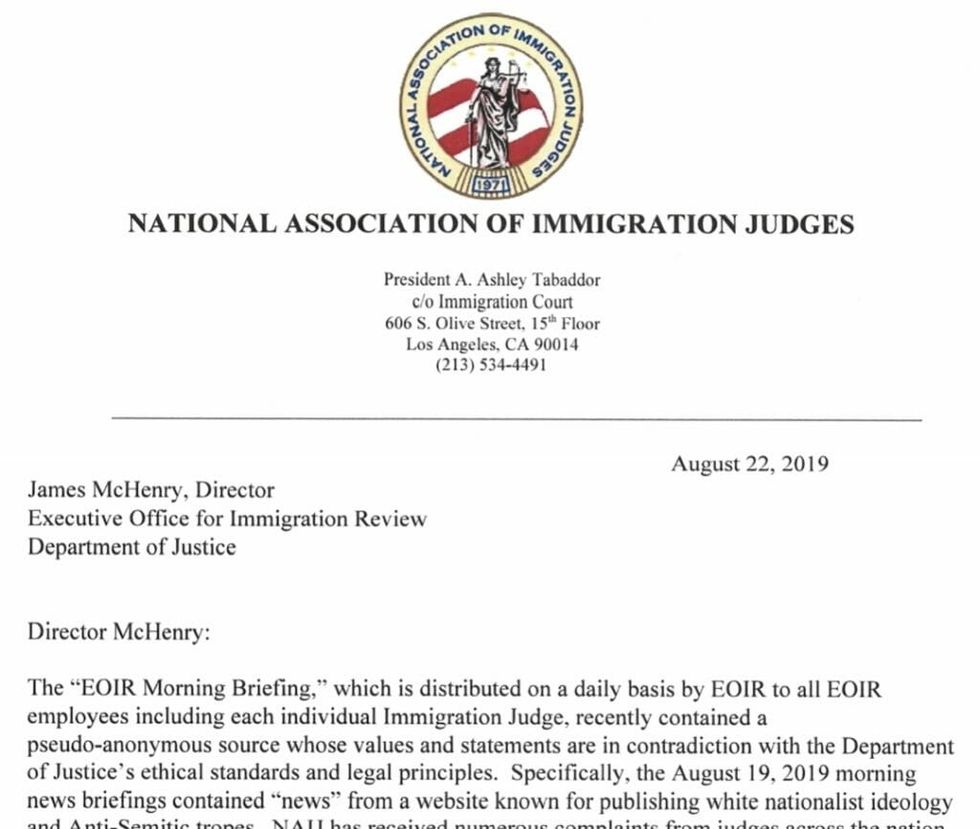 excerpt NAIJ letter to DoJ/Buzzfeed News
Tabbador explained:
"VDare's use of the term in a pejorative manner casts Jewish history in a negative light as an Anti-Semitic trope of Jews seeking power and control."
It also plays into the dual loyalty antisemitic trope President Trump recently cited when he claimed Jewish Americans were disloyal if they voted for Democratic candidates. Trump implied Jews owed loyalty to Israel and by extension him instead of their own conscience, home community, state and country in the USA.
In her message, Tabbador stated:
"Publication and dissemination of a White supremacist, anti-semitic website throughout the EOIR is antithetical to the goals and ideals of the Department of Justice."
After asking DoJ to withdraw the email sent by EOIR Monday, she requested an apology be issued.
She added:
"Separately, EOIR should take all appropriate safety and security measures for all judges given the tone and tenor of this posting."
The Justice Department's Executive Office of Immigration Review acknowledged the mistake. However the DoJ blamed the White nationalism website link on a contractor granted access to their federal employee emails to compile and send the daily newsletter.
Kathryn Mattingly, DoJ-EOIR Assistant Press Secretary told Buzzfeed News:
"[T]he daily EOIR morning news briefings are compiled by a contractor and the blog post should not have been included. The Department of Justice condemns Anti-Semitism in the strongest terms."
But in April,  immigration attorney Matthew Hoppock did an independent review of EOIR daily newsletters since September 2018 through the Freedom of Information Act. Right-wing conspiracy theory websites were often included in the daily emails as sources of "news."
Hoppock said:
"The substance is really gross. Sometimes they link to The Washington Post or BuzzFeed, but a lot of times it's just nonsense. It feels like propaganda. It feels like they're being given an agenda, when they're supposed to be neutral."
Hoppock also cited a link to a Fox News interview titled "Migrants have no basis to claim asylum."
Hoppock asked:
"Why would you send that to immigration judges whose job it is to adjudicate asylum claims?"
People were appalled an openly White nationalist website was sent as a news source to federal employees.
The Department of Justice announced plans to reorganize the immigration court system. They also plan to decertify the judges' union, NAIJ, that called out the antisemitism in their daily newsletter.
Paired with White nationalism, antisemitism is on the rise around the world, especially in Europe and the United States.
The book Hate: The Rising Tide of Anti-Semitism in France (and What It Means for Us) is available here.
********
Listen to the first episode of George Takei's podcast, 'Oh Myyy Pod!', where we explore the racially charged videos that have taken the internet by storm.
Be sure to subscribe here and never miss an episode.