After former President Donald Trump defied Justice Arthur Engoron's limited gag order prohibiting him from posting about officers of his court, Engoron suggested "serious sanctions, including financial and/or possibly imprisoning him."
Engoron, who presides over Trump's civil bank fraud trial in New York, stated that inflammatory comments have, in some cases, led to severe "physical harm and worse." The judge insisted that Trump's legal team needed to provide an explanation for this direct violation of the gag order, and why it should not result in substantial sanctions.
He said:

"In the current overheated climate, incendiary comments can and in some cases already has, led to serious physical harm and worse. I will now allow the defendants to explain why this blatant violation of the gag order would not result in serious sanctions, including financial sanctions and/or possibly imprisoning him."
Trump's defense lawyer, Christopher Kise, promptly apologized for Trump's actions. Kise attributed the violation to the expansive "campaign machinery" of the 2024 Republican presidential candidate. He claimed that it was an oversight that they had failed to remove a webpage that mirrored a Truth Social post, which Trump had previously deleted.
The post in question had indeed been deleted but remained up on Trump's official website, DonaldJTrump.com. In it, he attacked Engoron's principal law clerk, whom he accused of being the "girlfriend" of Senate Majority Leader Chuck Schumer and "running this case against me."
He added:

"How disgraceful! This case should be dismissed immediately!!"
You can see the post below.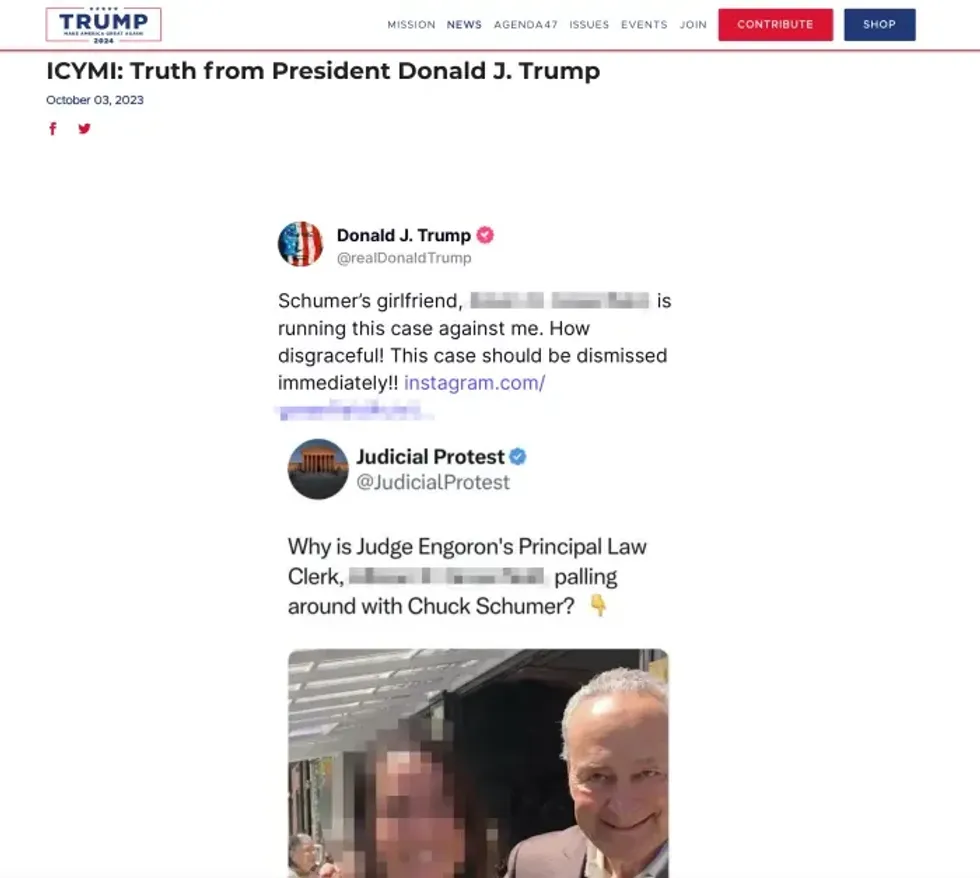 DonaldJTrump.com
However, the judge was not quick to accept this explanation, reminding them that Trump remains ultimately responsible for his extensive operations.
Engoron recounted the events leading up to the reprimand, emphasizing the "untrue disparaging and personally-identifying post about my principal law clerk." He disclosed his off-the-record conversation with the defendants, in which he ordered the removal of the post.
Trump assured him that the post had been taken down. However, Engoron later discovered that the offending content had remained on Trump's website for over two weeks, which had been brought to light by reporting by Meidas Touch.
It was only removed, Engoron noted, following an email from the court.
Engoron said:

"I spoke to defendants on and off the record. Off the record, I ordered Donald Trump to remove the post immediately. Approximately 10 minutes later, Donald Trump represented to me that he had taken down the offending post."
"I then, on the record, imposed on all parties to his action a very limited gag order forbidding 'all parties from posting, emailing or speaking publicly about any members of my staff,' emphasizing quite clearly that 'personal attacks on members of my court staff are unacceptable, inappropriate and I will not tolerate them under any circumstances."
Many seconded the judge's suggestion that Trump be imprisoned.

Judges overseeing Trump's trials have attempted to curb Trump's verbal attacks.
Trump was widely mocked after he said he is "willing to go a jail" after U.S. District Judge Tanya Chutkan imposed a gag order on him for repeatedly attacking her and federal prosecutors and falsely accusing them of working at President Joe Biden's behest.
Previously, Trump had said on his social media platform Truth Social that he would "appeal" the gag order ruling, referring to it as a "witch hunt." He made this claim in spite of analysis from legal experts who've said his efforts would prove unsuccessful.
Chutkan's order stressed that "First Amendment protections yield to the administration of justice and to the protection of witnesses" and said Trump's status as a 2024 presidential candidate "does not give him carte blanche to vilify … public servants who are simply doing their job."
Her order raises the possibility that Trump might encounter consequences, including limitations on his use of social media, and even the potential for pretrial detention if he persists in launching public criticisms against Special Counsel Jack Smith and his legal team, or probable witnesses expected to appear in his trial scheduled for March.
Judge Engoron's final ruling on sanctions against Trump were expected Friday afternoon.
UPDATE: Judge Engoron has fined Trump $5,000 with potentially harsher sanctions to come for future violations of the gag order.