President Donald Trump is scheduled to make his first official visit to the United Kingdom since taking office in January, 2017. In preparation for his Thursday, July 12 arrival, the citizens of the UK have come up with some clever ways to greet the United States leader.
In London there will be an airborne giant inflatable Trump baby, in Sheffield there will be a ban on Trump and a Mexican fiesta thanks to the Lord Mayor and people across the UK are working to get Green Day's song "American Idiot" to number one on the charts.
---
And now, at Moak Farm in Stoke Mandeville, a crop circle has been laid into the farm's field by an undisclosed artist. Stoke Mandeville is a village and civil parish in the Vale of Aylesbury in Buckinghamshire, England.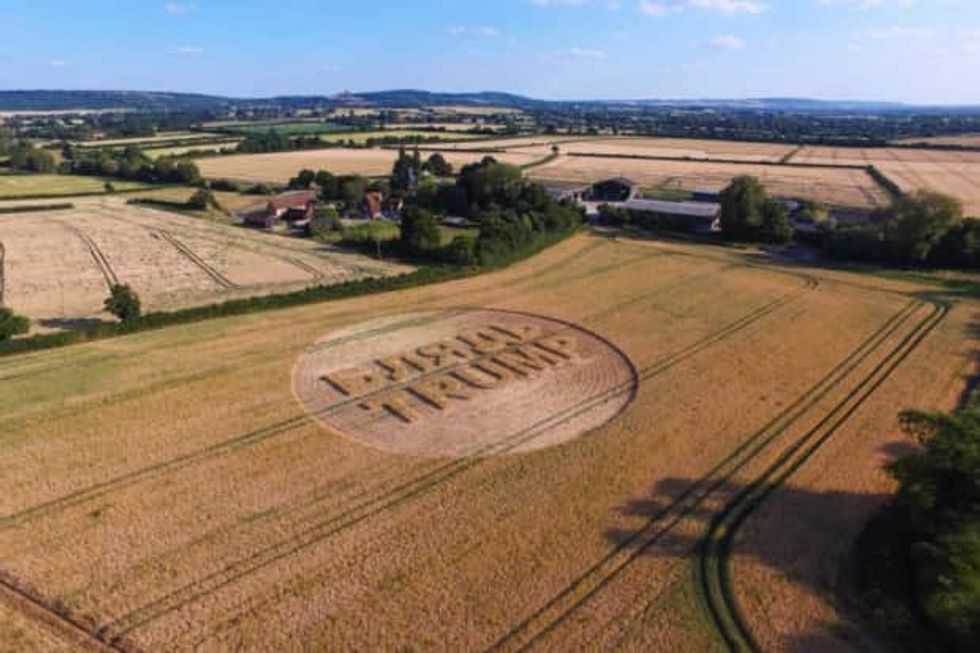 Crop circle at Moat Farm. (Twitter)
It also lies right on the flight path of the helicopter engaged to take the President and First Lady to a welcome reception at Blenheim Palace in Oxfordshire hosted by Prime Minister Theresa May.
The farm's owner told local newspaper, The Bucks Herald:
"I was approached by an artist, who wished to remain anonymous to use one of my crop fields. They were specifically looking for one in the flight path that Donald Trump will take when he comes to the UK this week."
"There was a financial transaction, I won't say how much but it was remuneration for the damaged crops, which won't be salvageable."
The artist created a crop circle, easily visible from a helicopter. And the message?
БЛЯДЬ TRUMP"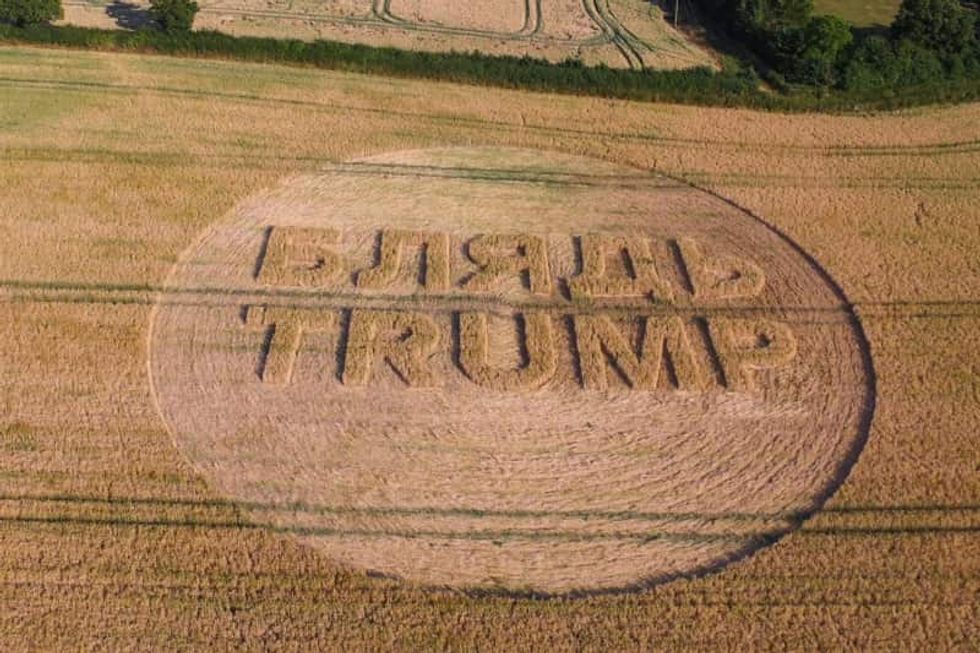 "БЛЯДЬ TRUMP" can be seen in a crop circle at Moat Farm. (Twitter)
For those not conversant in Russian, the message reads "FUCK TRUMP." The crop circle is described as an "art installation" by the farm's owner.
The farmer himself however has no opinion on the visiting foreign leader, stating,
A lot of people have asked me this, but my thoughts on Trump are completely neutral. For me it was a transaction between myself and the artist."
The unknown artist's views appear obvious however based on their artwork.
Work on the crop circle was done Sunday, July 8, and reportedly took 14 hours to complete in extremely hot weather. It measures 200 meters —over 650 feet— wide.
The design was planned with a helicopter in mind. With a drone, photos were taken from 400 feet above the crop circle to get a president's eye view.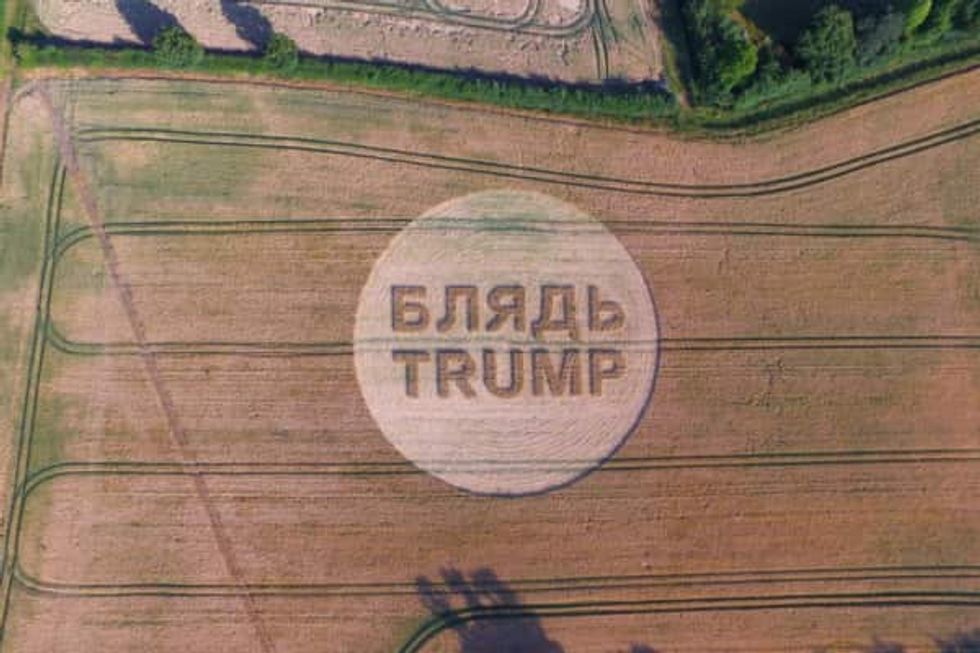 View from 400 feet of "БЛЯДЬ TRUMP" crop circle at Moat Farm. (Twitter)
News of the artist's work began to spread quickly.
It began to get more notice on social media after The Bucks Herald article was published at about noon their local time on Tuesday.
From there the Twittersphere took off.
Although several people suggested that the President may not be able to read Russian. However as the First Lady is fluent in Serbo-Croatian, she may be familiar with the Serbian Cyrillic alphabet, a close cousin to the Cyrillic script used in the Russian language.
From the United Kingdom, the President is set to travel to Helsinki for a closed door meeting with Russian President Vladimir Putin.