Donald Trump was slammed for his latest Truth Social post in which he defended Kim Jong Un against joint training exercises conducted by the U.S. and South Korea.
22 February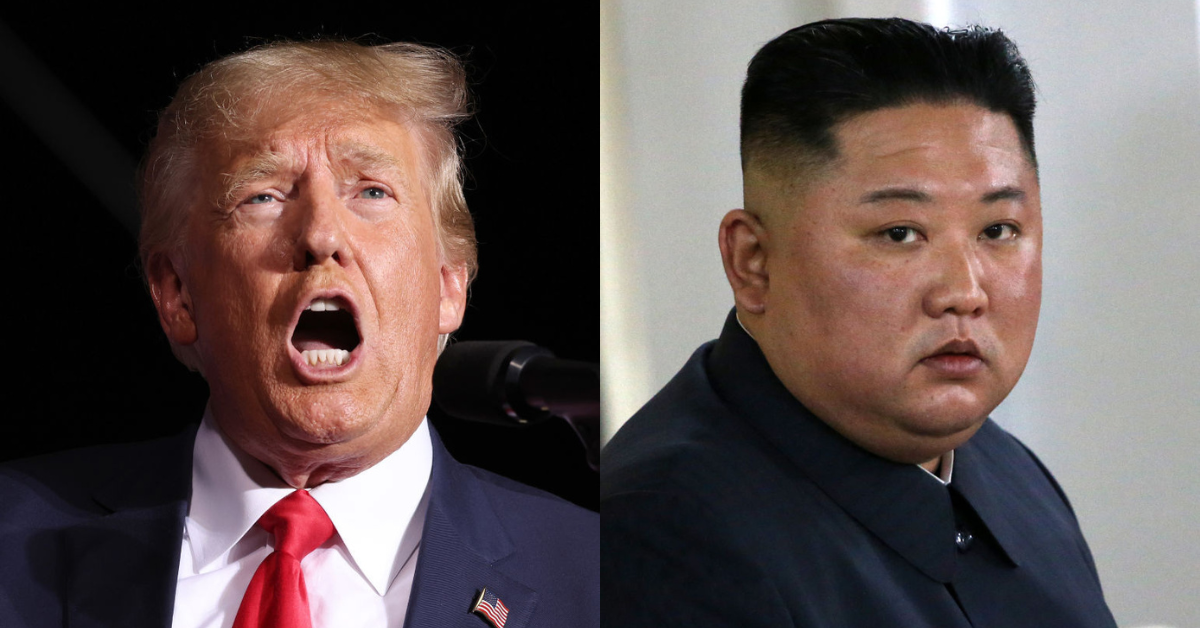 Justin Sullivan/Getty Images; Mikhail Svetlov/Getty Images
Former Republican President Donald Trump was criticized for his latest Truth Social post in which he defended North Korean dictator Kim Jong Un against joint training exercises conducted by the United States and South Korea.
After North Korea announced its latest intercontinental ballistic missile test was meant to display its "fatal" nuclear attack capacity against rival nations, the U.S. and South Korea demonstrated their strength by flying long-range supersonic bombers in response to the threat of North Korea expanding its nuclear arsenal.
Afterward, Trump took to his personal social media platform Truth Social to defend Kim—whose name Trump misspelled—by saying he "is not happy with the U.S. and South Korea doing big training and exercises together."
He added:
"[Kim Jong Un] feels threatened. Even I would constantly complain that South Korea pays us very little to do these extremely expensive and provocative drills. It's really ridiculous."
"We have 35,000 in jeopardy soldiers there, I had a deal for full payment to us, [billions], and [President Joe] Biden gave it away. Such a shame!!!"
You can see Trump's post below.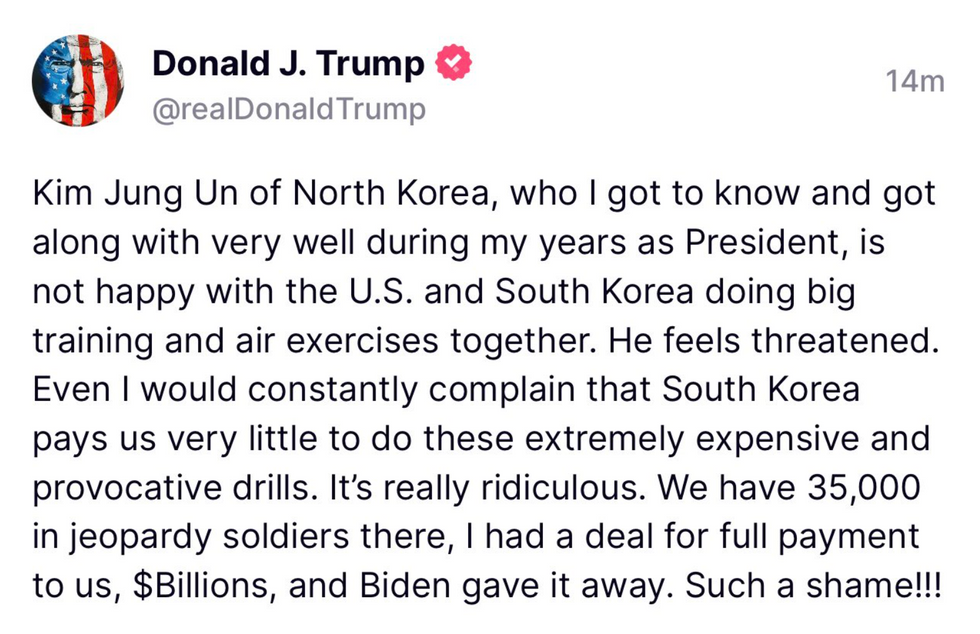 @realDonaldTrump/Truth Social
The relationship between the United States and North Korea has been thorny for years, though the country appeared ready to embrace Jong Un under the Trump administration.

U.S. intelligence showed that North Korea did not cease his nation's nuclear weapons program and had worked to conceal its activity following the 2018 Singapore summit between Trump and Kim, the first time a U.S. president had met with a North Korean leader.
The news Trump had defended Kim by saying he has the right to "feel threatened" prompted political commentator Steve Benen to observe that Trump "apparently just wanted the world to know what North Korea's authoritarian leader was thinking," as if he were "somehow comfortable playing the role of press secretary for an adversarial dictator."
Many have made similar criticisms of Trump for defending one of the U.S.' biggest foreign foes.
Trump's admiration for dictators has been well documented.

In June 2018, shortly after the Singapore summit, he called Kim a "smart guy" and a "great negotiator" during an appearance on Fox News.
In a well publicized appearance, veteran diplomat William Burns said that Trump's attempts to build personal relationships and curry favor with authoritarians like Putin and Kim make him appear "weak" at the negotiating table.
Burns further noted that Trump's approach, as well as his failure to fill hundreds of vacancies within the State Department, undermined American foreign policy worldwide.
Most infamously, Trump has long cozied up to Russian leader Vladimir Putin and sparked international controversy during the now infamous 2018 Helsinki summit after he publicly sided with Putin over the assessment of his own intelligence agencies that Russian operatives subverted the 2016 general election and undermined American democracy.