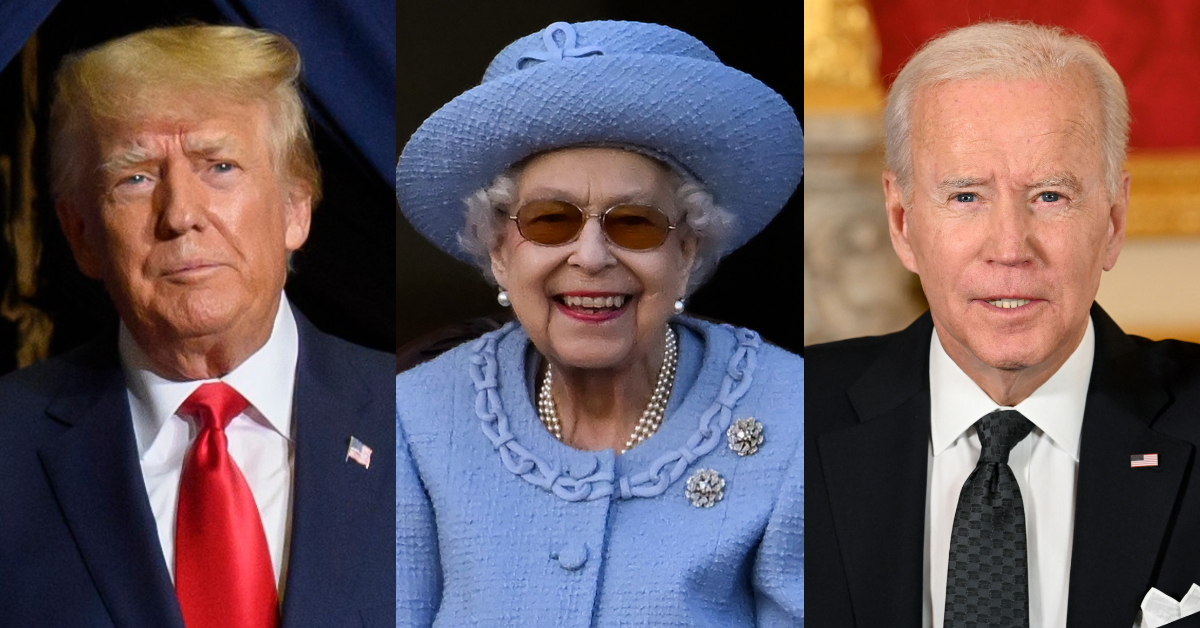 Jeff Swensen/Getty Images; Jeff J Mitchell/Getty Images; Jonathan Hordle/POOL/AFP via Getty Images
On Monday, Queen Elizabeth II's funeral took place with all the pomp and circumstance expected for the longest reigning monarch for the United Kingdom and the Commonwealth.
With Queen Elizabeth II having been the monarch for England, Wales, Scotland and Northern Ireland in addition to 14 territories outside the United Kingdom and another 15 Commonwealth realms that voluntarily retain the British monarch as their own, invitations for foreign dignitaries were limited.
While some speculated that all—or most—of the former United States Presidents would rate an invite, only the current POTUS and FLOTUS—Democratic President Joe Biden and First Lady Jill Biden—were invited.
As the United States—unlike northern neighbor Canada—is not a member of the British Commonwealth, an expectation that any United States official delegation would be placed front and center is unrealistic and unreasonable.
Unless you're the 45th President.
On Monday evening, former Republican POTUS Donald Trump took to Truth Social to proclaim he would have gotten prime seating at the Queen's funeral.
Trump posted:
"This is what's happened to America in just two short years. No respect!"
"However a good time for our President to get to know the leaders of certain Third World countries."
It's a major departure for Trump to acknowledge President Biden is not only POTUS, but he is Trump's President instead of repeating his repeatedly disproven claims about the 2020 presidential election being stolen from him.
People took note.
After admitting Biden is "our President," Trump added:
"If I were president, they wouldn't have sat me back there—and our Country would be much different than it is right now!"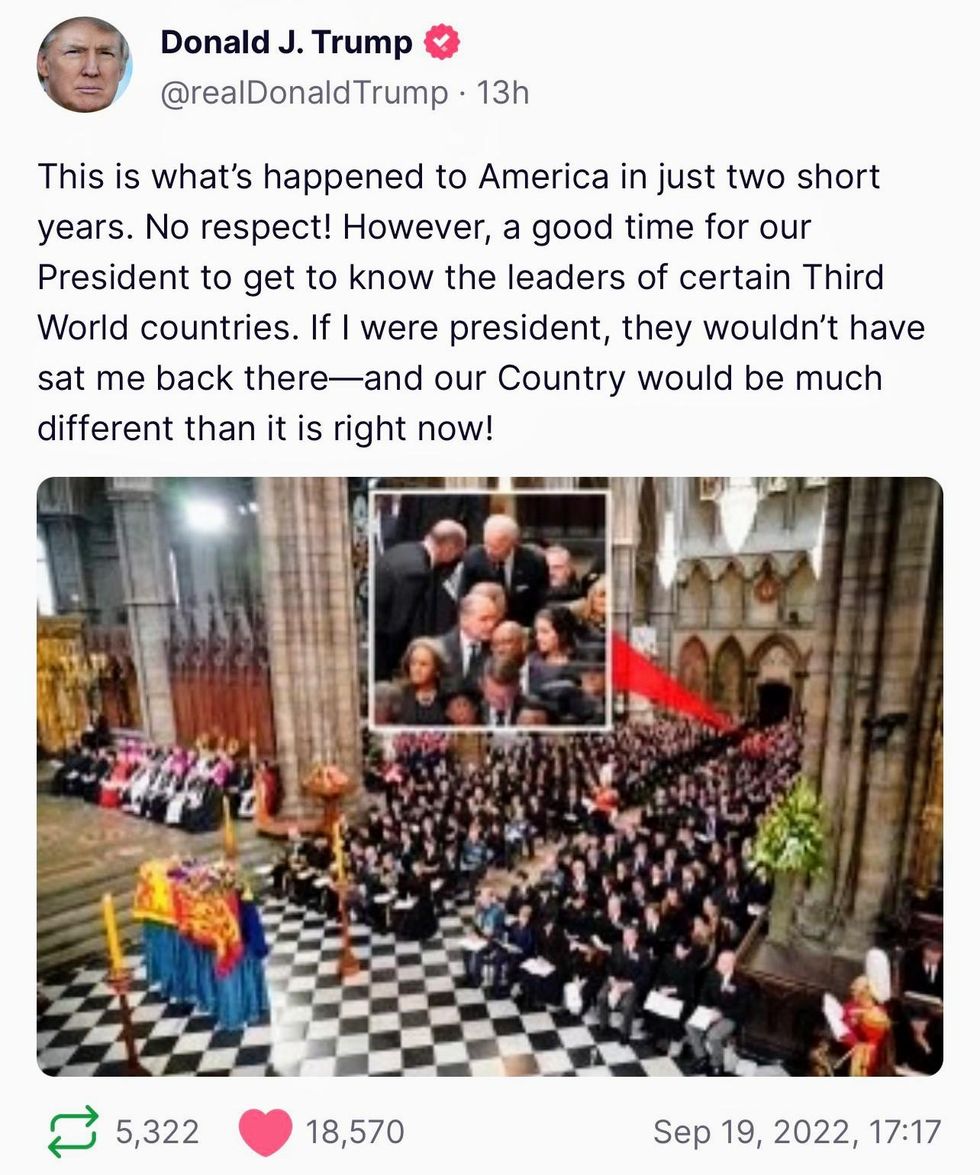 @realDonaldTrump/Truth Social
Trump included a photo to his post to call out Biden's "bad seats."
According to UK newspaper The Independent, Biden was assigned a seat in the 14th row, in the same section as the royal family, in an alcove right next to the Queen's coffin. Seating arrangements—as expected—appeared to prioritize Commonwealth leaders and royalty over other foreign leaders.
While many would consider any seat in that section a good seat and an expression of respect, Trump is known for pushing his way to the front and center of photo ops.
Literally.
Whether Trump would have shoved King Charles III out of his way to get the best seat will forever be unknown since he didn't merit an invite.
But Trump did make several breaches of protocol during his visits with the Queen during his presidency.
Including infamously cutting the Queen off while walking with her...
...keeping her waiting for 12 minutes...
...and putting his hands on the Queen to pat her.
People wondered who in the United States—aside from Trump—cared where Biden sat.
President Biden and the First Lady were among about 2,000 people in attendance at the funeral at Westminster Abbey.
The POTUS and FLOTUS arrived for the funeral and waited in the back as a procession moved past, before taking their seats without fanfare.