Former FBI Director James Comey says that he no longer considers himself a member of the Republican Party. Comey made the declaration during an appearance on ABC News podcast "Start Here."
Comey believes that the party has "left him" along with "many others."
---
"I think they've lost their way and I can't be associated with it," he said.
Elaborating further, Comey stressed that the GOP's seemingly unequivocal support for President Donald Trump has assured his own exit from the party.
"These people don't represent anything I believe in... The Republican Party, as near as I can tell, reflects now entirely Donald Trump's values," Comey said. "It doesn't reflect values at all. It's transactional, it's ego-driven, it's in service to his ego."
The GOP, as if highlighting Comey's points, has actively campaigned against his book, A Higher Loyalty, which paints an unflattering picture of President Trump and his administration. To get ahead of the fallout from Comey's tell-all, Republicans launched LyingComey.com, which, as Second Nexusnoted on April 12, "received White House approval and is overseen by the Republican National Committee":
To counteract or mitigate any revelations from his book, their strategy includes the website, digital advertising, and distribution of talking points for Republicans or any of those loyal to President Trump to use.

The website relies heavily on unlikely sources for criticism of Comey. Quotes from Democrats, especially former Secretary of State Hillary Clinton, feature prominently.

"Maybe he's not in the right job," is quoted from Nancy Pelosi. A Maxine Waters quote, "The FBI director has no credibility," is also included. From Chuck Schumer they use, "I do not have confidence in [Comey] any longer."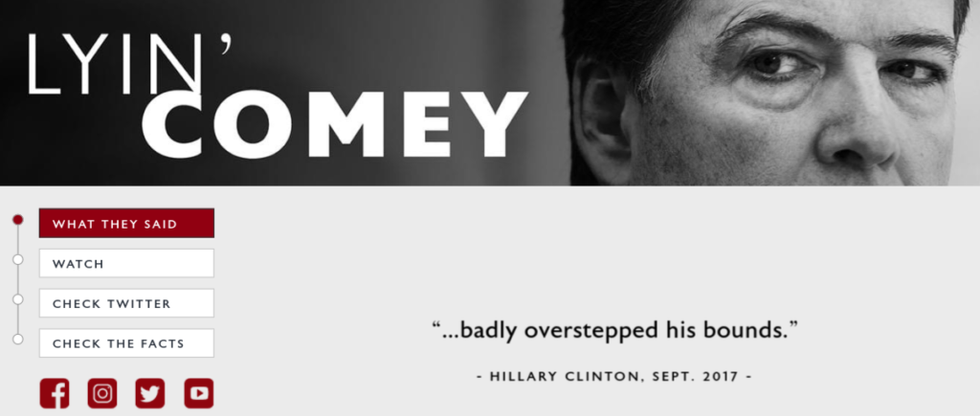 Screenshot from Republican National Committee website Lyin' Comey.
Despite the backlash, Comey has continued to promote his book, even as the president continues to level attacks against his credibility.
The president slammed him last week, calling him a "weak and untruthful slime ball" and a "proven LEAKER & LIAR" in posts to his Twitter followers.
James Comey is a proven LEAKER & LIAR. Virtually everyone in Washington thought he should be fired for the terrible… https://t.co/qKF0zshrZy

— Donald J. Trump (@Donald J. Trump) 1523620907.0
....untruthful slime ball who was, as time has proven, a terrible Director of the FBI. His handling of the Crooked… https://t.co/GHQzyOWUT5

— Donald J. Trump (@Donald J. Trump) 1523621857.0
The president continued his attacks this morning, claiming that he did not fire Comey over the investigation into Russian interference during the 2016 presidential election. The president claimed that Comey's firing was not related to the bureau's investigation.
"Slippery James Comey, the worst FBI Director in history, was not fired because of the phony Russia investigation where, by the way, there was NO COLLUSION (except by the Dems)!" the president wrote on Twitter.
Slippery James Comey, the worst FBI Director in history, was not fired because of the phony Russia investigation wh… https://t.co/iJO4tejdw6

— Donald J. Trump (@Donald J. Trump) 1524053142.0
But the facts tell a different story. Trump fired Comey on May 9, an action which, many legal experts say, constitutes grounds for an investigation of Trump for possible obstruction of justice. A New York Times report the following Monday revealed that Trump asked Comey to halt the criminal investigation into Michael Flynn, his former national security advisor. (Flynn would later plead guilty to lying to federal investigators about his conversations with Sergey Kislyak, the former Russian ambassador to the United States.)
"I hope you can see your way clear to letting this go, to letting Flynn go," Trump told Comey, according to a memo Comey wrote immediately after the meeting, which took place the day after Flynn resigned. "He is a good guy. I hope you can let this go."
Comey wrote the memo detailing his conversation with Trump as part of a paper trail documenting the president's "improper" efforts to impede the continuing investigation.
Speaking during an exclusive interview with ABC News' chief anchor George Stephanopoulos on Sunday, Comey noted the president's pointed obsession with the allegations described in the controversial dossier compiled by former British intelligence agent Christopher Steele, which includes a graphic account of Trump's sexual encounter with prostitutes during a 2013 trip to Moscow. The dossier raises the possibility that the encounter––including moments when Trump and the women engaged in water sports––could have been caught on video.
Comey remembers that President Trump asked him to investigate the allegations, adding that it would be "terrible" if his wife Melania Trump believed any of the allegations. According to Comey, during a private dinner on Jan. 27, 2017, Trump brought up the dossier and said, "He may want me to investigate it to prove that it didn't happen. And then he says something that distracted me because he said, you know, 'If there's even a 1 percent chance my wife thinks that's true, that's terrible.'"
"'And I remember thinking, 'How could your wife think there's a 1 percent chance you were with prostitutes peeing on each other in Moscow?' I'm a flawed human being, but there is literally zero chance that my wife would think that was true. So, what kind of marriage to what kind of man does your wife think [that] there's only a 99 percent chance you didn't do that?"
"I may order you to investigate that," Trump then told Comey.
Comey advised caution: "I said, 'Sir, that's up to you. But you'd want to be careful about that, because it might create a narrative that we're investigating you personally, and second, it's very difficult to prove something that didn't happen."
Comey noted that the president's priorities seemed less focused on the possibility that Russian operatives interfered in the 2016 electoral cycle than he did on the existence of the "pee tape":
President-elect Trump's first question was to confirm that it had no impact on the election … and then the conversation, to my surprise, moved into a PR conversation about how the Trump team would position this, and what they could say about this, with us still sitting there. And the reason that was so striking to me [is] that's just not done. That the intelligence community does intelligence, the White House does PR and spin.
Accompanying the president's response was silence on the steps the United States could take to prevent the Russians from executing similar operations in the future.
"It was all, 'What can we say about what they did and how it affects the election that we just had,'" Comey said, adding that he requested that he and the president speak alone to discuss the allegations described in the dossier:
I'm about to meet with a person who doesn't know me, who's just been elected president of the United States, [and] by all accounts, and from my watching him during the campaign, could be volatile. And I'm about to talk to him about allegations that he was involved with prostitutes in Moscow and that the Russians taped it and have leverage over him.
The conversation he and Trump had was "really weird." Comey describes something an "almost out-of-body experience."
"I was floating above myself, looking down, saying, 'you're sitting here, briefing the incoming president of the United States about prostitutes in Moscow,'" Comey said.
Comey says that he did not at the time reveal that the dossier was compiled through opposition research financed by his opponents, saying his only goal was to alert Trump that the information existed:
I started to tell him about the allegation was that he had been involved with prostitutes in a hotel in Moscow in 2013 during the visit for the Miss Universe pageant and that the Russians had filmed the episode, and he interrupted very defensively and started talking about it, you know, 'Do I look like a guy who needs hookers?' And I assumed he was asking that rhetorically, I didn't answer that, and I just moved on and explained, 'Sir, I'm not saying that we credit this, I'm not saying we believe it. We just thought it very important that you know.'

I said … 'I'm not saying that I believe the allegations, I'm not saying that I credit it. I never said, 'I don't believe it,' because I couldn't say one way or another.