In response to President Donald Trump's announced tariffs on imported aluminum and steel, China has announced $50 billion in retaliatory tariffs, most notably on soybean exports from the United States. It's a move aimed directly at the heart of Trump country, and the effects could easily spiral into economic disaster.
Soybeans are getting whacked after China announces tariffs https://t.co/M9KDsGqxsj https://t.co/9V8uTTe84d

— Business Insider (@Business Insider) 1522841866.0
---
The tariffs on American soybeans are part of China's $50 billion trade penalties in response to the tariffs enacted by Trump last month. Soybeans are the largest American export to China, receiving 61.4 percent of U.S. soybean exports exceeding $14 billion annually.
China's proposed tariffs on soybeans are designed to hit the U.S. farm belt where it hurts https://t.co/4Lh0Bdpf7G

— The Wall Street Journal (@The Wall Street Journal) 1522852207.0
But the latest move by China is more than just an economic tit-for-tat with the administration. Tariffs on soybeans directly target the heart of Trump country. Eight of the ten biggest soybean producing states voted for Trump in the 2016 election.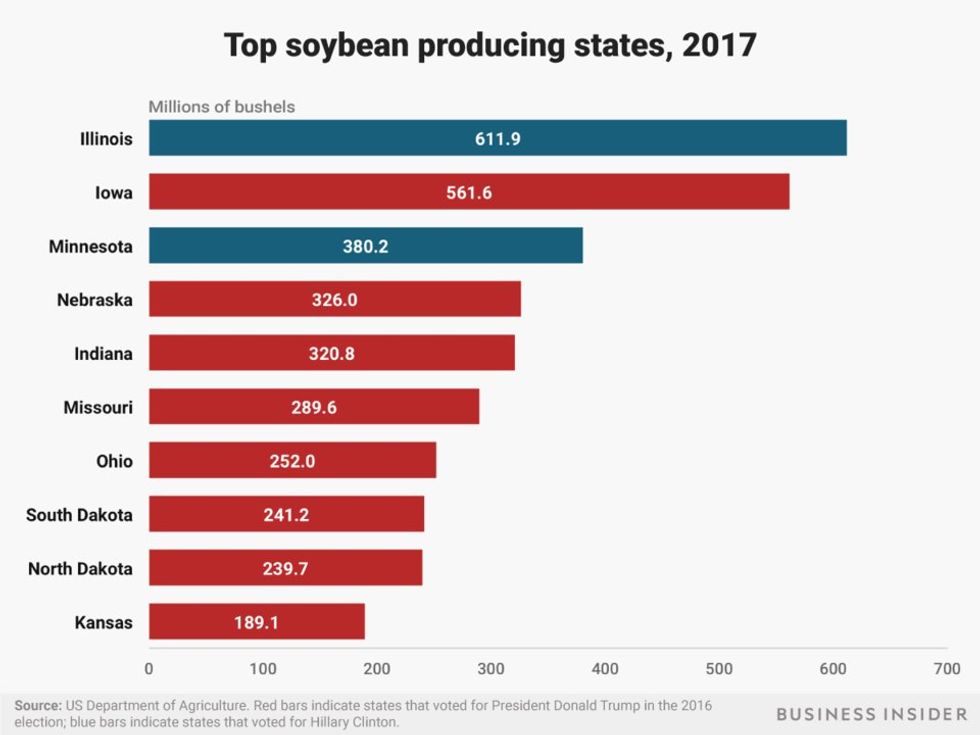 Andy Kiersz/Business Insider
Top Republicans have warned Trump that agriculture would be the first major target of retaliatory tariffs on U.S. exports.
"Every time you do this, you get a retaliation, and agriculture is the No. 1 target," Senator Pat Roberts (R-KS) said last month. "I think this is terribly counterproductive for the [agriculture] economy." Roberts is the chairman of the Senate Agricultural Committee. His state, Kansas, is the tenth largest producer of soybeans in the country.
New Chinese tariffs are a huge blow to U.S. farmers. China is overwhelmingly world's largest importer of soybeans. https://t.co/geHd2olW7r

— Joshua Green (@Joshua Green) 1522838819.0
USDA Secretary Sonny Purdue vowed to keep farmers out of the crosshairs of a trade war, though how exactly this would be accomplished remains unclear. And while the tariffs are not expected to have a huge impact on the entire economy, the threat of an escalating trade war has Wall Street and Main Street concerned.
Investors are wondering whether one of the worst trade disputes in many years could now turn into a full-scale trad… https://t.co/ve5fr04g5W

— MSNBC (@MSNBC) 1522845014.0
"I talked to the President as recently as last night," Perdue said. "And he said, 'Sonny, you can assure your farmers out there that we're not going to allow them to be the casualties if this trade dispute escalates. We're going to take care of our American farmers. You can tell them that directly."
China's going after soybeans--do you know how many soybean farmers there are in hard-core Trumpsterland? Nearly all… https://t.co/jyBJ86VwF9

— Kim ☮️ (@Kim ☮️) 1522843073.0
Tariffs on soybeans are not the only penalty China is imposing on American exporters.
The global trade war is ON https://t.co/xZgQV1IiXY

— Anna Fifield (@Anna Fifield) 1522830523.0
China's $50 billion in tariffs includes 106 U.S.-made products, most of which are produced in Trump country. Two other major exports included are cars and whiskey.
China's announcement today of plans to impose a 25% tariff on American soybeans & other ag products is a direct res… https://t.co/yRn3N3BLcN

— Archive: Sen. Heidi Heitkamp (@Archive: Sen. Heidi Heitkamp) 1522868200.0
Despite his confidence that tariffs will help to close the trade deficit with China, much of the opposition to the policies have been bipartisan, as The Washington Post noted on Wednesday
Former Senator Max Baucus, who co-chairs Farmers for Free Trade, said the Chinese tariffs will hurt "harvesters, processors, truck drivers, rail workers, and main street businesses that rely on a strong agricultural economy" along with farmers.
"We urge the administration to reconsider escalating this trade war," said Baucus, who served as President Obama's U.S. ambassador to China.
China is critically targeting high-profile U.S. goods like soybeans and smaller commercial passenger planes, mostly… https://t.co/Ke3WpWhdNL

— The Wall Street Journal (@The Wall Street Journal) 1522846812.0
From soybeans to cigarettes, here's the full list of US products China is planning to hit with tariffs. https://t.co/Ip8ffYKSHS

— CNBC (@CNBC) 1522849623.0
The full list of the products targeted by China is below:
Yellow soybean
Black soybean
Corn
Cornflour
Uncombed cotton
Cotton linters
Sorghum
Brewing or distilling dregs and waste
Other durum wheat
Other wheat and mixed wheat
Whole and half head fresh and cold beef
Fresh and cold beef with bones
Fresh and cold boneless beef
Frozen beef with bones
Frozen boneless beef
Frozen boneless meat
Other frozen beef chops
Dried cranberries
Frozen orange juice
Non-frozen orange juice
Whiskies
Unstemmed flue-cured tobacco
Other unstemmed tobacco
Flue-cured tobacco partially or totally removed
Partially or totally deterred tobacco stems
Tobacco waste
Tobacco cigars
Tobacco cigarettes
Cigars and cigarettes, tobacco substitutes
Hookah tobacco
Other tobacco for smoking
Reconstituted tobacco
Other tobacco and tobacco substitute products
SUVs with discharge capacity of 2.5L to 3L
Other vehicles equipped with an ignited reciprocating piston internal combustion engine and a drive motor that can be charged by plugging in an external power source. Cylinder capacity displacement exceeding 2500ml, but not exceeding 3000ml for SUVs (4 wheel drive)
Vehicles with discharge capacity of 1.5L to 2L
Other vehicles equipped with an ignited reciprocating piston internal combustion engine and a drive motor that can be charged by plugging in an external power source. Cylinder capacity displacement exceeding 1000ml, but not exceeding 1500ml for SUVs (4 wheel drive)
Passenger cars with discharge capacity 1.5L to 2L, 9 seats or less
Other vehicles equipped with an ignited reciprocating piston internal combustion engine and a drive motor that can be charged by plugging in an external power source. Cylinder capacity displacement exceeding 1000ml, but not exceeding 1500ml for 9 passenger cars and below
Passenger cars with discharge capacity of 3L to 4L, 9 seats or less
Other vehicles equipped with an ignited reciprocating piston internal combustion engine and a drive motor that can be charged by plugging in an external power source. Cylinder capacity displacement exceeding 3000ml, but not exceeding 4000ml for 9 passenger cars and below
Off-road vehicles with discharge capacity of 2L to 2.5L
Other vehicles equipped with an ignited reciprocating piston internal combustion engine and a drive motor that can be charged by plugging in an external power source. Cylinder capacity displacement exceeding 2000ml, but not exceeding 2500ml for off-road vehicles
Passenger cars with discharge capacity of 2L to 2.5L, 9 seats or less
Other vehicles equipped with an ignited reciprocating piston internal combustion engine and a drive motor that can be charged by plugging in an external power source. Cylinder capacity displacement exceeding 2000ml, but not exceeding 2500ml for 9 passenger cars and below
Off-road vehicles with discharge capacity of 3L to 4L
Other vehicles equipped with an ignited reciprocating piston internal combustion engine and a drive motor that can be charged by plugging in an external power source. Cylinder capacity displacement exceeding 3000ml, but not exceeding 4000ml for off-road vehicles
Diesel-powered off-road vehicles with discharge capacity of 2.5L to 3L
Other vehicles equipped with an ignited reciprocating piston internal combustion engine and a drive motor that can be charged by plugging in an external power source. Cylinder capacity displacement exceeding 2500ml, but not exceeding 3000ml for diesel-powered off-road vehicles
Passenger cars with discharge capacity of 2.5L to 3L, 9 seats or less
Other vehicles equipped with an ignited reciprocating piston internal combustion engine and a drive motor that can be charged by plugging in an external power source. Cylinder capacity displacement exceeding 2500ml, but not exceeding 3000ml for 9 passenger cars and below
Off-road vehicles with discharge capacity of less than 4L
Other vehicles equipped with an ignited reciprocating piston internal combustion engine and a drive motor that can be charged by plugging in an external power source. Cylinder capacity displacement not exceeding 4000ml for off-road vehicles
Other vehicles which are equipped with an ignited reciprocating piston internal combustion engine and a drive motor and can be charged by plugging in an external power source
Other vehicles that are equipped with a compression ignition type internal combustion engine (diesel or semi-diesel) and a drive motor, other than vehicles that can be charged by plugging in an external power source
Other vehicles which are equipped with an ignition reciprocating piston internal combustion engine and a drive motor and can be charged by plugging in an external power source
Other vehicles that are equipped with a compression-ignition reciprocating piston internal combustion engine and a drive motor that can be charged by plugging in an external power source
Other vehicles that only drive the motor
Other vehicles
Other gasoline trucks of less than 5 tons
Transmissions and parts for motor vehicles not classified
Liquefied Propane
Primary Shaped Polycarbonate
Supported catalysts with noble metals and their compounds as actives
Diagnostic or experimental reagents attached to backings, except for goods of tariff lines 32.02, 32.06
Chemical products and preparations for the chemical industry and related industries, not elsewhere specified
Products containing PFOS and its salts, perfluorooctanyl sulfonamide or perfluorooctane sulfonyl chloride in note 3 of this chapter
Items listed in note 3 of this chapter containing four, five, six, seven or octabromodiphenyl ethers
Contains 1,2,3,4,5,6-HCH (6,6,6) (ISO), including lindane (ISO, INN)
Primarily made of dimethyl (5-ethyl-2-methyl-2oxo-1,3,2-dioxaphosphorin-5-yl)methylphosphonate and double [(5-b Mixtures and products of 2-methyl-2-oxo-1,3,2-dioxaphosphorin-5-yl)methyl] methylphosphonate (FRC-1)
38248600a articles listed in note 3 to this chapter containing PeCB (ISO) or Hexachlorobenzene (ISO)
Containing aldrin (ISO), toxaphene (ISO), chlordane (ISO), chlordecone (ISO), DDT (ISO) [Diptrix (INN), 1,1,1-trichloro-2 ,2-Bis(4-chlorophenyl)ethane], Dieldrin (ISO, INN), Endosulfan (ISO), Endrin (ISO), Heptachlor (ISO) or Mirex (ISO). The goods listed in note 3 of this chapter
Other carrier catalysts
Other polyesters
Reaction initiators, accelerators not elsewhere specified
Polyethylene with a primary shape specific gravity of less than 0.94
Acrylonitrile
Lubricants (without petroleum or oil extracted from bituminous minerals)
Diagnostic or experimental formulation reagents, whether or not attached to backings, other than those of heading 32.02, 32.06
Lubricant additives for oils not containing petroleum or extracted from bituminous minerals
Primary Shaped Epoxy Resin
Polyethylene Terephthalate Plate Film Foil Strips
Other self-adhesive plastic plates, sheets, films and other materials
Other plastic non-foam plastic sheets
Other plastic products
Other primary vinyl polymers
Other ethylene-α-olefin copolymers, specific gravity less than 0.94
Other primary shapes of acrylic polymers
Other primary shapes of pure polyvinyl chloride
Polysiloxane in primary shape
Other primary polysulphides, polysulfones and other tariff numbers as set forth in note 3 to chapter 39 are not listed.
Plastic plates, sheets, films, foils and strips, not elsewhere specified
1,2-Dichloroethane (ISO)
Halogenated butyl rubber sheets, strips
Other heterocyclic compounds
Adhesives based on other rubber or plastics
Polyamide-6,6 slices
Other primary-shaped polyethers
Primary Shaped, Unplasticized Cellulose Acetate
Aromatic polyamides and their copolymers
Semi-aromatic polyamides and their copolymers
Other polyamides of primary shape
Other vinyl polymer plates, sheets, strips
Non-ionic organic surfactants
Lubricants (containing oil or oil extracted from bituminous minerals and less than 70% by weight)
Aircraft and other aircraft with an empty weight of more than 15,000kg but not exceeding 45,000kg