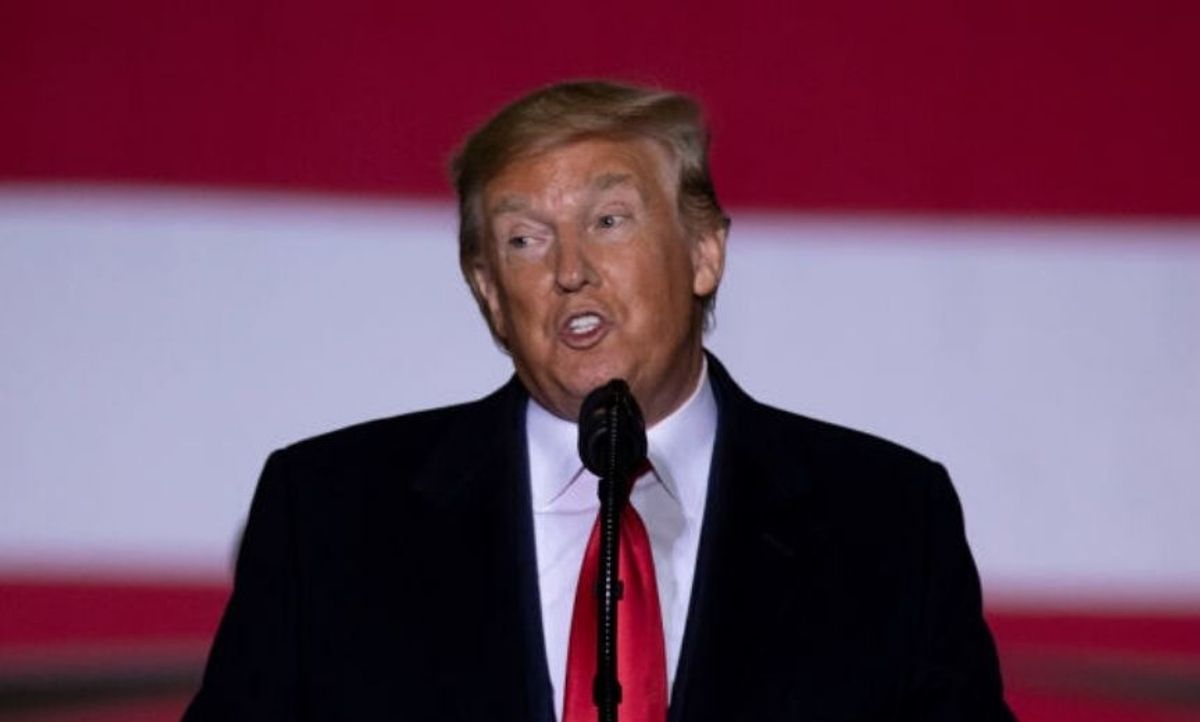 Tasos Katopodis/Getty Images
President Donald Trump has boasted in the past of his multiple tariffs imposed on solar panels, washing machines, steel, aluminum, and more—referring to himself as a "Tariff Man."
Despite the financial burdens of tariffs falling on American consumers and citizens, he's indicated in the past a belief that tariffs are paid by the country on which they're imposed.
He's since imposed tariffs on billions of Chinese goods for use as bargaining chips in a trade deal that has yet to be finalized.
But according to a new study from the Federal Reserve, the Trump tariffs resulted in lost jobs and higher prices for Americans.
The study, commenced in 2018, reads:

"We find that tariff increases enacted in 2018 are associated with relative reductions in manufacturing employment and relative increases in producer prices...While the longer-term effects of the tariffs may differ from those that we estimate here, the results indicate that the tariffs, thus far, have not led to increased activity in the U.S. manufacturing sector."
The results of the study don't come as a surprise. Tariffs boost prices paid by American manufacturers for foreign imports of goods. Those increased prices are widely passed down to American consumers, as the study found.
Trump has frequently indicated that he doesn't grasp how tariffs work, apparently believing that they result in foreign countries paying money to the United States.
U.S. Markets are up as much as 21% since the announcement of Tariffs on 3/1/2018 - and the U.S. is taking in massiv… https://t.co/JxjXnw8gll

— Donald J. Trump (@Donald J. Trump) 1575285064.0
China just enacted a major stimulus plan. With all the Tariffs THEY are paying to the USA, Billions and Billions of… https://t.co/8dTLSHkL6L

— Donald J. Trump (@Donald J. Trump) 1567825501.0
Tariffs will bring in FAR MORE wealth to our Country than even a phenomenal deal of the traditional kind. Also, muc… https://t.co/fmxFehCNe3

— Donald J. Trump (@Donald J. Trump) 1557488776.0
This latest study only solidified what most Americans already knew.
@thehill And is anyone - anyone, at all - surprised? Oh, right - 'Trade wars are good, and easy to win'. Yeah, I remember that...

— SCP62Ozarks (@SCP62Ozarks) 1577710843.0
@thehill That's not 'backfiring'. That's what tariffs do.

— G (@G) 1577710871.0
@thehill Trump Tariffs are an exercise in massive economic ignorance.

— John Cavanaugh (@John Cavanaugh) 1577719718.0
@thehill "Fed study: Trump tariffs backfired, caused job losses and higher prices " didn't need a study to tell us… https://t.co/xi9EdHMbvy

— super_chuck24 (@super_chuck24) 1577711410.0
@MarketWatch Another " the sky is blue" study. How much 💴 is wasted on the obvious? It's even more of a waste since… https://t.co/Cw7KStRNms

— EllisGBS 🌊🌊🌊can't wait for 11/3/2020🌊🌊🌊 (@EllisGBS 🌊🌊🌊can't wait for 11/3/2020🌊🌊🌊) 1577495949.0
@MarketWatch I don't like this at all. But big honking surprise!?!? The research literature on trade wars and tarif… https://t.co/YVgqtuqGwR

— Justin Stone (@Justin Stone) 1577548097.0
Trump's tariffs resulted in China refusing to buy agricultural products from the United States, dealing a major blow to farmers across the nation. Some of those farmers are even turning against him.
Trump has yet to address the study's findings on his Twitter feed.
Keep reading...Show less