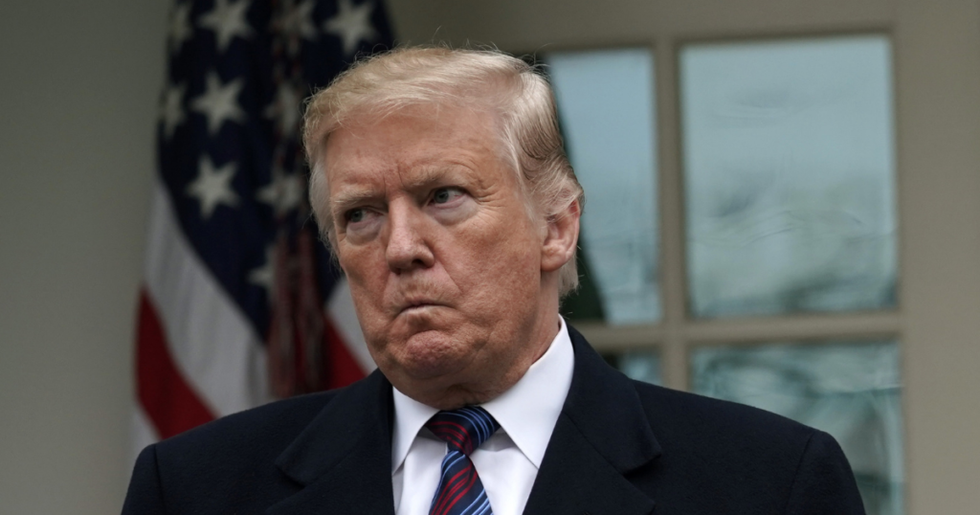 WASHINGTON, DC - JANUARY 04: U.S. President Donald Trump is joined by Rep. Steve Scalise (R-LA) in the Rose Garden of the White House on January 4, 2019 in Washington, DC. Trump hosted both Democratic and Republican lawmakers at the White House for the second meeting in three days as the government shutdown heads into its third week. (Photo by Alex Wong/Getty Images)
The Institute for Supply Management (ISM) gauges the strength of U.S. manufacturing, and it just revealed some troubling numbers from last month.
Manufacturing is at its lowest since the Great Recession. Export orders have plummeted as a result of President Donald Trump's trade war with China, with ISM's manufacturing index showing a drop to 47.8%. Experts predicted new growth at 50.2% (any number above 50% indicates growth) only to be met with the sixth straight month of decline and the second straight month of outright reduction.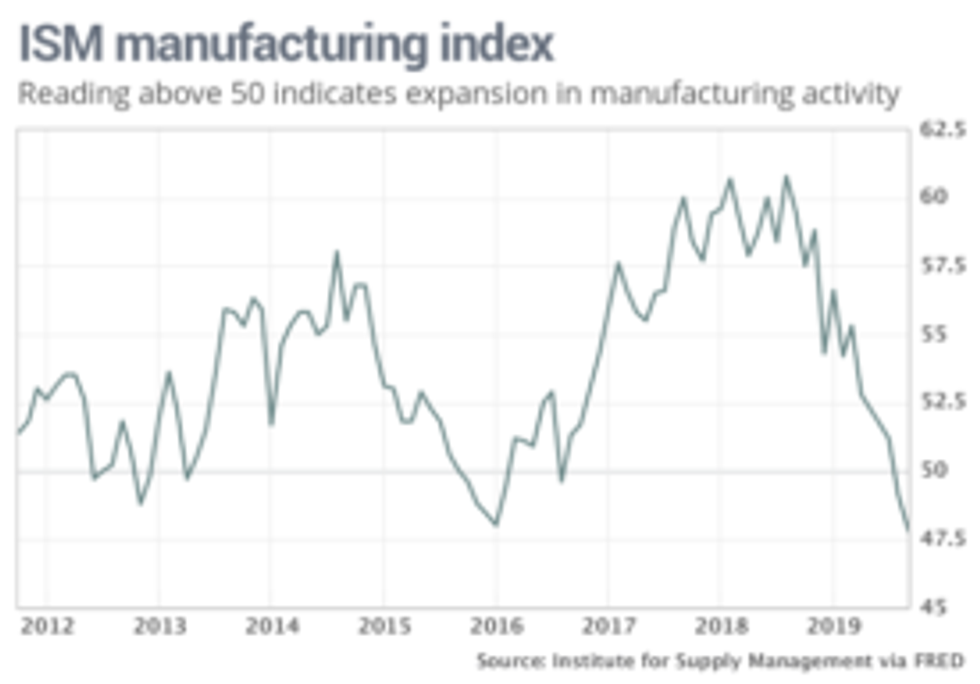 Though Trump's tariffs against China are widely believed to be the culprit of the unexpected drop, Trump tweeted that the real cause was the strength of the U.S. dollar and the ineptitude of Federal Reserve Chair Jerome "Jay" Powell, a Trump appointee and frequent target of the President's Twitter tirades.
As I predicted, Jay Powell and the Federal Reserve have allowed the Dollar to get so strong, especially relative to… https://t.co/9Y563f6Dpg

— Donald J. Trump (@Donald J. Trump) 1569940485.0
Trump claims the Fed hurt factory production by not cutting interest rates as radically as Trump previously called for, allowing the dollar to strengthen.
Experts worry that the decline in manufacturing is yet another indicator of an impending recession.
Torsten Slok, Chief Economist at Deutsche Bank Securities told Politico:
"There is no end in sight to this slowdown. The recession risk is real."
Trump may be trying to divert the blame, but Americans see the writing on the wall.
@realDonaldTrump You're the one who doesn't have a clue, Donnie. Your trade war is sinking our manufacturing indus… https://t.co/kMsU1wjBjq

— John Hachi (@John Hachi) 1569949589.0
@realDonaldTrump You still don't know what you're talking about. Leave this for the experts.

— CHIDI®️ (@CHIDI®️) 1569940594.0
@realDonaldTrump https://t.co/NSB535CnJC

— grumpster (@grumpster) 1569944940.0
@realDonaldTrump Pretty sure our manufacturers are being negatively affected by your trade war with China.......whi… https://t.co/Blki43td5Z

— Ross Ginsberg (@Ross Ginsberg) 1569940811.0
@realDonaldTrump It's your stupid tariffs that are negatively impacting farmers and manufacturers. What does a lous… https://t.co/iNwhOJIXyo

— Thorn Thornhill (@Thorn Thornhill) 1569948489.0
Besides, who appointed Jay Powell again?
@realDonaldTrump Whomever hired him should be IMPEACHED. Oh wait, that's ALREADY queued up.

— Byron Ricketts (@Byron Ricketts) 1569944611.0
@realDonaldTrump This guy? The one you hired because you said the previous head of the Fed was "too short"? https://t.co/vZ5syMOWCX

— NotOnMyWatch (@NotOnMyWatch) 1569943301.0
@realDonaldTrump Take it up with the guy who hired him.

— YS (@YS) 1569945321.0
After the ISM news, the Dow has fallen by 276 points and counting.
Keep reading...Show less