Trade wars, where countries engage in tit for tat on tariffs and trade, earn the title of war. Lives, as in ways of life and livelihoods of citizens, the frontline foot soldiers of any trade war, are often the casualties.
China, under leadership from President Xi Jinping, just fired their first major salvo in the trade war created by President Donald Trump's steel and aluminum tariff announcement. The Chinese Ministry of Commerce announced Friday, China, the world's largest pork importer, consumer and producer plans a 25 percent tax on all U.S. pork imports.
---
While large developers, like Trump Enterprises, drive supply and demand in the big business steel manufacturing industry, almost driving U.S. steel and aluminum under by choosing to import cheaper steel for all of their building projects, the pork industry still includes small family farmers. Those small farms are likely to falter first in a U.S. government created trade war.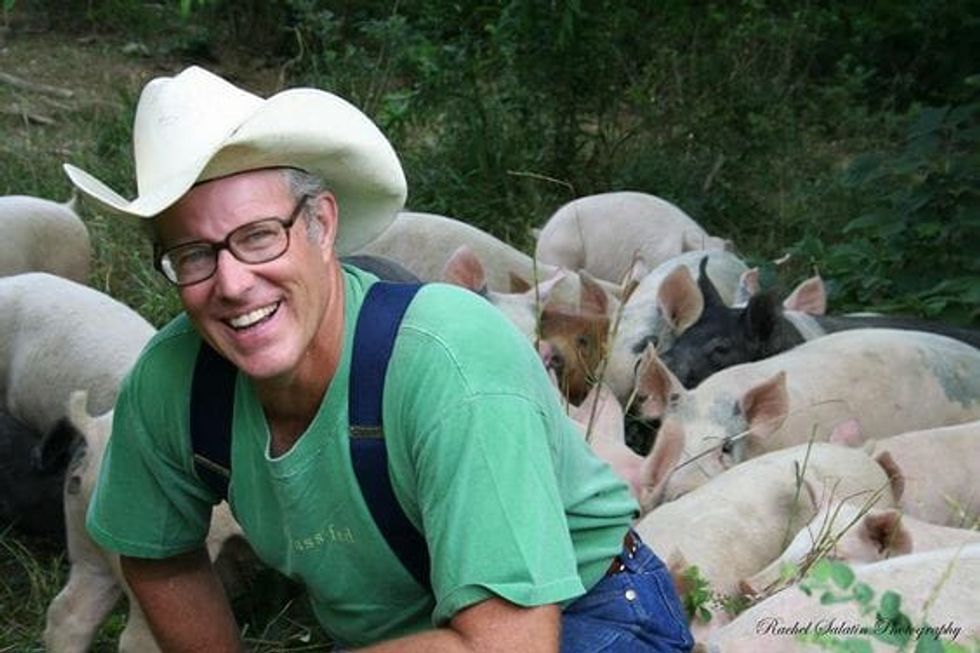 American farmer and author Joel Salatin of Polyface Farms (Rachel Salatin Photography/Pinterest)
The National Pork Producers Council (NPPC), in a statement issued after the announcement, warned Chinese tariffs could seriously impact rural America. NPPC represents America's 60,000 pork producers.
"We sell a lot of pork to China, so higher tariffs on our exports going there will harm our producers and undermine the rural economy," said NPPC President Jim Heimerl, a pork producer from Johnstown, Ohio.
No one wins in these tit-for-tat trade disputes, least of all the farmers and the consumers."
Last year, the U.S. pork industry exported $1.1 billion in products to China, making it, with Hong Kong included, the 2nd highest market for U.S. pork. However the U.S. imports only account for 14 percent of Chinese pork consumption, meaning the tariffs will hurt U.S. farmers far more than Chinese consumers.
Iowa State University economist Dermot Hayes cautioned tariffs on U.S. agricultural products, including pork, could devastate small rural farms. U.S. farmers shipped nearly $20 billion of goods to China in 2017.
"When it comes to trade, we expect all countries to follow international rules and to trade fairly," Heimerl said.
We also expect all countries to resolve trade disputes in a way that doesn't harm businesses, farmers and consumers."
"China is showing its capacity to fight back," said Monica Tu, an analyst at Shanghai JC Intelligence Co. China plans reciprocal tariffs on $3 billion in products from pork to wine.
Trump Tweeted on March 2 that trade wars are good and easy to win.
However agricultural commodities could feature heavily in any ongoing tit-for-tat trade war impacting rural America, and Trump's support base.