Former President Donald Trump's recent visit to a gun shop in South Carolina has sparked controversy after his campaign initially claimed he purchased a Glock handgun during the visit. However, this claim was later retracted due to legal restrictions on gun procurement for individuals under federal indictment.
The incident occurred when Trump visited the Palmetto State Armory in Summerville, South Carolina, during a campaign swing through the state. A since-deleted video posted on X, the social media network formerly known as Twitter, by Trump spokesman Steven Cheung showed the former President expressing interest in a Glock handgun with a print of his face on it.
You can see Cheung's unambiguous assertion that Trump bought the gun in the now-deleted post.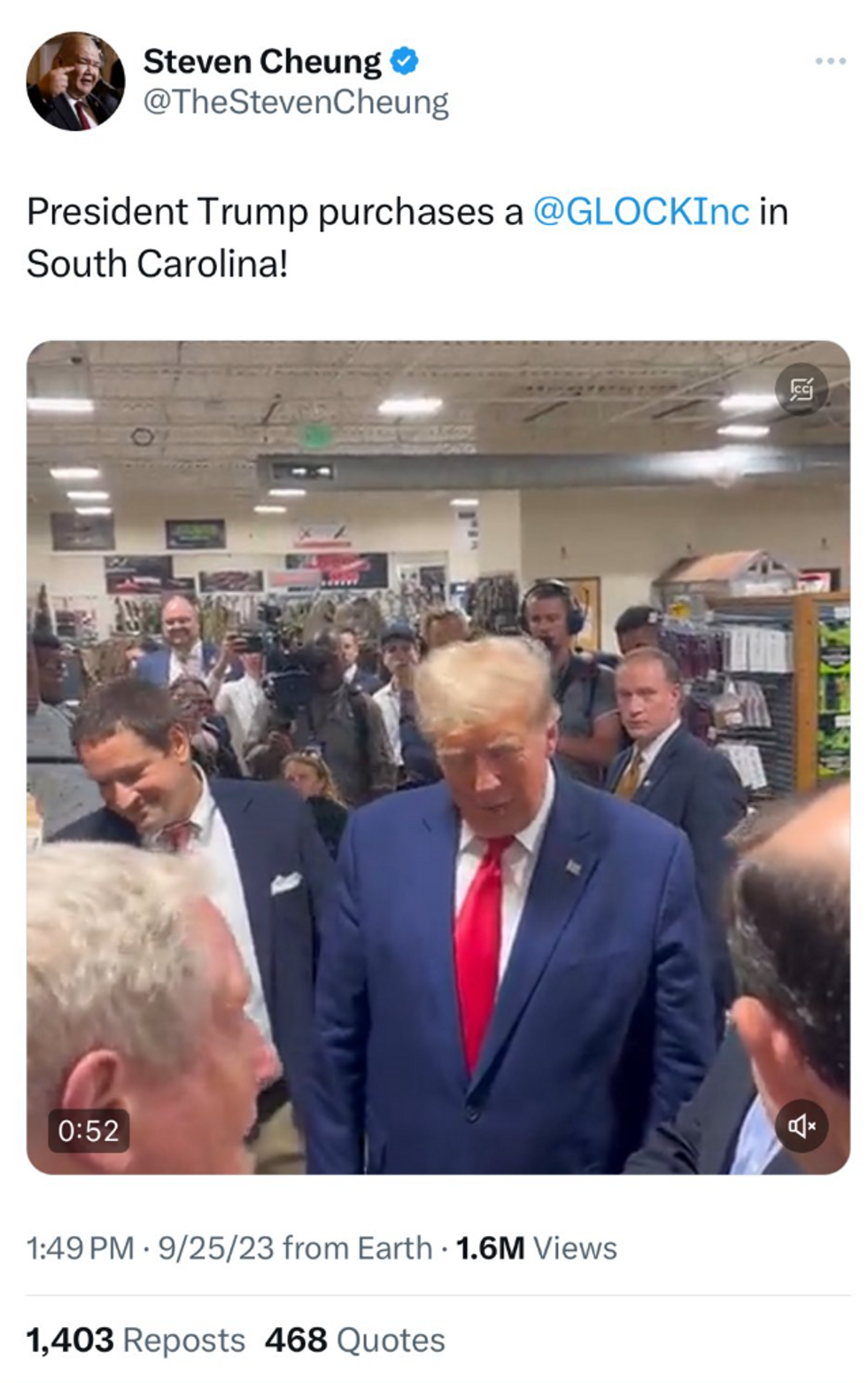 TheStevenCheung/X
In the video, Trump was seen pointing to the Glock and expressing his desire to purchase it.

Separately, Georgia Republican Representative Marjorie Taylor Greene posted a photo showing Trump posing with the gun.
However, this initial claim was met with legal reality checks as federal law prohibits individuals under indictment for a crime punishable by more than one year in prison from purchasing or procuring firearms or ammunition. Trump has faced multiple indictments this year, making him ineligible to buy a gun under these legal restrictions.

Soon after, Cheung deleted the post and officially retracted his claim, clarifying to CNN that Trump did not actually purchase the Glock during his visit to the gun shop.
Despite having plainly stating that he had done so.
Trump faces both federal and state charges related to his efforts to overturn the 2020 general election.

He is also facing a charge in the state of New York on potential campaign finance fraud related to hush money payments he made to adult film star Stormy Daniels and a federal charge regarding his alleged theft of classified documents upon leaving the White House.
Given these facts, individuals pointed out the legal restrictions on firearm ownership for individuals facing federal indictment.
Trump's visit to South Carolina comes as he solidifies his position as the leading contender in the 2024 GOP primary, with rivals like Florida Governor Ron DeSantis struggling to catch up in the polls.
In South Carolina, Trump has garnered significant support from influential Republicans, including Governor Henry McMaster, Lieutenant Governor Pam Evette, the state's U.S. Senator Lindsey Graham, and three House Republicans, among others.
Recent polling reinforces Trump's strong position in the state, with a Monmouth University-Washington Post poll revealing that he commands 46 percent of likely Republican primary voters in South Carolina, while Nikki Haley—South Carolina's former Governor—trails with 18 percent and Tim Scott, the state's U.S. Senator, with 10 percent.